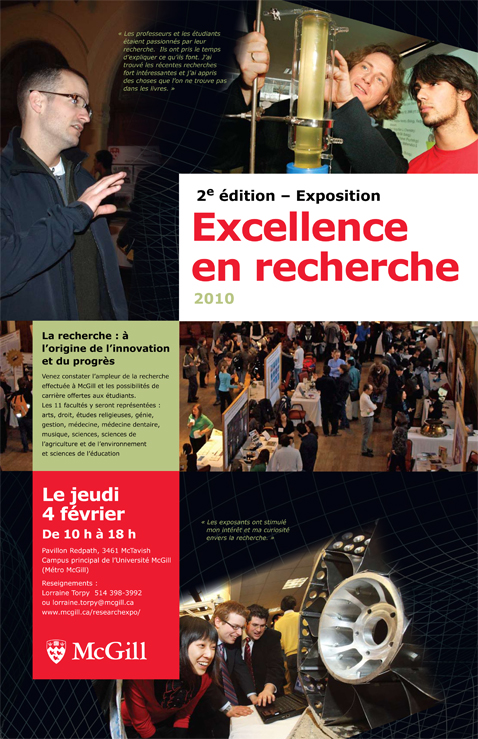 Exposition « Excellence en recherche 2010 » – La recherche est à l'origine de l'innovation et du progrès. Venez constater l'ampleur de la recherche effectuée à McGill.

Toutes les facultés seront représentées : Arts, Droit, Études religieuses, Génie, Gestion, Médecine, Médecine dentaire, Musique, Sciences, Sciences de l'agriculture et de l'environnement, et Sciences de l'éducation.

Le jeudi 4 février de 10 h à 18 h
Pavillon Redpath, 3461 McTavish, Campus principal de l'Université McGill (Métro McGill)

EXPOSITION DE RECHERCHE POUR LA FACULTÉ DE MÉDECINE
Bruno Giros, Douglas Institute, Canada Research Chair in the Neurobiology of Mental Disorders

Comprendre le cerveau Moléculaire pour soigner les maladies mentales

Jorge Armony, Douglas Institute, Canada Research Chair in Affective Neuroscience

L'Auberge de la peur – Comment le cerveau détecte et analyse les signaux de danger

Micheal Meaney, Gustavo Turecki, Moshe Szyf, Patrick McGowan, Faculty of Medicine and Douglas Institute

Pourquoi votre destin n'est pas écrit dans vos gènes – La violence faite aux enfants peut altérer l'ADN dans le

cerveau.

Pejmun Haghighi, Canada Research Chair in Drosophila Neurobiology

Les mouches à fruits peuvent-elles nous aider à comprendre les maladies du système nerveux?

Sam Daniel, Montreal Children's Hospital, Director, McGill Auditory Sciences Laboratory

Prévention de la surdité : "Si tu tends l'oreille"

Christopher C. Pack, MNI, Canada Research Chair in Neurophysiology of Vision

La mathématique de la perception visuelle

Information : (514) 398-3992 ou lorraine.torpy@mcgill.ca ou cliquez ici.