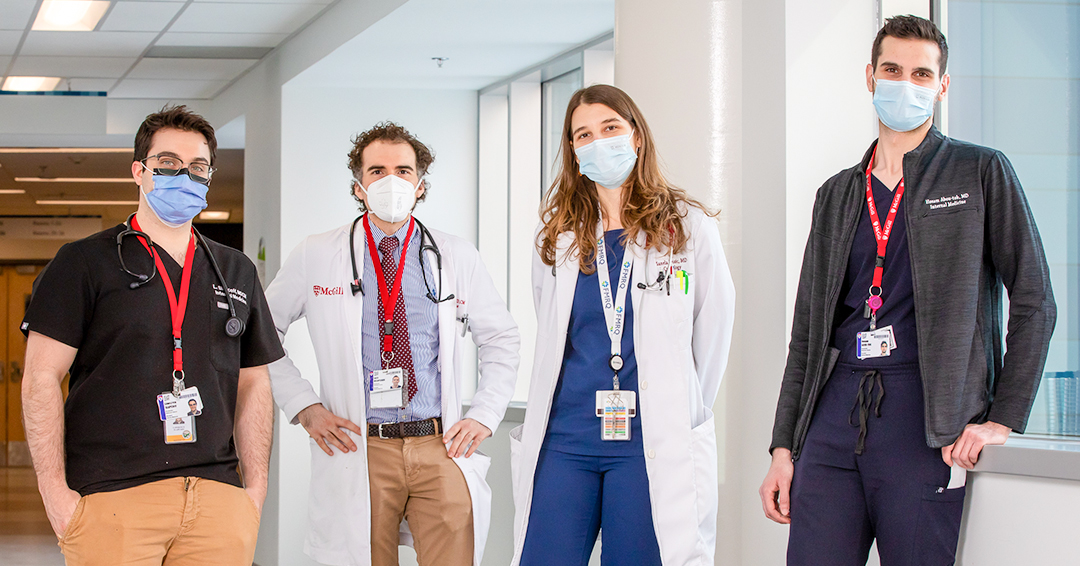 Postgraduate Medical Education (PGME) is proud to celebrate Resident and Fellow Appreciation Day on February 25.
Residents and fellows are a significant part of the catalyst that drives academic healthcare centres. From patient care, to research, quality improvement, leadership, and education, residents and fellows are engines of innovation and engagement.
McGill University houses Canada's second largest postgraduate medical trainee cohort. With more than 1125 residents and 243 fellows, McGill is an educational institution with an international reputation that draws trainees from the four corners of the world.
"McGill PGME is very honoured to learn from, train and teach the incredible physicians who are our postgraduate trainees. We are extremely grateful for their contributions and proud to work together," says Regina Husa, MD, Associate Dean, PGME.
Residency and fellowship training are extremely formative and stimulating years in a physician's professional journey. Medicine is a privileged calling and training for a career in the medical profession is very rewarding, but it comes with unique demands. Those demands require finding a balanced approach to one's professional trajectory that includes a healthy dose of wellness and wellbeing in order to accomplish the goal of caring for our population's health.
"Residency is one of the most challenging experiences of our lives," affirms Sanela Music, MDCM, President of the Association of Residents of McGill. "These are the years where we mold into our professional roles. Our simultaneous status of student, teacher for our juniors, and healthcare provider is a tight rope to walk. So, it's important to have a day where we all pause and take the time to reflect, to appreciate everything we accomplish on a day-to-day basis. And it's even more important to have that be recognized by our community."
"There is nothing more rewarding than working with residents and fellows," notes Leon Tourian, MD, Assistant Dean, PGME. "While the frame officially sets me as the teacher and residents and the fellows as the pupils, I feel that the learning is bidirectional and the most rewarding and enriching part of my day. The contributions of residents and fellows to McGill University's teaching centres is formidable; this bidirectional relationship is not only appreciable within the one-on-one supervisory and coaching moments but also at a higher level. Trainees contribute to the betterment of the institution and the institution provides the training they require to continue their journey to physicianship," explains Dr. Leon Tourian. "I think the best example of our residents' deep sense of engagement has been their redeployment in the context of the COVID-19 pandemic. It was our residents who inspired the redeployment initiative at the break of the pandemic. They wanted to be at the forefront of our healthcare system and wished to care for hospitalized COVID patients. This merits our great and immense appreciation; it was an inspiring act of collective generosity that will remain etched in my memory as a moment of true commitment and engagement."
PGME is thankful for all that residents and fellows do on a daily basis. However, designating a specific day to recognize their contributions to the academic environment is extremely important.
"On this special day, we would like to extend our sincere gratitude to our residents and fellows for their hard work and dedication and wish them a happy Resident and Fellow Appreciation Day!" say Drs. Husa and Tourian.