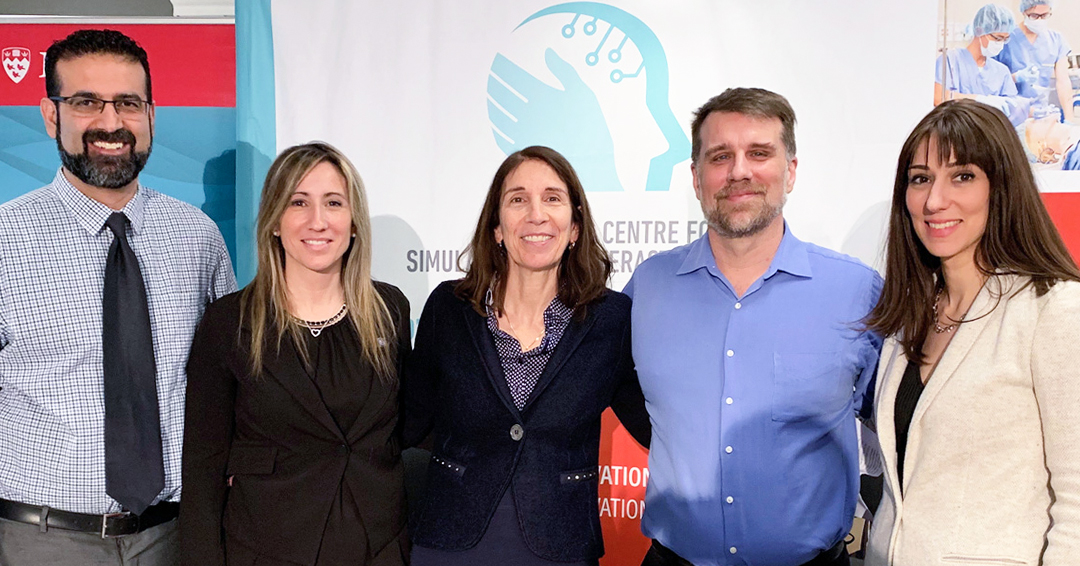 Les Survivantes, a unique collaboration between the Ingram School of Nursing and the Montreal Police, tackles this issue affecting women internationally through outreach, education and research
As a specialist in community health nursing, Françoise Filion, RN, Assistant Professor in the Ingram School of Nursing (ISoN), is passionate about researching and addressing the pressing healthcare needs of populations experiencing inequities. She is equally committed to sharing this knowledge with students in her classes at the ISoN. Eight  years ago, she found out about a program at the Service de Police de la Ville de Montréal (SPVM) called "Les Survivantes," whose mission it is to support sex-trafficked individuals by providing them with resources and giving them a voice. When Prof. Filion invited this team to speak to one of her classes, a police officer gave an overview of sex trafficking, dispelling some of the most common myths, while a survivor described her journey into sex trafficking, the emotional and physical abuse she endured, and how she was able to leave. "It was a powerful teaching moment," recalls Prof. Filion.
Sex trafficking is defined as recruiting, harbouring, transporting, obtaining, patronizing or soliciting a person for the purpose of a commercial sex act, induced by force, fraud or coercion, or in which the person induced to perform such an act is under 18. Statistics on the prevalence of sex trafficking are hard to come by, given that the problem is largely hidden, but experts believe that it is far more prevalent than the 300 cases handled per year in Montreal alone. It can take several years for victims to leave their abusers.
"Victims fear for their lives," Prof. Filion explains. Their abusers tightly control their every move; they are denied access to their money and identification documents, and experience high levels of physical and sexual violence. Ninety percent will wind up seeking medical care, which means that contact with healthcare professionals represents an opportunity to identify victims and provide them with helpful resources. The key, says Professor Filion, is teaching students to identify red flags such as cigarette burns, bruises, branding tattoos, unexplained injuries, an inability to make eye contact and dissociation – a coping mechanism that involves detaching oneself from what is happening to one's body.
Recognizing the signs is the first step. The second is understanding how to talk about the subject with the patient in a non-judgemental, non-threatening manner. "Nurses have only a short period of time – sometimes no more than 10 minutes – with a patient. They need the training and awareness to be able to help," notes Prof. Filion. With this in mind, she arranged a simulation for her master's students at McGill's Steinberg Centre for Simulation and Interactive Learning. The simulation was so successful that the team of educators at the Centre, led by education manager Niki Soilis, approached Prof. Filion with the idea of creating and hosting a live webinar on the subject.
Entitled Crime and Medicine: Health Care Providers at the Intersection of Human Trafficking, the webinar featured a videotaped simulated scenario  and a panel discussion between, among others, Prof. Filion, police officer Josée Mensales, and "Zoe," a survivor of sex trafficking who shared her story. With 1600 views, this webinar caught the attention of the organizers of the Royal College Simulation Summit, who invited Prof. Filion and the team to give a similar presentation in Winnipeg in the fall of 2019.
Shortly thereafter, in January 2020, Prof. Filion was invited by the Commission d'enquête sur l'exploitation sexuelle des mineurs, presided by Ian Lafrenière of the Quebec government, to present ISoN's educational program for training healthcare professionals to recognize possible victims of sex trafficking.
When one of the police officers lamented the lack of research on the subject of how healthcare professionals can help victims of sex trafficking, Prof. Filion sprang into action. Together with the officers and fellow ISoN faculty, she supervised Johane Lorvinsky, a master's student at the time, who interviewed a dozen consenting survivors for the research study entitled Sex trafficking survivors' experiences with the healthcare system during exploitation: a qualitative study to identify cues and lessons learned. The manuscript is being submitted for publication.
"Our unique collaboration with Les Survivantes has been a great catalyst for raising awareness about sex trafficking and for preparing our students to recognize the signs and intervene appropriately," concludes Prof. Filion.
Photo: Health Care Providers at the Intersection of Human Trafficking Webinar Panel: Dr. Farhan Bhanji, SCSIL Director of Education; Josée Mensales, Coordinator, Les Survivantes Program, SPVM; Françoise Filion, Assistant Professor, Ingram School of Nursing; Loïc Simard-Villeneuve, SCSIL Standardized Patient Educator; Niki Soilis, SCSIL Education Manager (courtesy: Steinberg Centre for Simulation and Interactive Learning)