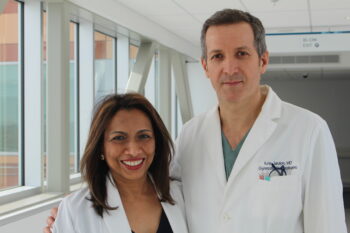 MUHC and Johns Hopkins join forces to develop a new Gene-based screening test using Pap test fluids
Source: MUHC Newsroom
 A team from the Research Institute of McGill University Health Centre (RI-MUHC) in Montreal has joined forces with researchers at Johns Hopkins to bring screening and early detection of ovarian and uterine cancers one step closer to clinical implementation. Researchers developed a test that provides a safe and minimally invasive method for earlier diagnosis of ovarian and endometrial cancers. This test – called PapSEEK – aims to analyze small amounts of cancer DNA obtained from Pap samples from the cervix, uterus as well as blood by identifying common genetic mutations associated with these cancers. Their findings were published in the March 21 issue of Science Translational Medicine.

"If a cancer can be detected early, it can be cured. Ovarian and uterine cancers – usually diagnosed at a late stage– take so many women's lives and cause so much suffering,'' says study corresponding author Dr. Lucy Gilbert, who is the director of Gynecologic Cancer Services at the McGill University Health Centre and a professor of Obstetrics and Gynecology and Oncology at McGill University.

"Diagnostic tests do not always reliably distinguish benign conditions from cancer, leading to unnecessary procedures," adds Dr. Amanda Nickles Fader, director of the Johns Hopkins Kelly Gynecological Oncology Service, Department of Gynecology and Obstetrics, and a corresponding author on this study. "The high mortality associated with some gynecologic cancers makes screening a priority, and new diagnostic approaches are urgently needed."

Based on previous groundwork and expertise in gynecological cancers, Dr. Gilbert, who is also a scientist from the Cancer Research Program at the RI-MUHC, proposed to the team at Johns Hopkins to collect samples not just from the cervix but also from inside the uterus, to increase the likelihood of detection of cancers from the ovaries, fallopian tubes and uterus while the cancer is still at its early stages. Her proposal paid off as the research team found that samples taken from the uterus were more likely to detect ovarian and uterine cancers than that from the cervix. "In this study, we have shown that these cancers can be diagnosed earlier by identifying the specific mutations that cause the cancer, rather than relying on indirect markers such as medical imaging and symptoms," adds Dr. Gilbert.

Endometrial and ovarian cancers together are the third most common cause of cancer deaths in women in North America and other high income countries.  Existing tests such as transvaginal ultrasound rely on nonspecific factors such as size of the tumour and may be positive only after the more aggressive forms have spread to other organs. Imaging also results in many false positives, highlighting the need for a more reliable screening tool. In this study, researchers took advantage of the fact that tumour cells from ovarian or endometrial cancers are often carried into the endocervical canal, where they can be gathered with a Pap brush.

Getting closer to tumour sites 
Dr. Gilbert's team at the MUHC guided the team at Johns Hopkins on the Tao brush technique ─ a technique that extends the brush into the uterus allowing for the  collection of cells closer to where the cancers could originate, thus improving the sensitivity of the test. The pap smear relies on the cancer cells reaching the cervix.

"This special brush sampling procedure is a simple outpatient technique, which any trained gynecologists can carry out in a clinic without anesthesia," explains Dr. Kris Jardon, study co-author, who is a gynecologic oncologist at the McGill University Health Centre and a scientist from the Cancer Research Program at the RI-MUHC. "This increases the likelihood of widespread clinical implementation after we have carried out the appropriate validation steps" 

PapSEEK: safer and less invasive for patients 
Researchers tested the effectiveness of PapSEEK on samples gathered from 382 patients with endometrial cancer, 245 patients with ovarian cancer and 714 healthy controls from different hospital sites across the U.S., Denmark, Sweden and Canada.

Using PapSEEK, researchers were able detect 81 per cent of endometrial cancers (78 per cent were early stage cancer) and 33 per cent of ovarian cancers (34 per cent were early-stage cancers). More interestingly, these rates rose to 93 per cent and 45 per cent (respectively) when samples were gathered with the Tao brush technique. There were no false-positive results.

"In high grade ovarian and uterine cancers, cells detach easily and spread while the tumours are still small and not noticeable," adds Dr. Gilbert. "Currently, there are no tests available to allow diagnosis of these aggressive subtypes of cancer in earlier stages, because they have not caused symptoms and are not easily identified by medical examinations."

An estimated 7,300 Canadian women are diagnosed with endometrial cancer in Canada each year, and more than 1,200 will die from the disease. Ovarian cancer is less common but more lethal, affecting more than 2,800 women and killing about 1,800 in Canada annually.

"The cervical routine Pap test has dramatically decreased the deaths from cervical cancer," says Dr. Gilbert, "but it is unable to detect endometrial or ovarian cancers, the most lethal and most common gynecologic malignant tumours in countries where Pap tests are routinely performed. We have shown this special uterine Pap test has the potential to be developed into an outpatient screening test that can do for uterine and ovarian cancers what the cervical pap test did for cervical cancer."

About the study Link to the paper
In addition to Lucy Gilbert, Kris Jardon, and Amanda Nickles Fader, other participants included Lu Li, Christopher Douville, Joshua D. Cohen, Ting-Tai Yen, Isaac Kinde, Karin Sundfelt, Susanne K. Kjær, Ralph H. Hruban, Ie-Ming Shih, Tian-Li Wang, Robert J. Kurman, Simeon Springer, Janine Ptak, Maria Popoli, Joy Schaefer, Natalie Silliman, Lisa Dobbyn, Edward J. Tanner, Ana Angarita, Maria Lycke, Kirsten Jochumsen, Bahman Afsari, Ludmila Danilova, Douglas A. Levine, Xing Zeng, Jocelyne Arseneau, Lili Fu, Luis A. Diaz Jr., Rachel Karchin, Cristian Tomasetti, Kenneth W. Kinzler, Nickolas Papadopoulos, and Bert Vogelstein.

The research was supported by the Virginia and D.K. Ludwig Fund for Cancer Research, the John Templeton Foundation, Swim Across America, the Sol Goldman Sequencing Facility at Johns Hopkins, The Commonwealth Foundation, the Conrad N. Hilton Foundation, United States Department of Defense (W81XWH-11-2-0230), National Institutes of Health, National Cancer Institute (CA06973, CA200469, CA215483, U24CA204817), the Gray Foundation, the Swedish Cancer Foundation, the Göteborg Medical Society, the Royal Victoria Hospital Foundation, the Carole Epstein Foundation, the Doggone Foundation, the MERMAID Project, the Novo Nordisk Foundation (NNF14OC0012483), the Honorable Tina Brozman Foundation, Stand Up to Cancer Colorectal Cancer Dream Team Translational Research Grant (SU2C-AACR-DT22-17) and Early Detection Research Network (UO1 CA200469).

Related coverage
Le Droit | McGill contribue à un nouveau test pour les cancers de l'ovaire et de l'utérus

Journal de Montréal | Détecter plus vite les cancers féminins

Le télé journal | Un test de dépistage pour le cancer des ovaires

Radio Canada | L'ADN pour détecter les cancers de l'ovaire et de l'utérus

Le Devoir | Cancers de l'ovaire et de l'utérus: le dépistage précoce désormais possible

La Presse | Percée dans la détection des cancers de l'utérus et de l'ovaire

CTV News | 'I see hope': New early detection test for ovarian, uterine cancers

Montreal Gazette | Promising new test for common uterine cancers has Montreal connection

CBC | How having a stroke saved this woman's life

March 22, 2018