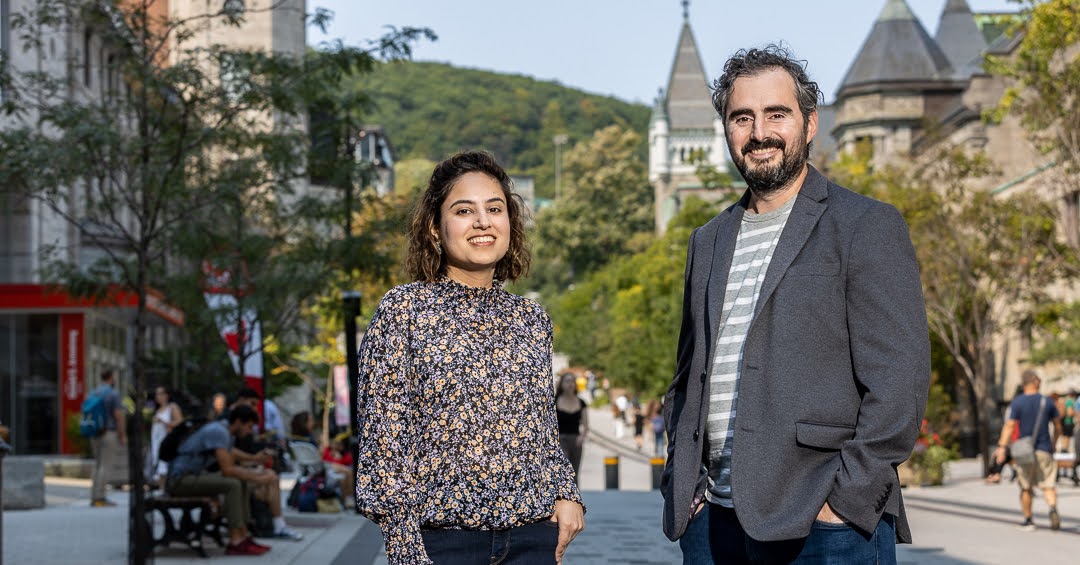 McGill startup ApsenBio develops a food allergen detection device
To foster innovation in health care, the McGill Interdisciplinary Initiative in Infection and Immunity (MI4) offered two prizes at the 2022 McGill Clinical Innovation Competition (CLIC). The MI4 Innovation Awards recognize a preventative, diagnostic or therapeutic innovative approach designed to address infectious or immune-related threats to human health. In addition to a monetary award, winning teams are provided with access to expert services and support to help develop their concept.
Mariam Saad just completed her PhD in Natural Resource Sciences at McGill and is the Co-Founder and CEO of ApsenBio, the team that won the second MI4 Innovation Prize.  She tells us what led to the idea behind ApsenBio and explains how this innovative device can help reassure allergy sufferers.
What clinical need does your solution aim to solve?
At ApsenBio, we're developing a handheld, affordable food allergen detection device (FADD) that is easy for anyone to use. This device will help food allergy sufferers and their loved ones overcome the daily challenge of avoiding allergenic foods. For 3 million Canadians and 200 million people across the globe, food allergies are a source of stress and a serious health threat. To help those suffering from such allergies and figure out what's allergenic in their food, a tool like the one proposed by ApsenBio will make it possible to detect food allergens easily and rapidly.
What led you to develop this concept? 
I suffered from lactose and soy allergies and food intolerance as a child, and have vivid memories of my mother struggling as she tried to figure out if there was anything allergenic in our meals. Short of laboratory testing, which wasn't practical, there was no way to determine if food was allergen-free. My mother's constant stress, coupled with the observation that things haven't advanced very much in that field since my childhood, motivated me to work towards developing an easy, accessible, and rapid method to test for allergens in foods so that I could help people like my mother.
How will your clinical solution impact patient care? 
Studies report that approximately half of U.S. and Canadian individuals who suffer from food allergies have experienced a serious allergic reaction episode that required a visit to an emergency room at least once in their lifetime. These emergency visits are an additional burden on the health care system, impacting resources and consequently patient care. Besides directly helping food allergy sufferers, ApsenBio's food allergen detection device aims to minimize this preventable burden on the health care system and its workers. Additionally, the device would help professionals in pediatric and geriatric health care services assess the food safety of patients under their care.
What are some of your plans moving forward?
ApsenBio's primary focus is to finance the necessary Research & Development required to develop high-quality bioreceptors which will be integrated in the design of the device. After developing advanced prototypes, the goal is to raise a second round of financing to launch pilot device production and initiate commercial operations.
What advice would you give to aspiring clinical innovators? 
MedTech or technology related to health care does not exist in silos. There are multiple ways in which people from several disciplines and backgrounds can deliver value to patient health and well-being. There are several opportunities to create new methods or products to fill gaps or improve the existing systems in health care.
What resources offered by McGill did you find particularly helpful? 
In addition to all the extensive expert services and support offered, McGill's Clinical Innovation Competition provides much needed visibility and credibility for starting entrepreneurial initiatives like ApsenBio.
Also, by giving us the opportunity to be housed at the Clinical Innovation Platform incubator, we have a chance to be part of a wider group of people with whom start-up founders can share and discuss the challenges of being budding entrepreneurs.
ApsenBio is looking forward to becoming a valuable member of Quebec's biotech ecosystem, and we are excited about applying well-established science to improve the lives of people so that they can safely enjoy the foods they love without unnecessary stress.