A team of McGill and RI-MUHC researchers gears up to produce millions of SARS-CoV-2 tests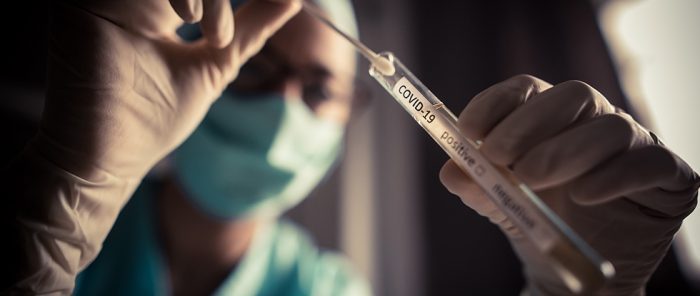 By Diana Kwon

In the early days of the COVID-19 pandemic, a group of Montreal researchers realized that Canada was in a vulnerable position. The country was dependent on other countries for the tests that were crucial for keeping the spread of the virus under control. "We were totally reliant on the foreign reagents to do testing," says Dr. Marcel Behr, MSc'95, PGME'95, a professor of Medicine and co-director of the McGill Interdisciplinary Initiative in Infection and Immunity (MI4). "It awakened us to the need to become self-reliant, to be able to develop our own testing capacity."

To address this potential for shortages, two McGill researchers, Dr. Martin Schmeing, BSc'98, Associate Professor of Biochemistry and Director of the Centre de recherche en biologie structurale (CRBS) at McGill University, and Dr. Don van Meyel, Director of the Centre for Translational Biology (CTB) at the Research Institute of the McGill University Health Centre (RI-MUHC), assembled a team of researchers to design a homegrown version of the RT-PCR (reverse transcription polymerase chain reaction) test for COVID-19, the gold standard for identifying infections.

RT-PCR works through a two-step process: RNA is extracted from a patient sample collected via a nose or throat swab, then screened for presence of the coronavirus, SARS-CoV-2.

Seed funding from McGill's Faculty of Science and the donor-supported MI4 helped the project to get off the ground. After several months of hard work, the team had successfully created a new, McGill-made version of the RT-PCR test for COVID-19. Once complete, researchers in the labs at Optilab Montreal MUHC, a designated COVID-19 testing facility, assessed the test's accuracy by comparing its output with established positive and negative tests. By July, the group had delivered a batch of 15,000 "in-house" tests for immediate use by the MUHC testing facility.

On the day the tests were delivered, "we had this Zoom call with more than 20 people," Schmeing recalls. "There was real McGill spirit in there. Some of the younger faculty were saying how this endeavor made them feel more part of the McGill community than they ever have."

This successful delivery was an important milestone for this effort. "We developed the know-how to be able to be self-sufficient, and that is a major win," Behr says. "If there is ever an acute shortage [of tests], McGill can, with the recipe that we've made, supply Optilab again."

It was a collective effort that made it possible to accomplish this feat. "It took a big McGill team to do it," Schmeing says. "There are 50 people at McGill who just stopped [their usual work] and pivoted to be able to help respond."

Originally, the plan was to make enough tests to supply the MUHC locally. According to Schmeing, that was not enough for Behr, who pushed the group toward a more ambitious goal: producing millions of tests to deploy across the nation.

Over the last few months, the McGill team has been busily working toward this goal in partnership with the National Research Council of Canada (NRC) and its Microbial Fermentation Team led by Luke Masson, PhD'84. In addition to planning for Health Canada approval, the group has been overhauling procedures to ramp up the production process to achieve the goal of making millions of tests.

If developing 15,000 tests was no easy task, scaling up to the millions has come with its own challenges, Schmeing says. For example, scientists need bacteria to produce the proteins needed in these tests. But the amounts required greatly exceed those used in most labs. Researchers typically only require milligrams of bacteria, according to Schmeing. For millions of COVID-19 tests, kilograms of bacteria are required. To isolate the proteins from such an enormous quantity of bacteria, new, scaled-up purification protocols also must be created.

The goal is to be able to provide millions of RT-PCR tests to the Canadian government. Once available, these tests will be an invaluable tool for stemming the spread of COVID-19 within Canadian borders. The team also hopes that this test will make Canada more prepared for future pandemics, since the recipe can be tweaked to detect other pathogens.

For now, however, the focus is on COVID-19. "We're not through this pandemic yet. We still have some difficult days ahead of us, in my estimation, and there are supply chain issues emerging routinely," says van Meyel, who is also a professor in the Department of Neurology and Neurosurgery. "The work of the team is helping to make sure that we control our own destiny in this country."
October 27 2020