McGill University Neurologist Brian Chen has been awarded a prestigious Sloan Research Fellowship. Chen, a Canada Research Chair in Neural Circuit Formation, investigates a big subject: deciphering the assembly instructions for the brain.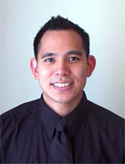 His research focuses on how neural circuits wire up with precision. One of the central puzzles in neuroscience is how a neuron chooses the correct synaptic contacts during its development when faced with thousands of potential targets. To uncover the different molecules and strategies neurons use to self-assemble into a neural circuit, Chen's lab combines high-resolution imaging techniques with advanced molecular genetics in different model systems to investigate the common molecular rules used to wire up the brain.

Chen aims to provide an insight into how the brain's wiring diagram is encoded in the genome, and how this program can go awry in mental disorders and mental retardation. Thanks to the Sloan Fellowship award, he will be able to investigate how a gene within the Down Syndrome Critical Region, DSCAM, functions in the normal development of neural circuits and how it contributes to abnormal neural development in Down syndrome.

"We're very excited about Brian Chen's research into the development of neural circuits associated with Down Syndrome," said Richard I. Levin, Vice-Principal of Health Affairs and Dean of Medicine at McGill. "Nobody has looked at the way an excess of DSCAM may affect or impair neural development before. It's important work and we're more than proud that he has received this recognition and award."

Chen joins an illustrious group – 38 Sloan Research Fellows have gone on to win Nobel Prizes. The Fellowships have been awarded annually since 1955 to "early-career scientists and scholars of outstanding promise" in recognition of the fact that financial assistance at this point in a researcher's career is often crucial to his or her future scientific success.

Of the total $5.9 million U.S. awarded annually, Chen will receive $50,000 over two years. The Fellowship is awarded by the Alfred P. Sloan Foundation, a philanthropic, not-for-profit institution based in New York City that makes grants to support original research and broad-based education related to science, technology, and economic performance