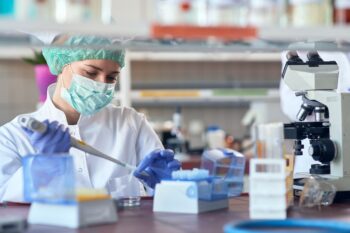 MONTREAL, QUEBEC – Pfizer Canada has made a $600,000 gift to the McGill Interdisciplinary Initiative in Infection and Immunity (MI4) via McGill University and the McGill University Health Centre (MUHC) Foundation. The gift, which was announced today during the 2nd annual MI4 Scientific Symposium, will support innovation and life-changing research through the creation of the Pfizer Early Career Investigator Awards.

The Early Career Investigator Awards will provide early career scientists and researchers across the McGill and MUHC community with the opportunity to undertake high-impact research to curb the threat of infectious diseases and change the course of medicine. Over a three-year period, $100,000 will be awarded to each of two recipients per year, one PhD scientist and one clinician-scientist. The funding will include support for early-stage concepts with the potential to benefit coronavirus patients, in particular those suffering from pre-existing conditions such as chronic pain or cancer.

"Pfizer Canada is very proud to support the state-of-the-art science being generated by the MI4 initiative," says Dr. Vratislav Hadrava, Vice-President and Medical Director, Pfizer Canada. "We are committed to doing all we can to respond to the COVID-19 pandemic and putting patient safety and public health as top priorities. That's why we're pleased to see that the work of the MI4 is so aligned with these objectives."

Providing early career researchers with the tools to succeed
Recipients will have access to state-of-the-art equipment and research platforms at McGill University and the Centre for Translational Biology at the Research Institute of the McGill University Health Centre (RI-MUHC), including the MI4 clinical research platform and two Containment Level 3 laboratories where users can safely manipulate dangerous microorganisms such as SARS-CoV-2.

"As the pandemic has made stark, infectious and immune-mediated diseases continue to pose one of the greatest threats to human health," says Dr. David Eidelman, Vice-Principal (Health Affairs) and Dean of the Faculty of Medicine and Health Sciences at McGill. "Thank you to Pfizer for giving early career researchers and clinicians at McGill University and our affiliated hospital research institutes the means to build on existing infrastructure and expertise to take bold, decisive and creative action on one of society's most pressing issues."

Formally established in April 2018 thanks to a $15 million gift from Montreal's Doggone Foundation, MI4 is one of the largest grouping of experts focused on infectious and immune-mediated diseased in the world. It brings together more than 250 researchers from McGill, the MUHC, the Jewish General Hospital and other affiliated research centres and hospitals.

"MI4 has an important role to play in the fight against COVID-19," says Dr. Don Sheppard, founder and director of the initiative. "Donor generosity has already enabled us to provide seed funding for more than 75 high-risk, high-reward projects, many of which have since been further scaled with competitive funding. This new gift will help new investigators rapidly launch their programs and foster innovation."

"Support for the next generation of researchers is key to accelerating discoveries – from conception to practical applications in the real world," adds Julie Quenneville, President of the MUHC Foundation. "The last year has highlighted the importance of research and preparedness in infection and immunity. Pfizer's gift provides the backing researchers need to work on truly out-of-the-box concepts that can translate into new treatments and cures with the potential to save lives."
###
About MI4
https://www.mcgill.ca/mi4/
About Pfizer Canada

Pfizer Canada ULC is the Canadian operation of Pfizer Inc., one of the world's leading biopharmaceutical companies. Our diversified health care portfolio includes some of the world's best known and most prescribed medicines and vaccines. We apply science and our global resources to improve the health and well-being of Canadians at every stage of life. Our commitment is reflected in everything we do, from our disease awareness initiatives to our community partnerships. To learn more about Pfizer Canada, visit pfizer.ca or you can follow us on LinkedIn, Facebook, Twitter or YouTube.

About the McGill University Health Centre Foundation
The McGill University Health Centre (MUHC) Foundation raises funds to support excellence in patient care, research and teaching at the McGill University Health Centre, one of the top university hospitals in Canada. Our Dream Big Campaign to change the course of lives and medicine is raising millions of dollars to solve humanity's deadliest puzzles: infectious diseases; end cancer as a life-threatening illness; fix broken hearts through innovative cardiac care; detect the silent killers—ovarian and endometrial cancers—early; create the best skilled health care teams in Canada; and much more. We are rallying our entire community to solve the world's most complex health care challenges.

About McGill University
Founded in Montreal, Quebec, in 1821, McGill University is Canada's top ranked medical doctoral university. McGill is consistently ranked as one of the top universities, both nationally and internationally. It is a world-renowned institution of higher learning with research activities spanning two campuses, 11 faculties, 13 professional schools, 300 programs of study and over 40,000 students, including more than 10,200 graduate students. McGill attracts students from over 150 countries around the world, its 12,800 international students making up 31% of the student body. Over half of McGill students claim a first language other than English, including approximately 19% of our students who say French is their mother tongue.

Media contacts:
Jason Clement

Communications Manager

Faculty of Medicine and Health Sciences

McGill University

514-398-5909

jason.clement@mcgill.ca
Tarah Schwartz

Director, Communications & Marketing

MUHC Foundation

514-219-3790

tarah.schwartz@muhc.mcgill.ca
December 4, 2020