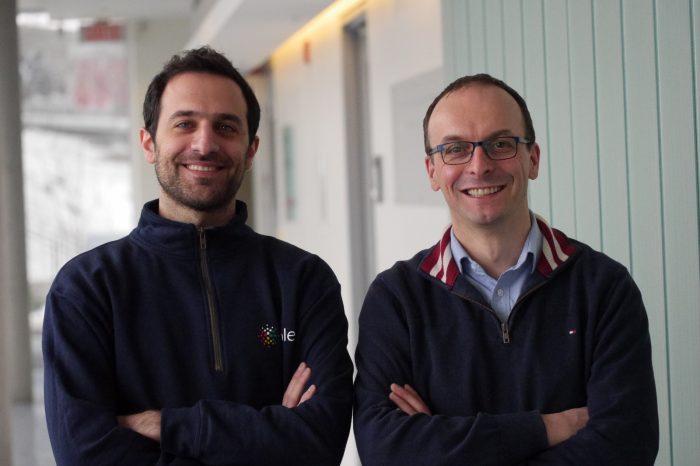 Source: Research and Innovation

McGill University and CQDM announced today that a collaborative project between McGill and nplex biosciences to further develop a highly-scalable protein detection method, termed the "nELISA", has been selected for funding by CQDM. The research team will receive a $1,000,000 grant for one year through the CQDM Quantum Leap program. Contributing to the CQDM grant are GlaxoSmithKline, nplex biosciences, McGill University's Healthy Brains, Healthy Lives initiative, and the Québec Ministère de l'Économie et de l'Innovation.

"The COVID-19 pandemic has shown us the importance of intensifying our support to the life sciences industry, a major sector of Quebec's economy. I believe that scientific research and innovation are instrumental for an economic recovery. For this reason, the Government of Québec is contributing $376,000 to the development of the nELISA platform, whose multiple applications will help us fight against the coronavirus," said Pierre Fitzgibbon, Minister of the Economy and Innovation and Minister responsible for Lanaudière.

"The need for developing scalable protein detection technologies is pressing, as the world contends with multiple health concerns, particularly related to our aging populations," said Dr. David Juncker, Professor, Department Chair, Department of Biomedical Engineering, and Principal Investigator on the grant. "The nELISA will allow us to more easily measure biology, like having a high-resolution telescope that can quickly scan the skies for phenomena no one has seen before."

The immunoassay market is estimated to reach $18 billion USD by 2025[1], but current technologies – derived from enzyme-linked immunosorbent assays (ELISA) – have severe trade-offs in speed, volume and/or accuracy that preclude their use for comprehensive protein analysis in high-throughput studies. nplex, a McGill spin-off, is commercializing the nELISA, a technology with the potential to transcend traditional technology trade-offs by simultaneously achieving high multiplexing, high-throughput, and high-sensitivity, while at the same time being cost effective.

"Working closely with our collaborators at GSK and McGill ensures that what we're building is immediately deployable in high-throughput screening workflows," said Dr. Milad Dagher, CEO and Co-Founder of nplex biosciences. "It's a good first step, but it only scratches the surface of what's possible with the nELISA – our goal is to replace and consolidate the broad range of legacy immunoassay toolkits that scientists use today with a broadly applicable platform that can carry the science end-to-end, from discovery all the way to the clinic."

"CQDM is proud to fund the development of the nELISA platform and support the growth of nplex biosciences as they work to provide an innovative platform to accelerate biopharmaceutical drug discovery." said Jesse Paterson, CQDM's Senior Director, Business development. "The Quantum Leap program highlights CQDM's ability to assemble financing from a variety of organizations in the life science ecosystem and to support the translation of early-stage research by fostering collaborations between academic, biotech and pharmaceutical research partners"

Building on the advantages that make the sandwich ELISA a gold standard, the nELISA leverages nanotechnology to achieve unprecedented scalability through miniaturization and parallelization. The nELISA shrinks all of the components of the traditional ELISA onto micron-sized beads, enabling many different nELISA assays to be multiplexed together with zero cross-talk – a major bottleneck until now. nELISA beads are also engineered to be uniquely color coded, an aspect that ultimately enables fast, reliable, and low-cost readout using flow cytometry equipment commonly found in research labs.

In this project, the nELISA will be used to profile the level of 150 key cytokines in 15,000 cell-derived samples, generating >2 million protein data points and demonstrating the utility of the nELISA as a high content screening technology. These tests will allow GSK to pilot the nELISA in several HTS projects, with additional testing for neurological applications to be conducted at The Neuro (Montreal Neurological Institute-Hospital) by Dr. Thomas Durcan and Dr. Ted Fon. Their team will run 5,000 assays to assess the impact of 1,200 different drugs on astrocytes (a fundamental class of human neural cells), which have been generated from Induced Pluripotent Stem Cells (IPSCs) derived from Parkinson's disease patients at The Neuro.

Whereas the 150-plex nELISA developed in this project is anticipated to bring new capabilities to drug discovery, it may also provide support in the fight against COVID-19 by giving researchers a new tool to understand cytokine storm and antibody-dependent enhancement, two cytokine-dependent phenomena at the heart of COVID-19 disease biology and vaccine efficacy. Dagher noted that nplex is also working with academic and clinical collaborators in the Montreal region to develop a high-specificity COVID-19 serology test based on the nELISA that could be deployed at scale on cytometers in clinical settings.
July 16 2020