Parents and youth steer research network to help children with brain-based developmental disabilities
Source: Canadian Institutes of Health Research
Canadian Institutes of Health Research, Health Research in Action, Nothing for us without us http://www.cihr-irsc.gc.ca/e/51263.html 2018.  All rights reserved.  Reproduced with the permission of the Canadian Institutes of Health Research, 2018.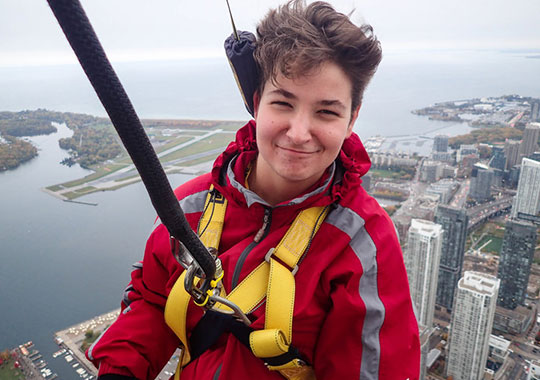 Maya Pajevic is a thrill seeker and a rebel.

The 22-year-old university student from Calgary is into bungee jumping, sky diving, and hang gliding. She loves travelling, skiing and tandem biking with her friends.

Maya is also living with a disability.

On August 17, 2002, at the age of six, Maya was diagnosed with type 1 diabetes and that night she suffered a massive stroke. While in the hospital, doctors also discovered two potentially fatal blood clots in her heart that had to be removed through open heart surgery.

Doctors told her parents that if she survived she would be severely impaired. She would be dependent on others for her basic needs and would never walk, talk, chew, swallow, or communicate. She would have difficulty learning and participating in school.

Now, almost 16 years later, Maya is not only living – she's thriving.

Maya does cope with a number of consequences from her medical scare. She has to watch what she eats. She has only 10 percent sensation on her right side and limited balance. She has no fine motor skills in her right arm. She's a bit slower in understanding academic material.

These consequences have not stopped Maya from pursuing a bachelor's degree in sociology at Mount Royal University with a double minor in social innovation and innovation and entrepreneurship.

In addition to her studies, Maya's been a patient advisor and partner to health care organizations for many years. She's an intern and future fellow in the Design Lab within Alberta Health Services where they use design thinking and creative problem solving to improve health services. Maya brings a user voice to the team and contributes to the quality of the design process.

"I would call myself a rebel," says Maya. "I think it's important to question the status quo, and I hope that patients don't accept the system – that they ask 'why' or 'why not' when it comes to their interactions with the health care system."

Maya's applying this same rebellious spirit in a new role as a member of the National Youth Advisory Panel for the CHILD-BRIGHT Network, one of several pan-Canadian networks funded by CIHR and partners under the Strategy for Patient-Oriented Research, or SPOR.

CHILD-BRIGHT is focused on supporting the rights of some of Canada's most vulnerable citizens – children with brain-based developmental disabilities.

"This initiative shows that people with disabilities have a voice, and that their lived experience partnering with the system can help create an environment in which children with disabilities can thrive," says Maya. "It also proves that youth do have ideas and want to be change agents."

As a member of the CHILD-BRIGHT youth panel, Maya hopes to learn how research works and how the results trickle down to patients and affect the patient experience.

In Canada, as many as 850,000 children under the age of 14 are living with a brain-based developmental disability such as cerebral palsy and autism spectrum disorder.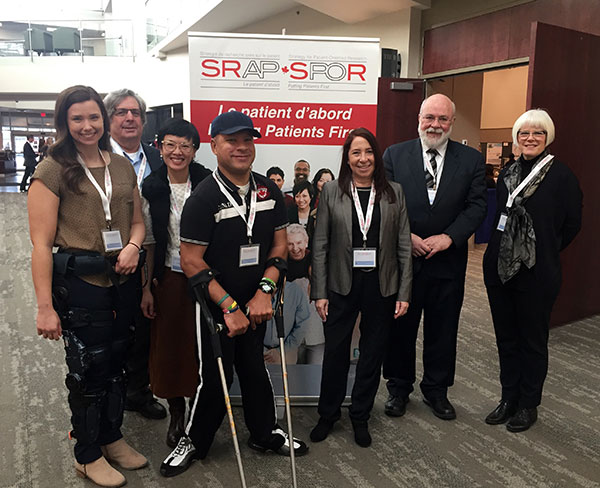 "Our goal is to help children reach their potential, better support their families, and build more inclusive societies," says Dr. Annette Majnemer, Nominated Principal Investigator and Scientific Co-Director of CHILD-BRIGHT.

Dr. Majnemer and her pan-Canadian research team are doing that by making children and youth with disabilities and their families an integral part of CHILD-BRIGHT.

"Our network was built on research priorities identified by parents and youth with disabilities as well as a range of stakeholders working in the field of brain-based developmental disabilities such as clinicians, policy makers, researchers, and health administrators," says Dr. Majnemer. "The National Youth Advisory Panel is another mechanism that we have put in place to make sure youth continue to have a strong voice in our activities."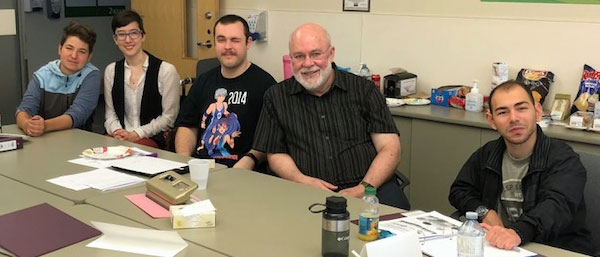 The network is guided by the philosophy of "nothing for us without us". In other words, citizen engagement – via the involvement of youth with brain-based developmental disabilities and/or their family representatives when the children themselves cannot advocate for their own interests – steers all network priorities and is central to network activities.

The youth panel complements CHILD-BRIGHT's existing Citizen Engagement Council and together these bodies are where youth and parents steer all matters affecting them.

"At the outset, we needed to figure out how we collaborate with youth, and how youth collaborate with the researchers and health care providers in the network," says Frank Gavin, CHILD-BRIGHT's Citizen Engagement Director and Chair of the Citizen Engagement Council.

"At the same time, we want to promote inclusiveness and a reciprocal approach. We want to foster active, thoughtful and productive exchange. Finally, we want to empower these extraordinary young people and help them serve as agents of change, not just in research but in society."

Maya is one of six remarkable young people serving on the youth panel. The aim is to recruit up to 10 members representing different ages, disabilities and regions of the country. The members control how they operate, including when and how often they meet and in what format.

The youth panel will provide advice on matters such as the recruitment of youth for research programs and how to communicate in ways that appeal to youth. They will have the opportunity to ask questions that they would like answered and to take part in training to develop the knowledge and skills to allow them to partner fully in research.

CHILD-BRIGHT is focused on supporting the rights of some of Canada's most vulnerable citizens – children with brain-based developmental disabilities.

For research to make a difference, the findings need to be delivered to people who can use them, and in a format that makes them easy to understand and apply.

CHILD-BRIGHT is leading the way in providing innovative, practical solutions to real-world problems.

One example is Jooay, a free mobile and web app that helps children with disabilities and their families locate leisure opportunities close to where they are. The app contains a database of arts, sports, camps, and other leisure programs across the country.

It's also designed to foster a community of parents, rehabilitation professionals, and teachers, who can use the app to connect, exchange, learn from each other, and learn about policies supporting leisure and research.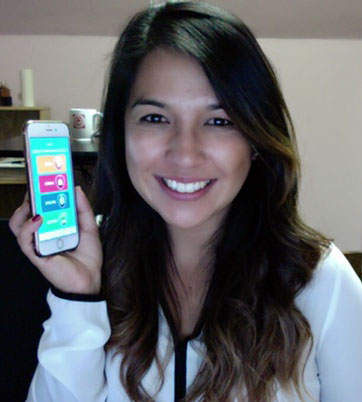 Dr. Keiko Shikako-Thomas  and Dr. Majnemer created Jooay in collaboration with parents, rehabilitation professionals, policy makers, physical education teachers, and community partners.

"We knew that parents use their smartphones to search for information and organize their lives. So creating an app was an innovative and efficient way for us to connect parents and provide information on appropriate leisure programs available to their children across Canada," says Dr. Shikako-Thomas, an occupational therapist, childhood disability researcher, and knowledge translation co-lead of CHILD-BRIGHT.

The Jooay app, which is now in version 2.0, has over 1,700 users and close to 2,000 activities listed in the 10 Canadian provinces. The app has received a positive reception from partners and community partners.

Robert Simpson, a physical education teacher at a school for children with disabilities in Montreal says, "the Jooay app was a game changer! I show it to parents at every parent teacher meeting and the app helps them find activities that are appropriate for their children, close to where they live so that children can stay active out of school hours."

CHILD-BRIGHT is not only connecting parents and families with research that can help them in their daily lives, they are also helping parents act as agents of change by connecting them with policy makers and joining the dialogue in supporting evidence-informed decision-making.

"Through our research programs, we promote the fundamental human rights of children with disabilities such as the right to health, the right to develop in nurturing communities, and the right to play," says Dr. Shikako-Thomas.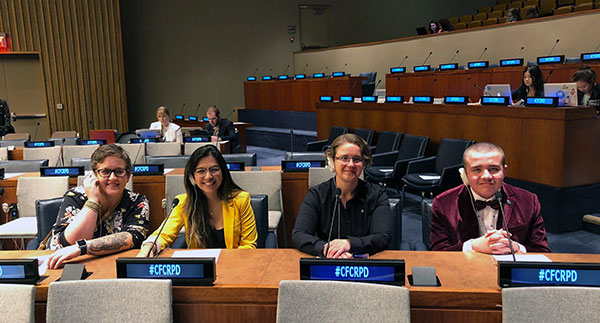 Last June, for example, Dr. Shikako-Thomas brought two parents and a youth: Rachel Martens, Susan Cosgrove, and her 15-year-old son Liam, to the United Nations Headquarters in New York City as members of the Canadian delegation attending the 11th Conference of the Parties to the Convention on the Rights of Persons with Disabilities. Canada is one of 177 countries that have signed the Convention.

Susan attended as part of her functions as parent mentor with CHILD-BRIGHT, and Rachel is a parent ambassador for the Jooay project. Liam is on the autism spectrum. Together they have become advocates and ambassadors for children with disabilities and their families. At the UN, Rachel, Susan and Liam shared their views on human rights while Dr. Shikako-Thomas and Jonathan Lai, a postdoctoral fellow at CHILD-BRIGHT, presented the research on rights-based approaches to disability in Canada along with Canadian government officials.

In a blog post, Susan relates the excitement that she and Liam felt at having the opportunity to engage global leaders, meet other families, and speak on behalf of their community. "Through our relationships with other families living with disability we create a stronger whole, a louder voice. When parents… have the opportunity to speak for our community, we can feel the power of Canadian families and are humbled to be their representatives," writes Susan.

By working together with youth and families like Susan's, Maya's, Rachel's and so many others, CHILD-BRIGHT is helping ensure that the rights of children with disabilities aren't lost in the intersection of disability rights and child rights in Canada so that all children, regardless of their ability, have a BRIGHT future.

December 12, 2018