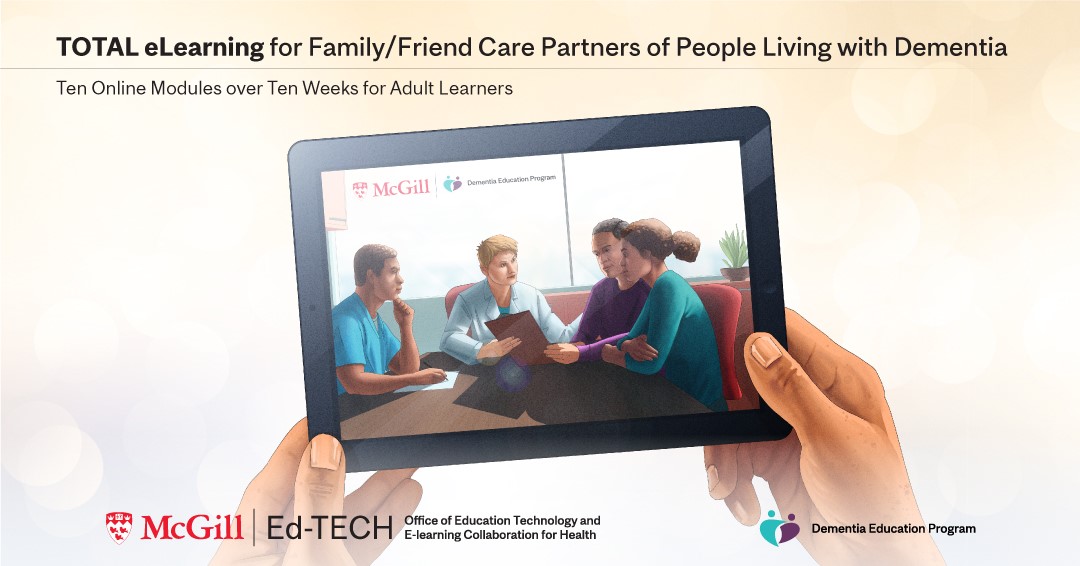 A new initiative by McGill University's Dementia Education Program is among the 15 projects that will receive funding from the Public Health Agency of Canada to raise awareness of dementia and promote dementia-inclusive communities, announced the Honourable Jean-Yves Duclos today.
The Dementia Community Investment (DCI) will invest $758,430 to support the development of Ten Online Modules over Ten Weeks for Adult Learners (TOTAL) eLearning for Family/Friend Care Partners of People Living with Dementia. This project will adapt and enhance the existing bilingual Dementia Education Program workshop content to the current COVID-19 context by using a virtual learning platform to educate and support family/friend care partners of people living with dementia.
The goal of TOTAL eLearning is to increase knowledge about dementia and decrease social isolation experienced by informal care partners. By creating a flexible and accessible virtual learning platform, this project will also enable rural populations to access resources and supports that have primarily been available only in urban settings.
"Family and friend care partners of people living with dementia are often isolated, both physically and socially, and unfortunately, the pandemic has exacerbated these issues. We want to connect with this vulnerable population and provide a community education experience that is culturally relevant and engaging. The new TOTAL eLearning platform will allow us to deliver these needed resources in an online format to support the people who need it the most," says the principal investigator for this initiative, Tamara Carver, PhD, Assistant Professor at the Institute of Health Sciences Education and Director of the Office of Education Technology and E-learning Collaboration for Health (Ed-TECH) at the McGill Faculty of Medicine and Health Sciences.
TOTAL eLearning will reach diverse communities in Montreal as well as remote communities in rural Quebec. The future goal is to expand the reach nationally through partnerships with the Alzheimer Society of Canada, the Canadian Consortium on Neurodegeneration and Aging and Dementia Advocacy Canada.
"This support from the Public Health Agency of Canada will allow us to further leverage the outstanding expertise within the Dementia Education Program and work with community partners to enhance the wellbeing of people living with dementia and their care partners," says Vice-Principal (Health Affairs) and Dean of the Faculty of Medicine and Health Sciences at McGill University, David Eidelman, MDCM. "By working together and finding innovative ways to connect with and support our communities, we will build healthier, more resilient societies."
---
For more information: TOTAL eLearning
Visit www.mcgill.ca/dementia to learn about the McGill Dementia Education Program.
For media requests, please contact:
Diane Weidner
Communication and Events Officer
Faculty of Medicine and Health Sciences
Steinberg Centre for Simulation and Interactive Learning
McGill University
Email: diane.weidner@mcgill.ca
Cell: 514-264-4361