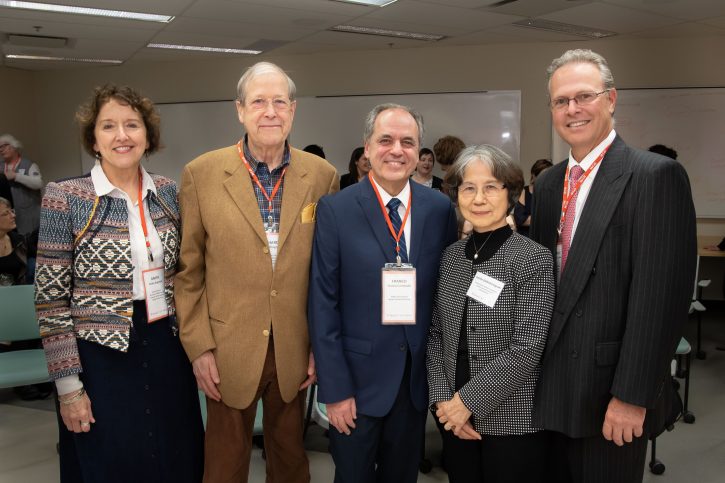 Source: Medicine Focus

Richard and Satoko Ingram of the Newton Foundation have announced a $1.1 million donation to the Montreal General Hospital Foundation (MGHF) in support of VOICE: Views On Interdisciplinary Childhood Ethics, a cross-institutional initiative based at McGill's Ingram School of Nursing (ISoN).

VOICE brings together an interdisciplinary team of researchers, students and community partners, which has been working for over a decade to promote respect for children's rights and to address ethical concerns in children's lives.

Led by eight researchers from McGill University, Université de Sherbrooke and Western University, VOICE encompasses a range of disciplines, including bioethics, dentistry, education, law, nursing, pediatric medicine, occupational therapy, psychology and social work. It is active in Canada, where it partners with multiple Indigenous communities, and globally, with collaborations in Brazil, India, Tanzania, Republic of Georgia and Mauritius.

The program's principal investigator, nurse, psychologist and clinical ethicist Professor Franco Carnevale, ISoN, says, "Children are highly vulnerable. Some are especially vulnerable, such as children with disabilities, mental health problems or children with a terminal illness, as well as Indigenous children, migrant newcomers or children living in poverty. Many children experience humiliation, distress and trauma in their daily lives as their voices and experiences are discounted in decisions that affect them. VOICE helps ensure all children's voices are heard and that their rights are respected in health care, social services and public policy."

As to what this new gift, made via the MGHF, will enable VOICE to achieve, Carnevale says, "It will ensure the long-term sustainability of our work by providing a stable source of funding as we intensify our efforts. In particular, it will create incentives to recruit strong graduate trainees and allow us to bolster collaborations with our community partners."

Says Dr. Anita Gagnon, Associate Dean, Faculty of Medicine, and Director, ISoN, "VOICE promotes research, education and advocacy at home and abroad on behalf of the most vulnerable of the vulnerable. We are tremendously grateful to the Newton Foundation for championing this unique program, and to the MGHF for its partnership."

"VOICE is a wonderful example of interdisciplinary collaboration," says Mr. Ingram, founder and president of the Newton Foundation, a staunch benefactor of nursing at McGill and across Quebec. At the ISoN, the Foundation is a supporter of the Susan E. French Chair in Nursing Research and Innovative Practice, the McGill Nursing Collaborative for Education and Innovation in Patient and Family-Centred Care, and the Satoko Shibata Clinical Nursing Laboratories. In 2012, the McGill School of Nursing was renamed in recognition of the Ingrams' generosity.

"VOICE has identified certain child populations as priority concerns, notably children with mental illness, disability or terminal illness, as well as children living in poverty and Indigenous children. This gift will propel VOICE forward," says Prof. Carnevale.
---
About Richard and Satoko Ingram

Richard and Satoko Ingram are committed to the development of excellence in nursing. After working in international development for five years in Latin America, Mr. Ingram co-founded Archivex in 1973. It was sold in 1999 as the 4th largest (and largest privately held) office records storage company in North America. The couple used a portion of the proceeds to launch the Newton Foundation, which focuses on academic nursing in Montreal, with the aim of making the city one of the five leading metropolises in that area. Mrs. Ingram is also passionate about social work, and devotes significant time and resources to LOVE (Leave Out Violence), an organization that supports youth in developing healthy relationships and overcoming challenges to become inspirational leaders.
About VOICE: Views On Interdisciplinary Childhood Ethics (www.mcgill.ca/voice)

VOICE is a Childhood Ethics Research, Education & Action Program led by the following eight core researchers:

Franco Carnevale (VOICE Principal Investigator; Ingram School of Nursing, McGill)

Delphine Collin-Vézina (School of Social Work, McGill)

Mary Ellen Macdonald (Faculty of Dentistry, McGill)

Jean-Frédéric Menard (Faculty of Law, Université de Sherbrooke)

Marjorie Montreuil (Ingram School of Nursing, McGill)

Victoria Talwar (Faculty of Education, McGill)

Gail Teachman (School of Occupational Therapy, Western University)

Shauna Van Praagh (Faculty of Law, McGill)
February 18 2020