Revolutionary research findings honoured, as well as passion and compassion in research and patient care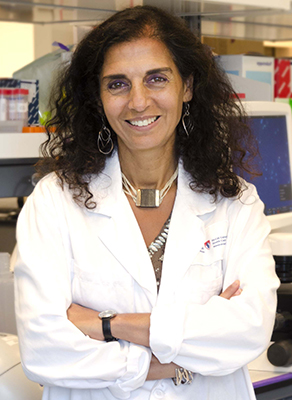 Source: PCC and RI-MUHC
Dr. Nada Jabado, a senior scientist at the Research Institute of the McGill University Health Centre, received the 2019 Pediatric Academic Leadership─Clinician Investigator Award from the Pediatric Chairs of Canada (PCC) in June. The award recognizes outstanding leadership in developing environments that foster opportunity for child and youth health research.

The PCC noted that Dr. Jabado's success and excellence as a scientist are acknowledged and celebrated by her peer community. She has been responsible for revolutionary research findings influencing the World Health Organization to revise its classification of central nervous system tumours. Additionally, her research into the histone binding gene with its targeted and effective interventions is expected to lead to improved outcomes.

Dr. Jabado is an exceptional national and international leader in science, primarily in the field of pediatric neuro-oncology, but also in cancer in general. She is a highly productive researcher whose career achievement has successfully garnered multimillion-dollar research funding.

"I am honoured to receive this prestigious award and humbled to be in such distinguished company as other former recipients," says Dr. Jabado. "The true measure of a clinician scientist specializing in cancer is how efficiently we can bring discoveries from bench to bedside. Given the diverse nature of brain tumours in children, we have only been able to make small strides in field of pediatric neuro-oncology. However, I am confident that our findings in the field will continue to shed light on the genetic and epigenetic roots of this disease and pave the way to improve the health outcomes of all children diagnosed with brain tumours."

The PCC award celebrates Dr. Jabado as an outstanding investigator and commends her passion and compassion, both in her research and in the care she offers her patients and their families – her constant reference point.

"I would be remiss if I didn't acknowledge the driving force behind our work," she notes: "my colleagues in the Division of Hematology and Neuro-oncology at the Montreal Children's Hospital of the MUHC and my team in the lab at the Research Institute of the McGill University Health Centre. Even more importantly, the children and their families who participate in scientific research, knowing full well that these findings may not benefit them directly, but who are simply paying it forward."

Congratulations, Dr. Jabado!

More on the PCC website

August 6 2019