MUHC among the top 3 on the list of Canada's Top 40 Research Hospitals!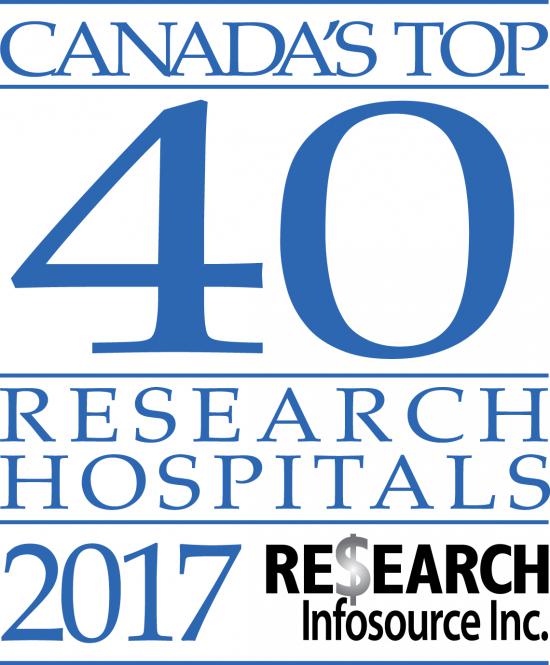 Source: MUHC
For the second year in a row, the McGill University Health Centre (MUHC) is proud to be among the top three in Research Infosource's prestigious list of Canada's Top 40 Research Hospitals, which was published last week.

Every year, Research Infosource Inc., a leading research, consulting, and publishing firm, provides analysis of leading Canadian research hospitals that enhance Canada's global competitiveness in the knowledge economy.

Thanks to the excellence associated with the Research Institute of the MUHC, the health centre ranks third on the annual top 40 list and keeps its position as the leading  research hospital in Quebec for overall research spending ($178.8M), which includes all funds (direct and indirect) spent on internal and external sources to support research.

Moreover, the MUHC placed second for hospital intensity (research spending as a percentage of total hospital spending) and for researcher intensity (research spending per researcher) in the Large hospital rankings.
"I am proud of our researchers, students and trainees who are constantly pushing boundaries of knowledge and innovation to make new discoveries in medicine. This is why the MUHC is a world-class health care institution. The MUHC is more than a research hospital, it is a hospital driven by research." – Dr. Bruce Mazer, Interim Executive Director and Chief Scientific Officer, RI-MUHC
"I wish to congratulate our investigators, as well as clinical and support teams, on this outstanding achievement. The ranking reflects their tireless efforts to create an intensive, integrative and collaborative environment at the MUHC, where world-class research thrives and continues to impact the present and future of health care for patients here at home and around the world." –Martine Alfonso, Interim President and Executive Director, MUHC

To view the complete list of Canada's top 40 research hospitals, visit the Research Infosource website.

The McGill University Health Centre (MUHC) is one of the world's foremost academic health centres. Building on the tradition of medical leadership of its founding hospitals, the MUHC provides exceptional multidisciplinary patient-centric care. Affiliated with the Faculty of Medicine of McGill University, the MUHC continues to shape the course of adult and pediatric medicine by attracting clinical and research expertise from around the world, assessing the latest in medical technology, and training the next generation of medical professionals.

In collaboration with our network partners, we are building a better future for our patients and their families; for our employees, professionals, researchers and students; for our community and above all, for life.

The Research Institute of the McGill University Health Centre (RI-MUHC) is a world-renowned biomedical and healthcare research centre. The Institute, which is affiliated with the Faculty of Medicine of McGill University, is the research arm of the McGill University Health Centre (MUHC) – an academic health centre located in Montreal, Canada, that has a mandate to focus on complex care within its community. The RI-MUHC supports over 420 researchers and close to 1,200 research trainees devoted to a broad spectrum of fundamental, clinical and health outcomes research at the Glen and the Montreal General Hospital sites of the MUHC. Its research facilities offer a dynamic multidisciplinary environment that fosters collaboration and leverages discovery aimed at improving the health of individual patients across their lifespan. The RI-MUHC is supported in part by the Fonds de recherche du Québec – Santé (FRQS). rimuhc.ca

November 13, 2017