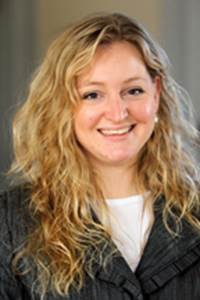 Dr. Meredith Young, Assistant Professor in the Department of Medicine and Research Scientist at the Centre for Medical Education at McGill University's Faculty of Medicine has been selected as the 2017 recipient of the Canadian Association for Medical Education's (CAME) Meridith Marks New Educator Award. The award recognizes individuals in the first phase of their professional career who have made a significant contribution to medical education.

"I am honoured to win this award named after an incredibly kind, generous, and innovative Canadian medical educator," says Dr. Young.  "Being selected for the Meridith Marks New Educator award by the Canadian Association for Medical Education is both humbling and exhilarating. I am thankful for the privilege of being named among such an incredible list of scholars, and am fortunate to be able to work in such a collaborative and creative field, among so many friends and mentors."

Dr. Young obtained her PhD from McMaster University in Psychology in 2009.  Her research program tackles two main themes: 1) the cognitive mechanisms and understandings of clinical reasoning and 2) issues of validity in assessment in health professions education. More specifically, she studies how learners select relevant information, how they formulate hypotheses, develop treatment plans, and is interested in the development of expertise and markers for expert performance. She also investigates various conceptions of validity and validation, and how these understandings can influence assessment practices.

The award will be presented to Dr. Young at the CAME Awards Luncheon and Lecture on Monday, May 1, 2017 in Winnipeg during the CCME 2017 conference.

Congratulations Dr. Young!

April 6, 2017