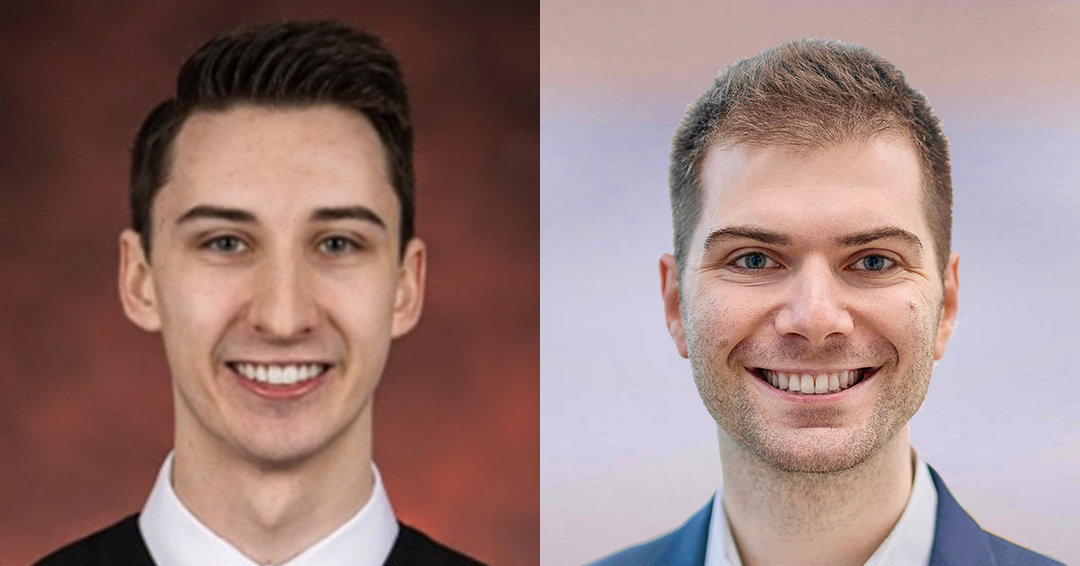 To conclude our Meet the Grads, 2023 series, we met with Brandon Hall, MDCM, who was awarded the Holmes Gold Medal. Founded in 1865 in honour of Andrew Holmes, our first Dean, the Holmes Medal is awarded to the student graduating with the highest aggregate standing in the entire medical curriculum. We also met with Wood Gold Medal laureate, Ryan Antel, MDCM. The Wood Medal is awarded for the most outstanding clinical performance achieved by a student in the Clerkship Period. 
Brandon Hall, MDCM, recipient of the 2023 Holmes Gold Medal 
Your bio: My name is Brandon Hall. I was born and raised in Montreal. Prior to premedical training and medical school at McGill, I attended John Abbott College. When I'm not at the hospital, you can find me playing board games, shooting hoops on the basketball court, and hitting the ice for some pickup hockey. My heart is always full when I'm surrounded by my incredible girlfriend, two cats, three dogs, and my cherished family and friends. A fun fact about me is that I worked as a bartender and Zamboni driver (a true Canadian) prior to, and during, medical school. 
What does receiving this award mean to you? 
I firmly believe receiving the Holmes Gold Medal is an extraordinary achievement, and I am humbled and incredibly proud to have been awarded this prestigious accolade. This recognition holds immense significance for me as it represents the culmination of years of hard work, perseverance, and academic excellence throughout my medical education. Winning the Holmes Gold Medal affirms not only my dedication to learning and to striving for the highest standards in patient care, but it also serves as a testament to the unwavering support and guidance I have received from my mentors and loved ones.  
What's next for you? 
I am pursuing residency training in orthopaedic surgery at the University of Toronto. 
Ryan Antel, MDCM, recipient of the 2023 Wood Gold Award 
Your bio: Prior to beginning my medical studies, I obtained a DEC (diolôme, d'études collégiales) in Health Science from Marianopolis College and then completed the medicine-preparatory program at McGill University. Throughout my medical training, I have been a strong advocate for peer mentorship, actively participating in mentorship programs, community outreach activities and medical education leadership initiatives. I have also been engaged in several research endeavors in collaboration with supportive mentors throughout the McGill network, primarily studying the incorporation of artiticial intelligence technologies within the clinical setting. Outside of academia, I am an avid baseball player who can often be found on one of the many baseball diamonds scattered across the island of Montreal. 
What does receiving this award mean to you?
I'm very grateful and honoured to receive this award, and to have been amongst the talented graduating class of 2023. This award ultimately serves as a reminder of the incredible support that I have received from my family, friends and classmates that has allowed me to pursue my passions to the fullest. 
What's next for you?
I'm excited to be continuing my medical training at McGill University, where I'll be completing a 5-year residency in anesthesiology. I look forward to helping our patients be safe, and comfortable, throughout their healthcare journey!