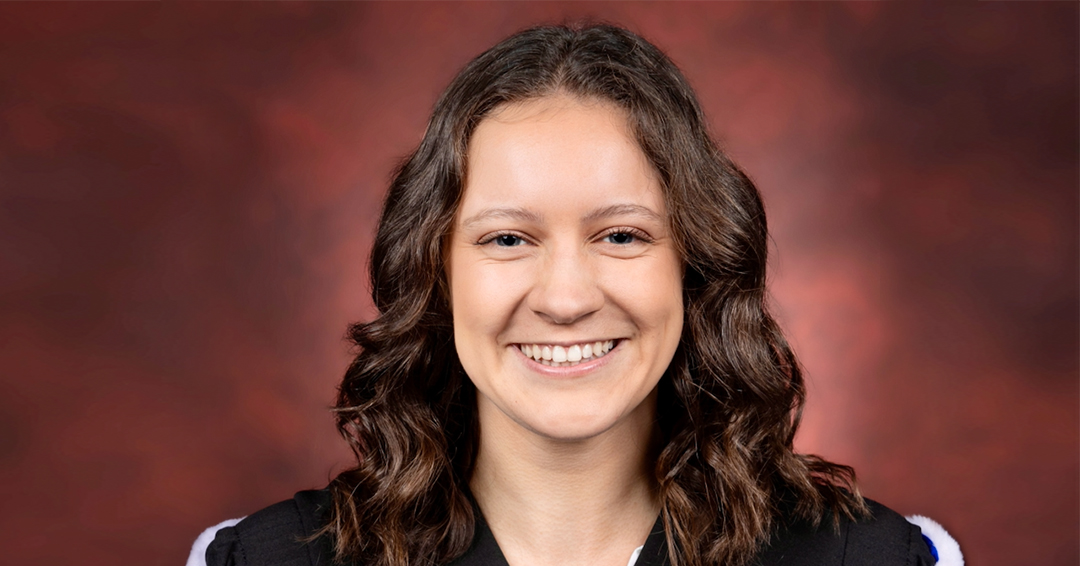 As part of our Spring Convocation 2022 coverage, we asked a graduate from each of our six Schools to share their unique experiences – the ups and the downs – of completing their degrees during the COVID-19 pandemic. Here we meet Class of 2022 member Rachel Pearson, from the Ingram School of Nursing, who completed her Bachelor of Science in Nursing degree, conferred on May 26. Congratulations Rachel!
Your name: Rachel Pearson
Your degree: Bachelor of Science in Nursing
Your School: Ingram School of Nursing
Your hometown: Barrie, Ontario
What year did you begin your degree? September 2018
Why did you choose McGill?
I wanted to experience living in Montreal and McGill has a great reputation academically.
You started your degree before the pandemic. Looking back what impressions do you have from those early days of your degree? 
As I started my degree at McGill, I remember being very excited but also overwhelmed with finding a good balance between school and extracurriculars. I also appreciated the diversity of the city and everyone I was meeting.
Do you remember the day McGill announced it was closing its campuses and moving to remote learning? 
I had just gotten back from class when I checked my email and saw that McGill was closing the campus. The evolution from hearing about COVID-19 to packing my bags after finding out McGill was closing was a lot to wrap my head around. At the time I was in second year, and I did not expect to be living this new reality over two years later and now graduating.
What were your hopes, worries, fears during lockdown?
I was scared about how COVID-19 would impact my family and friends, hoping they were all able to stay isolated and safe in their homes. I also started working in a long-term residence that summer so that was something else I was nervous about in terms of getting proper personal protective equipment and the spread of the virus between work and home.
Did you have a lockdown hobby or undiscovered/rediscovered passion or talent?
I started running more which allowed me to get outside and exercise while staying physically distanced from others.
Were you able to return to clinical rotations and lab work? What was it like?
I was thankful to be able to return to my labs and clinicals as soon as the Fall 2020 semester started but there were a lot of adjustments. Our clinical placement in the hospital was grouped into one month of full-time work instead of two days per week throughout the semester, so planning my five other classes around that was a big change. Going to our labs and clinical were some of the only social interactions I had outside of my house, so it was nice to be able to see some familiar (masked) faces then. While it was a bit scary working in the hospital during the height of the pandemic, I was thankful to have in-person learning for my clinical placement, where I feel I really consolidate my theoretical knowledge.
What was the best thing about being back on campus when in-person activities were permitted again? What was the worst?
The best thing about returning to campus was seeing all the friends and classmates I would normally see on a day-to-day basis again. The worst thing was having to get up for my 8:30 classes again instead of watching them online on my own time.
What did you learn about yourself during lockdown?
I learned about my resiliency and ability to adjust to changes during lockdown, but I couldn't have adapted the way I did without the support of my loved ones.
Did the pandemic change the course of your academic career or the path you hope to take?
I managed to stay on track with my degree and stayed in nursing, but the nursing profession has taken a hard hit with the pandemic so it will be a big learning curve as I start work.
What will you tell your grandkids/alien visitors/biographer about being a university student during the COVID-19 pandemic?
I would tell them it is something I learned a lot from but also something I hope they do not have to experience themselves.
What's next after graduation?
I will be taking a graduation trip to Europe and then starting work as a nurse back in my hometown.
Related:
Watch the May 26 Convocation ceremony and check out the Health Sciences Convocation program.
Read the Q&As from the students from the other Schools.
(Photo courtesy Rachel Pearson)