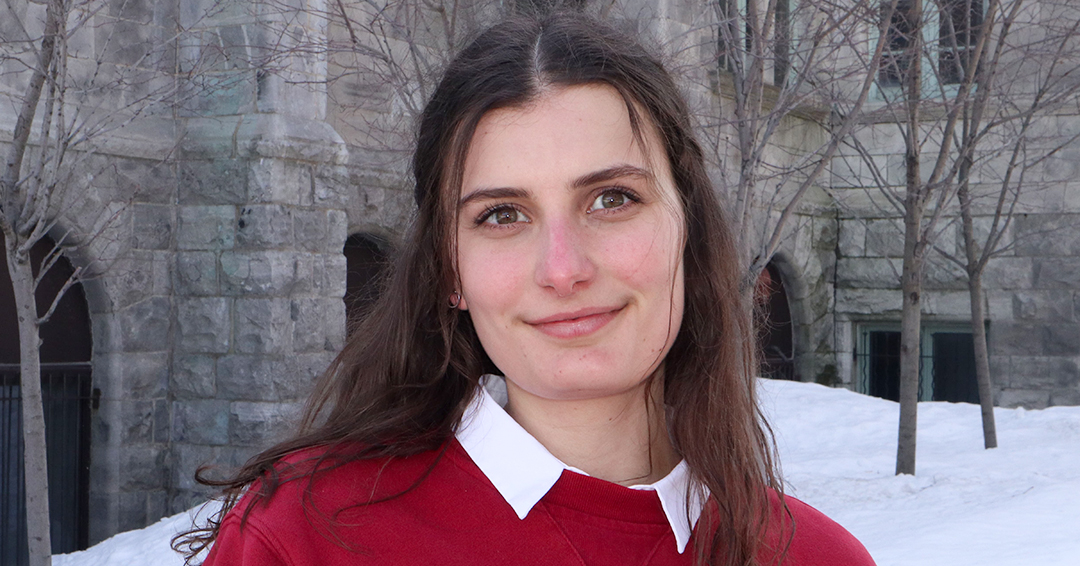 As part of our Spring Convocation 2022 coverage, we asked a graduate from each of our six Schools to share their unique experiences – the ups and the downs – of completing their degrees during the COVID-19 pandemic. Here we meet Class of 2022 member Mira Loock, from the School of Biomedical Sciences, who completed her Bachelor of Science in Microbiology and Immunology degree, conferred on May 26. Congratulations Mira !
Your name: Mira Loock
Your degree: Bachelor of Science in Microbiology and Immunology
Your School: Biomedical Sciences
Your hometown: Kingston, Ontario
When did you begin your degree? September 2018.
Why did you choose McGill?
I chose to go to McGill as I knew I wanted to pursue a degree in the biomedical sciences but was not entirely sure of what I wanted to field I wanted to major in. McGill had so many options that I could choose from after my U0 year and had the opportunity to get hands-on experience in a lab as an undergraduate student.
You started your degree pre-COVID. Looking back what impressions do you have from those early days of your degree? 
I remember university being a very social place. I made some amazing friends from lectures and living in residence. I loved being a part of community within my department. I also remember many late nights studying with my friends in the library. I was very involved in student life early on through residence and department councils. This helped make friends, meet new people, and get involved in a lot of different aspects of campus life.
Do you remember the day McGill announced it was closing its campuses and moving to remote learning? 
I clearly remember the day that McGill announced it was closing the campus. I received the email as I was walking out of an organic chemistry midterm with 400 of my classmates. I remember the wave of anxiety and the tension that was very clearly felt throughout the crowd and the uncertainty about what was going to happen next. After the midterm and receiving news of the closures, I decided to stop by the grocery store just to pick up a couple items just in case. I remember walking into the grocery store to see all the shelves cleared out. I think that was the moment that I released the seriousness and extent of what was going to happen.
What were your hopes, worries, fears during lockdown?
I shared the same worries and fears as many others. I was worried about being away from my family, not having access to the supports I was used to having and falling behind on my studies. I also feared for my health and that of those around me. My biggest hope was that the pandemic wouldn't last long and that life as we knew it would be back soon.
Did you have a lockdown hobby or undiscovered/rediscovered passion or talent?
Like many other people, I turned to baking when the lockdown started. There was a month where my roommates and I baked bread daily! I also learned embroidery!
Were you able to return to lab work while campus was still closed? 
Because of the pandemic, my first lab positions were entirely remote. I remember feeling very isolated as I was trying to navigate new skills and concepts without the direct support of peers and mentors.
What was the best thing about being back on campus when in-person activities were permitted again? What was the worst?
The best part of being on-campus when in-person activities were permitted was being able to connect with my peers again in-person. I loved being able to attend events (even if they were slightly modified) and feel as though I was a part of a larger community. It's wonderful to have the random encounters again and to have those small conversations with people I would not necessarily schedule a call with. I cannot think of anything bad about being back on campus except those -30 degrees walks to class.
What did you learn about yourself during lockdown?
During the peak of the pandemic, I was living in isolation with my two roommates (we are still friends!!). I learned how to live in close proximity with other people and through this I learned tolerance and consideration which has been very useful in many different aspects of my life.
Did the pandemic change the course of your academic career or the path you hope to take?
Studying microbiology and immunology, the pandemic reaffirmed the importance of the field which I chose to study. I was able to see first-hand and in real-time how my classroom work is applied in the real-world and reaffirmed my love for the field!
What will you tell your grandkids/alien visitors/biographer about being a university student during the COVID-19 pandemic?
You want to go out past 8pm? We couldn't go out outside for two years!! In all seriousness, being a student throughout the pandemic, was one of the more profound experiences of my early adult life. I am very grateful for the support network and friendships I could build despite the circumstances.
What's next after graduation?
I am pursuing a Master of Science in Parasitology at McGill under the supervision of Dr. Igor Cestari. I will be working on discovering vaccine targets for Chagas Disease!
Related:
Watch the May 26 Convocation ceremony and check out the Health Sciences Convocation program.
Read the Q&As from the students from the other Schools.
(Photo courtesy Mira Loock)