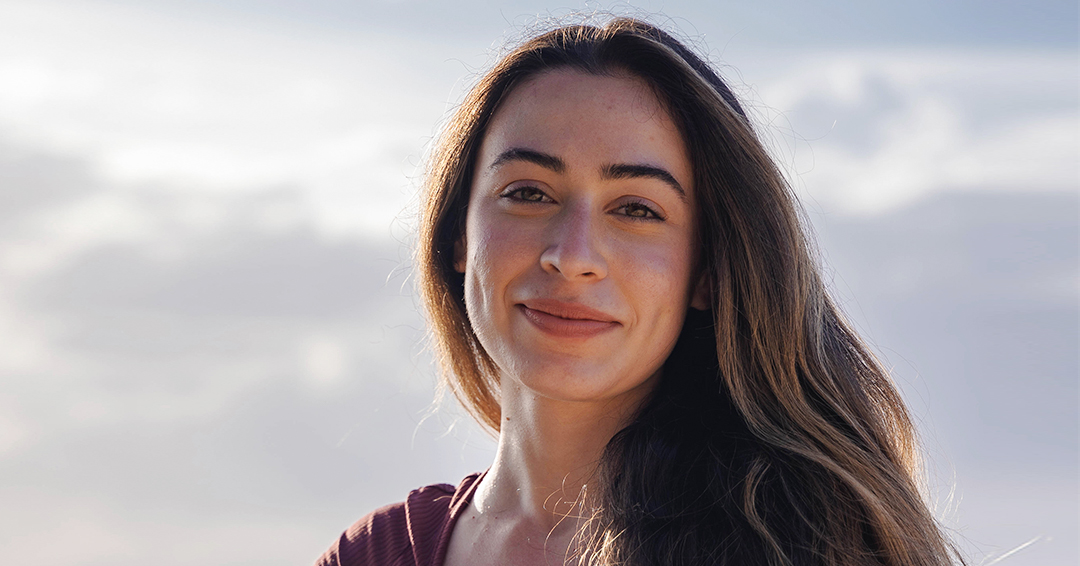 As part of our Spring Convocation 2022 coverage, we asked a graduate from each of our six Schools to share their unique experiences – the ups and the downs – of completing their degrees in the time of the COVID-19 pandemic. Here we meet Class of 2022 member Francesca del Giorgio, from the School of Population and Global Health, who completed her MSc in Epidemiology degree, conferred on May 26. Congratulations Francesca!
Your name: Francesca del Giorgio
Your degree: Master of Science in Epidemiology
Your School: Population and Global Health
Your hometown: Montréal
When did you begin your degree? September 2020

Why did you choose McGill?
McGill is renowned internationally for its work in the field of medicine and more specifically, for its quantitative training in epidemiology. It also holds the advantage of being affiliated to a large healthcare centre, the MUHC, making it ideal for conducting clinical research and accessing medical databases. These aspects, alongside the fact that McGill is located in a city that offers cultural diversity and a variety of art, music and sport events, made it a very attractive place for my master's.
Given the timing, was your experience at McGill different from how you expected it to be?
I began my degree a couple months after the onset of the COVID-19 pandemic, meaning that the majority of my training and research was conducted remotely. My experience was very different from what I imagined. For the first year of the master's program, I was only able to interact with my supervisors and colleagues via Zoom. I found it very challenging to form connections with people remotely, and to find the motivation to attend remote events. I had imagined, from what previous students described, a much more collaborative environment for my masters.
Do you remember the day McGill announced it was closing its campuses due to the pandemic? What was your reaction?
When McGill announced that it would be holding all activities remotely and prohibiting in-person activities, I had not yet started the program in Epidemiology. I remember thinking that the lockdown would not last longer than a couple months, and that I would be able attend courses in person by the start of my master's. The first weeks of lockdown were really surreal. It was very difficult for me to accept that I would not be able to interact with my colleagues in person.
Were you able to return to clinical rotations/lab work while campus was still closed?
I was never able to return to my office in-person at the hospital. Luckily, I was not conducting clinical research with de-identified data, which made it easier to work remotely.
What was the best thing about being back on campus when in-person activities resumed? What was the worst?
The best thing about being back on campus was being back on campus, with everything it implies: Seeing classmates in person, interacting with the professor and being able to ask questions more easily, getting out of the house, going for a coffee at Dispatch in the engineering building. The challenge was becoming re-accustomed to in-person classes (there is no longer a pause button, or the ability to re-watch parts of the lecture immediately), and, I am embarrassed to admit, getting up early.
Did you have a lockdown hobby or an undiscovered/rediscovered passion or talent?
Ballet! I have always loved dance, so I thought it would be an opportunity to become from flexible and challenge myself to do something completely different. I also took up knitting, but that did not last long.
What did you learn about yourself during lockdown?
I learnt that I can be much more structured and patient than I imagined.
Did the pandemic change the course of your academic career or the path you hope to take?
If anything, I think the pandemic offered me opportunities to become involved in more projects and collaborate with interdisciplinary teams, which helped expand my understanding of epidemiology and solidified my interest in pursuing a PhD.
What will you tell your grandkids/alien visitors/biographer about being a university student during the COVID-19 pandemic?
I would tell them that it was an incredibly challenging, stressful, and frustrating time because I was forced to change my expectations and re-adapt my way of learning. It simultaneously allowed me to develop new skills and become more structured and independent. Nonetheless, being a student during the pandemic made me appreciate the importance of in-person interactions and of having a sense of community.
What's next after graduation?
More studying! I will be pursuing a PhD in Epidemiology, because as challenging as completing my master's during a global pandemic was, it has also made me realize the importance of epidemiological research.
Related:
Read the Q&As from the students from the other Schools.
Watch the May 26 ceremony and check out the Health Sciences Convocation program.
(Photo: courtesy Francesca Del Giorgio)