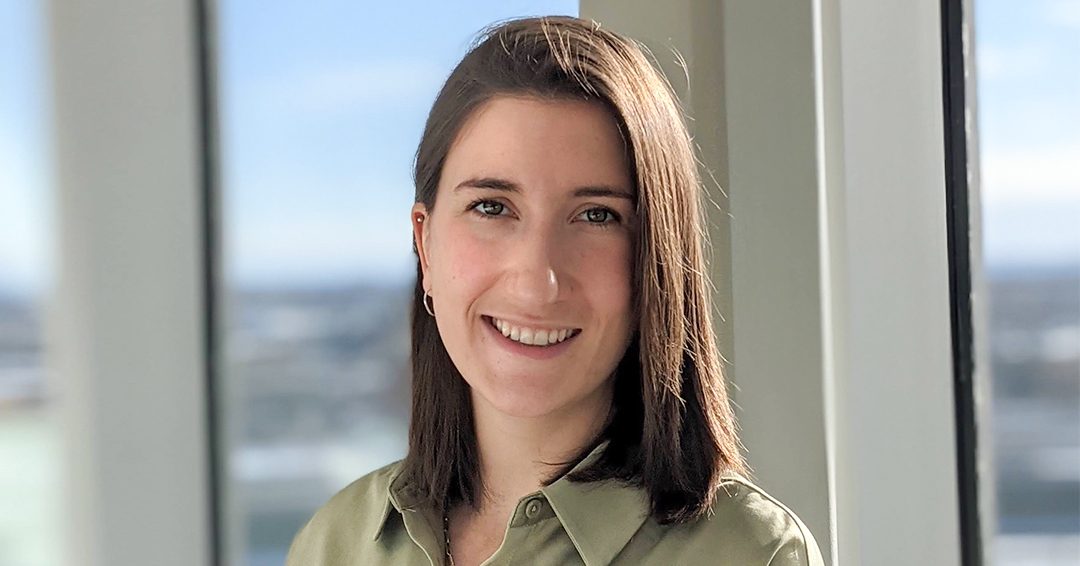 As part of our Spring Convocation 2022 coverage, we asked a graduate from each of our six Schools to share their unique experiences – the ups and the downs – of completing their degrees during the COVID-19 pandemic. Here we meet Class of 2022 member and Medicine Class Valedictorian Élise Girouard-Chantal, from the School of Medicine, who completed her Doctor of Medicine and Master of Surgery (MDCM) degree, conferred on May 26. Congratulations Élise !

Your name: Élise Girouard-Chantal
Your degree: Doctor of Medicine and Master of Surgery (MDCM)
Your School: Medicine
Your hometown: Montreal
What year did you begin your degree? 2018
Why did you choose McGill?
Because of the student body's diversity and activism.
You started your degree pre-COVID – looking back what impressions do you have from those early days of your degree?
The first two years of my medical studies were a true university dream. My friends and I used to study for so many hours in a row at Thompson House, sharing ciders and nachos. Then, the lockdown happened exactly during the transition from our first two years on campus to the two last years in hospitals and clinical settings – what we call "clerkship." Our clerkship was delayed for many months and most of us started working in CHSLDs, wanting to contribute to the COVID-19 healthcare crisis. I remember being much more stressed during those few months in CHSLDs than I would ever feel during the entirety of medical school, because everything was unknown: the work, patients, colleagues, environment. Add to that the uncertainty of not knowing when we would start clerkship and when would I see my family and friends in person again. Because of COVID-19, I had to grieve the idea I had of clerkship and of the supposedly best two years of medical school.
Do you remember the day McGill announced it was closing the campus? 
I was at home, studying for a clinical day in ophthalmology. I remember thinking "Great, a few more days to study," but it turned into a few more months!
What were your hopes, worries, fears during lockdown?
Mostly if I would be a good clerk, resident and eventually family doctor, since we had so much less clinical exposure. I was told by many members of staff during the first months of clerkship that we were surprisingly better than they had expected given the major gaps in clinical exposure we endured. Of course, I had always been convinced that we would do great, as 2022 is a keen and passionate cohort.
Did you have a lockdown hobby or undiscovered/rediscovered passion or talent?
I further developed my passion for advocacy and student leadership. During the lockdown, I was part of many student-led advocacy projects at the level of the McGill Medical Student Society (MSS) and the Fédération Médicale Étudiante du Québec (FMEQ). I developed a passion for politics and activism.
Were you able to return to clinical rotations at the height of the pandemic? What was it like?
They were the best months of my four years at McGill. I remember having so much energy and being so keen to learn in the hospitals. Each rotation, I thought "What a privilege to be here." I remember feeling I was part of the healthcare system and the effort to fight COVID-19. It was very rewarding and very humbling.
What was the best thing about being back on campus when in-person activities were permitted again? What was the worst?
Obviously, the best part was seeing my friends again! I cannot think about a negative aspect to it; we were back at Thompson House with cider and nachos, studying for our licensing exam!
What did you learn about yourself during lockdown?
I learned who were the truly significant people in my life, I learned that my partner and I were made to live together, I learned that smell is a very important part of my daily happiness (yes, I did get COVID, from a red zone in a CHSLD) and I consolidated my desire to be a family doctor.
Did the pandemic change the course of your academic career or the path you hope to take?
I was definitely more keen than if I hadn't had four months off pre-clerkship! Other than that, I think in the end, I had the same experience as my peers from years ahead of me.
What will you tell your grandkids/alien visitors/biographer about being a university student during the COVID-19 pandemic?
How COVID exacerbated the health inequities, the problems in our healthcare system and how it was a clear illustration that systemic racism was still very present in our society. I am hoping I will be able to tell them how it was a promoter of change and how we had a collective realization about it. I will certainly dedicate my career to addressing those issues.
What's next after graduation?
Family medicine residency at St. Mary's, my dream site!
Related:
Read the Q&As from the students from the other Schools.
Medicine Class of 2022 celebrates graduation with luncheon and prizes
Watch the May 26 Convocation ceremony and check out the Health Sciences Convocation program.
(Photo: courtesy Élise Girouard-Chantal)