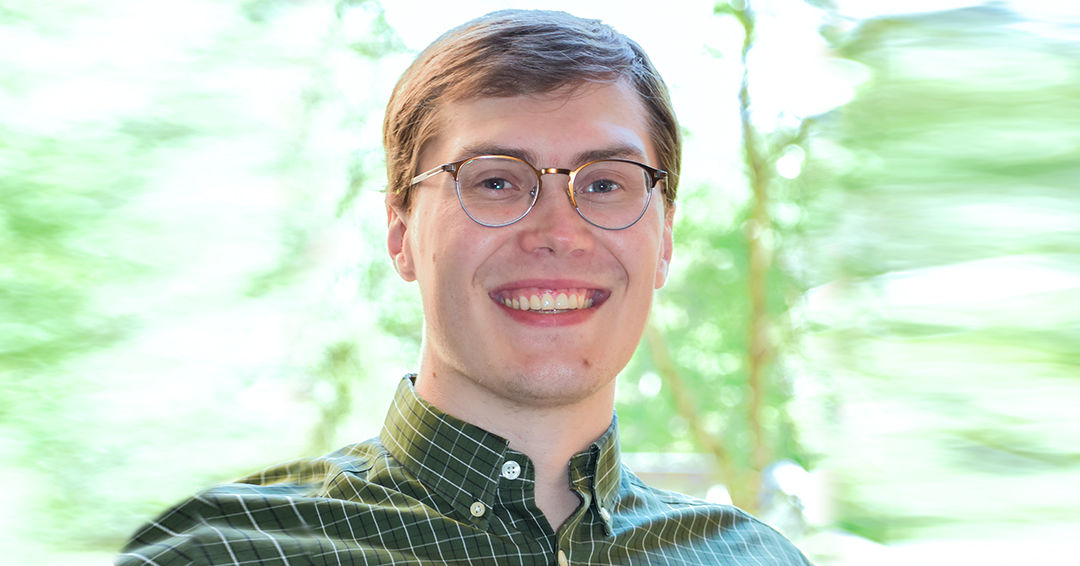 As part of our Spring Convocation 2022 coverage, we asked a graduate from each of our six Schools to share their unique experiences – the ups and the downs – of completing their degrees during the COVID-19 pandemic. Here we meet Class of 2022 member Aaron Glick, from the School of Communication Sciences and Disorders, who completed his MSc in Communication Sciences and Disorders degree, conferred on May 26. Congratulations, Aaron!
Your name: Aaron Glick
Your degree: Master of Science in Communication Sciences and Disorders
Your School: Communication Sciences and Disorders
Your hometown: Evergreen, Colorado, USA
What year did you begin your degree? 2020
Why did you choose McGill?
I found a lab that aligned with my research interests and was fortunate enough to be offered a position and to be admitted into the program.
You started your degree just before the pandemic. Looking back what impressions do you have from those early days of your degree? 
I started in January 2020 and was very excited to get started with human-subjects research. The first few months of my degree were so fast paced and exciting, as I was switching fields and meeting new people. Unfortunately, all of that drastically changed during lockdown, where we had to completely pivot our research and readjust our expectations. Instead of coming into a project that was ready for data collection in earnest, I had to reinvent how to run our study online and develop an entire new thesis project. Post-COVID research was still fast paced, but there were many reminders of all the compromises and pivots that were necessary to adapt the original study to an online format.
Do you remember the day McGill announced it was closing its campuses and moving to remote learning? 
We had our first official parent and child scheduled for participation in our experiment the Friday McGill announced they were closing campus. I had gone in early that morning to get the lab room set up and ready. It was eerie to sit and wait in an empty building wondering if the family would show up, while the other volunteers and I talked about the news about this "new virus," guessing how long McGill would be closed.
What were your hopes, worries, fears during lockdown?
I tried to maintain a positive outlook and focus on the things that I had the power to control: finishing my degree, strengthening my marriage and learning as much as I could about infant research. The list of worries and fears was long, but above all the pandemic forced me to weigh whether this was the career and lifestyle I wanted to pursue.
Did you have a lockdown hobby or undiscovered/rediscovered passion or talent?
I did a lot of knitting during the pandemic. I finished a blanket I had started in 2017 and knitted my first sweater!
Were you able to return to lab work while campus was still closed? What was it like to be learning in a lab setting at the height of the pandemic?
Yes, we were able to return in a very limited capacity. The timing of my degree unfortunately did not allow me to return to in-person data collection, so my return to campus was mainly sitting alone in the lab while the rest of our team or class was on Zoom.
What was the best thing about being back on campus when in-person activities were permitted again? What was the worst?
The worst part about being on campus was that it never felt like it returned to normal. It was very surreal and sad going back into the lab, remembering the last time I was there we had a team of four volunteers setting up to test in-person subjects, and the lab was buzzing. There was a lot of camaraderie and enthusiasm. Returning to campus, we were restricted to only having one person in the lab room/office at a time and it never quite felt the same. However, it was very nice having a place to exist outside of the four walls of my apartment, and I got a lot of work done without the usual distractions.
What did you learn about yourself during lockdown?
I learned (or maybe re-learned) how important it is to surround yourself with people who support you, foster your interests, and care about you. During lockdown, many people were overly stressed and spread thin. Yet, there were certain people who went out of their way to show kindness and care despite all their own stressors. These people help get you through unprecedented times, and I tried to be one of these people every chance I could.
Did the pandemic change the course of your academic career or the path you hope to take?
The pandemic solidified my intention to pursue a PhD. It made me reconsider my field of study, my research, my interests, but also elucidated the many benefits of a career in academia. There's little recognition (and even less pay), but academia affords autonomy, flexibility and creativity through lifelong learning and teaching, which is something I value.
What will you tell your grandkids/alien visitors/biographer about being a university student during the COVID-19 pandemic?
Don't believe everything you are told and be aware of a false sense of security. I've heard "this will only last two weeks" or "that seems impossible" far too many times to believe that I can plan my life around someone else's best guess.
What's next after graduation?
My wife and I are expecting our first child this summer, and we are excited to start the next chapter of our lives. I plan to continue pursuing autism research and a career in academia.
Related:
Watch the May 26 Convocation ceremony and check out the Health Sciences Convocation program.
Read the Q&As from the students from the other Schools.
(Photo courtesy Aaron Glick)