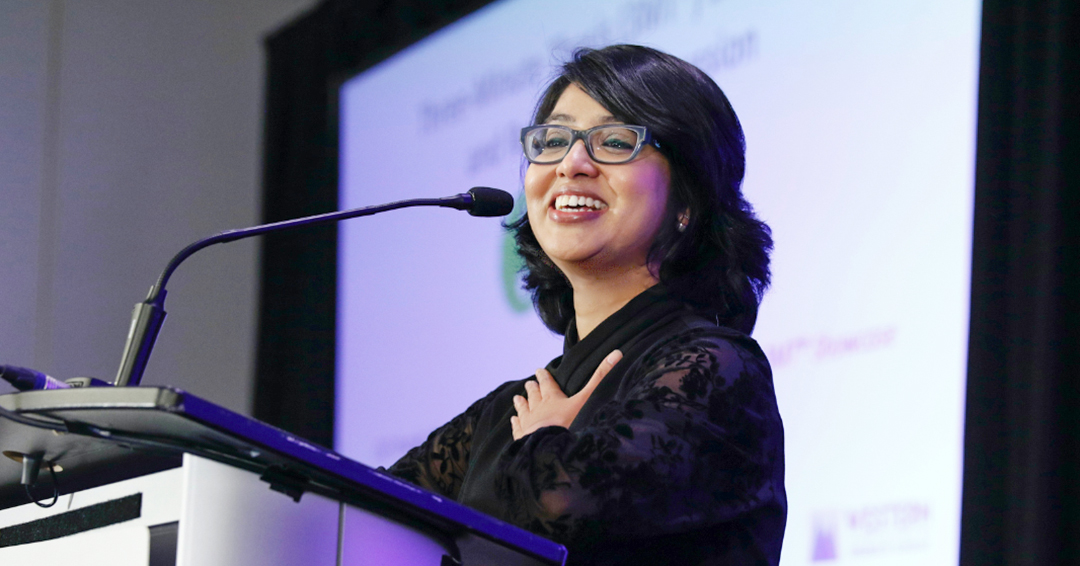 Atia Amin, a PhD candidate in the Langlais Lab at the Department of Human Genetics and trainee at the Victor Phillip Dahdaleh Institute of Genomic Medicine, is a budding changemaker and an engine that seemingly doesn't stop running. Atia is the 2022 Canadian winner and the North American People's Choice winner of the 3MT (3-minute thesis) competition, a 2022 Vanier Scholarship recipient and, most recently, winner of one of the Department of Human Genetics' Excellence Awards.
"Atia is an example for other graduate students," says David Langlais, PhD, Assistant Professor in the Department of Human Genetics, Associate Member in the Department of Microbiology & Immunology at the School of Biomedical Sciences, and Atia's lab supervisor. "She demonstrates that with interest, perseverance, and by learning from your peers and colleagues, there are no boundaries."
Research focus
Originally from Bangladesh, Atia completed her Master's degree in Molecular Biology at the University of South Dakota before moving to Montreal in 2019 where she began working as a Research Assistant at the Bioinformatics Lab at the Université du Québec à Montréal (UQAM). During her time at UQAM, Atia developed an interest in computational science and transitioned her focus from wet lab biology research to bioinformatics. In 2020, she started her PhD at McGill where she is currently combining her diverse research interests of molecular biology with computational genomics to study drug therapies for tropical diseases.
Under the supervision of Prof. Langlais, who is also a Principal Investigator at the Victor Phillip Dahdaleh Institute of Genomic Medicine, Atia began working on Leishmaniasis, a parasitic disease. This disease is spread primarily by sand flies in tropical and sub-tropical areas of the world, including Atia's home of Bangladesh. Leishmaniasis can cause severe symptoms, including organ damage and death, however, because it primarily affects economically developing countries, it remains under-researched – a fact that Atia aims to remedy. 
Drugs for under-researched diseases
The main challenge of Leishmaniasis is how quickly the resistance to therapeutic drugs spreads, leaving prohibitively expensive chemotherapy drugs as the only current option for treatment.
"With climate change, vector-transmitted diseases will become a major threat here in Canada, and we must prepare for it," explains Prof. Langlais. "And we can't emphasize enough that antimicrobial resistance is already a challenge for our healthcare systems; a problem that is growing rapidly. Atia's research contributes to McGill's global effort in infectious diseases and genomic research."
Atia is specifically focused on identifying the mechanism for drug resistance so that this pathway can be disrupted through new therapies, throwing a proverbial wrench into the Leishmaniasis machine.
Her research has revealed a novel mechanism for spreading that relies on extracellular vesicles. "It's like a bubble that is released from the parasite itself," she explains, "and by comparing the DNA content of these exosomes from the resistant and non-resistant parasites we identified a biomarker that is highly prevalent in the resistant parasite." This biomarker turned out to be a gene that encoded a protein, which was the key to drug resistance, and that resistant parasites are sharing with the non-resistant ones.
This discovery will have a significant impact on detecting and treating Leishmaniasis and may also reveal other important information for new developments in cancer therapeutics. This breakthrough has led Atia, other members of the Langlais lab, and researchers from Université de Montreal, to be recognized by Quebec Science magazine as one of the top 10 discoveries of the year 2022.
A budding changemaker
Gesturing to a slide showing a young woman suffering from Leishmaniasis, in three minutes, Atia eloquently argued why this disease needs more awareness and funding for research. Her talk went on to earn her the distinction of People's Choice award recipient at the North American 3MT event in San Francisco on December 10, 2022.
Among other accolades, Atia was awarded a 2022 Vanier Scholarship. Atia reflects that these moments give her the confidence needed to continue advancing in her career. From pursuing her education far from home to transitioning between research disciplines, a lot of hard work and grit is behind her successes. However, her enthusiasm for research and determination to make a difference are the key factors spurring her onwards. "In the future, my work will also involve other insect-borne diseases that are more prevalent in North America, like Lyme disease and other types of tick-borne diseases," says Atia. "Diseases like Leishmaniasis and Lyme disease still need more attention. Aside from working on these diseases, I will continue to raise public awareness on this issue."
Related links:
Cell Reports – Leishmania parasites exchange drug-resistance genes through extracellular vesicles
Quebec Science – Parasites that improve by sharing their genes
McGill Reporter – Atia Amin continues her winning run at national 3MT lightning talk showcase
McGill Reporter – McGill research featured in Québec Science top 10
SBMS News – Discovery made in a McGill-UMontréal research collaboration named among top 10 of the year by Québec Science