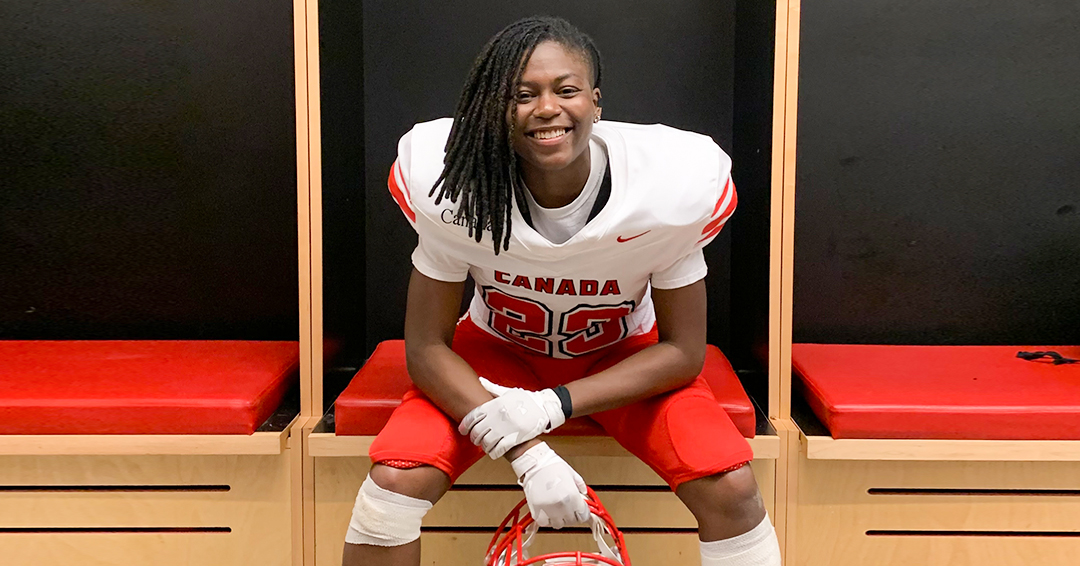 From hockey and track and field to college basketball and soccer, Harmine Christina Léo, MD, PGY-3, has played most sports that one can think of.
It was a sport she picked up mere months ago, however, that led to her representing the country on the world stage, as a member of Team Canada at this year's International Federation of American Football (IFAF) Women's World Championship in Finland.
A resident at the McGill Department of Emergency Medicine, Dr. Léo worked as an occupational therapist for two years prior to starting medical school at Université de Montréal (UdeM).
"As an OT and a resident, I have always loved answering my patients' questions and learning more about the human body," she says. "I still love occupational therapy, but emergency medicine allows me to keep helping patients in many different ways."
Shortly after her return from Finland, Dr. Léo shared her experience of playing as a defensive back for Team Canada, her hopes for the sport and her plans for her medical career.
From football games after work to joining Team Canada
Dr. Léo's story might draw comparisons with fellow McGillian Laurent Duvernay-Tardif. However, she only started playing high-level football this year.
As a child, she played hockey before going on to play elite soccer for 17 years. She also played basketball into her college years and competed in track and field, sprinting and long jumping at UdeM.
When the COVID-19 pandemic hit, Dr. Léo focused her energies on her residency at McGill. However, she missed playing a sport and sought out high-level women's teams in early 2022.
"I need sports in my life to feel good, and I wanted to find a sport that would allow me to push myself further," she says. "Unfortunately, finding women's senior sports at that level can be tough."
Thankfully, through playing flag football, Dr. Léo discovered the Montreal Blitz, the city's only women's football team with contact.
Just as Dr. Léo started playing with the Blitz, Canada's women's football team held open tryouts to recruit players before the 2022 Women's World Championship.
"I figured I couldn't let this opportunity pass and at the least, I would go and learn extensively to improve my skills and knowledge for my season with the Blitz," Dr. Léo says. "The level was incredible, 136 high level athletes showed up and somehow, my experience in many other sports teams and my athleticism were noticed by the coaches. I made the top 45 and joined the national team!"
Overcoming the challenges of balancing her residency and her sporting life
Before the championships, Dr. Léo and her teammates needed to train six days per week. She also needed to squeeze in her intensive regimen alongside her residency and late-night shifts in the emergency room.
With the support of her coaches and teaching staff at McGill, Dr. Léo struck a balance between her residency duties and her commitment to the team.
"The directors and teachers were very understanding, so I was able to modify my schedules every now and then to be able to make it to games and practices," Dr. Léo says. "My coaches also knew that my job is quite demanding and understood that I might be late to practice if a shift ended later than expected."
The beautiful moment of making it to Finland
Although Dr. Léo's ascent to the highest level of women's football came with many sacrifices – including sleep and social activities – she sees playing for Canada as one of her proudest achievements.
"As a young athlete, you dream of those moments of making it to the Olympics or playing for Team Canada," she says. "You work for that, you train for that, and you dream about it, but you never know if it's going to happen – especially if you're a female athlete."
"With all the work, I finally made it to the field, wearing a maple leaf and having my family in the stands and friends across the world watching online, cheering me on," she adds. "Being on an international stage alongside some of the best athletes in our sport was a beautiful thing."
While the team did not get the result they hoped for, Dr. Léo says she is "already looking forward to next time".
However, she notes that a bigger pool of players and more support for women's football are needed.
"If Canada wants to stay in the game, we have to invest in the sport and we have to encourage our young ladies to play," she stresses. "We need to have support like the bigger federations for men's football around the world."
Medicine and athletics will go hand in hand for Dr. Léo
Dr. Léo is set to complete her residency in 2025 and is already making plans for a fellowship. Nevertheless, international football is still in her sights. Two weeks after her return, she started training again to prepare for the next World Championships in three to four years' time.
"To achieve the result that we want next time, I need to start training now," she says.
As she continues her residency, Dr. Léo is focused on emergency medicine, while also pursuing interests in education and medical care for mass gatherings.
But her medical career will always go hand in hand with her athletic ambitions.
"For me, the titles of 'athlete' and 'doctor' are of equal importance in my life," she says. "Being an athlete is a huge part of me, and I want to keep going for as long as I can."