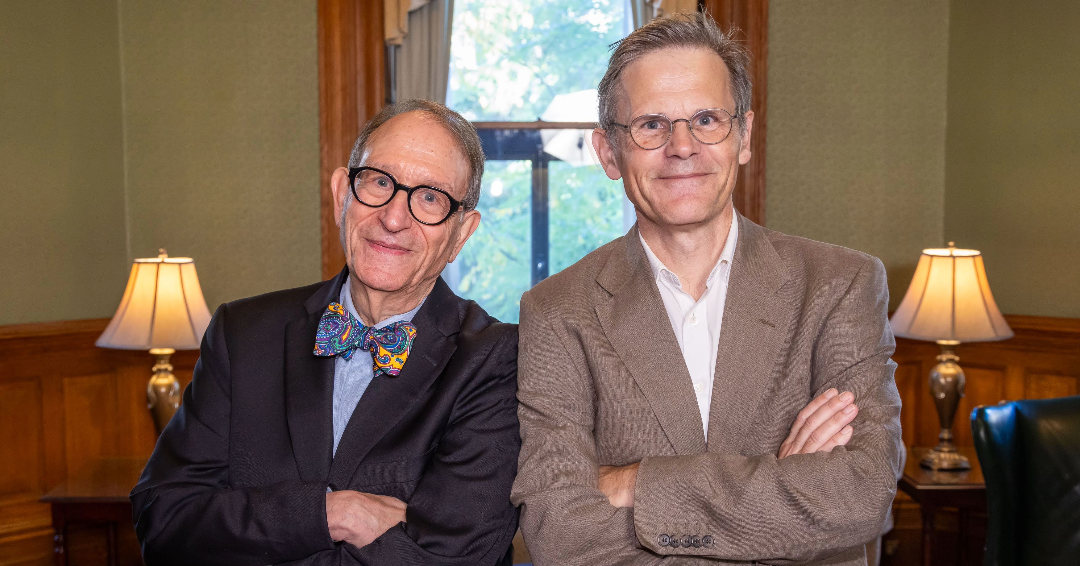 Established in 1993, McGill University's world-renowned Department of Human Genetics is celebrating its 30th anniversary. 
Its faculty members are experts in the many overlapping fields in human genetics, and much of their research is performed in laboratories located at university-affiliated hospitals. The department offers several programs including an MSc/PhD in Human Genetics, an MSc in Genetic Counselling and a Kyoto-McGill Joint PhD program. 
The department evolved from the McGill Centre for Human Genetics which was created in 1979 to bridge faculties that were conducting research in human genetics, recalls David Rosenblatt, MDCM, Professor, and Chair from 2001 to 2013. "The Centre was responsible to three deans: the Dean of Science; the Dean of Medicine; and the Dean of Graduate Studies. It was this three-headed monster, and the idea was the creation of the Department of Human Genetics to integrate both the clinical and basic science activities within the Faculty of Medicine," Dr. Rosenblatt notes. Leonard Pinsky, MDCM, who had been Director of the Centre, became the first Chair of the department from 1993-2001. 
Once established, one of the department's goals was to harmonize research in the teaching hospitals with that of the university. Not a simple task, says Dr. Rosenblatt. "The department has both PhD scientists and physicians at the teaching hospitals; the teaching hospitals run independently, and they had their own divisions which were sitting in other departments such as the Department of Medicine and the Department of Pediatrics. My goal as Chair was to try to unify. One of the things I worked on very hard was to create hospital departments of genetics to mirror the university departments. The concept was that with time there would be common leadership at the hospital and the university." 
Dr. Rosenblatt points to partial success in this initiative, for instance creating departments both at the McGill University Health Centre and at the Jewish General Hospital. "One of my main goals was to try to make us a regular department like the Department of Medicine, which is a clinical department. It's still a work in progress and part of what I hope we'll be able to complete under the new Chair, William Foulkes." 
Collegial culture 
"The department is amazing," says Eric Shoubridge, PhD, who took over the position of Chair of the department from Dr. Rosenblatt in 2013, describes the culture at the department as especially collaborative. "It has an extremely warm, collegial atmosphere. It was a joy to run. In fact, I think the department kind of ran itself and I was just watching and putting out fires occasionally." 
Much of the department's collegial atmosphere is fostered by the efforts of its administrative staff, says Prof. Shoubridge, whose lab focuses on the molecular genetics of mitochondrial diseases, particularly those that affect oxidative phosphorylation, the system that produces the energy necessary for normal cellular functions. "We have a really wonderful group of administrators, a handful of people who run the graduate program, the genetic counselling program, and take care of other administrative activities, who are absolutely committed to the vision of the department and always go above and beyond." 
Reflecting upon his tenure as Chair, Prof. Shoubridge notes how the department developed its cohesiveness, and how its personnel grew in numbers. "We used to have annual meetings looking for input from the department members to see what the department should be doing differently. My door was always open to anybody in the department for suggestions." 
"During my 10 years we hired more than 15 new faculty members," he adds. "I think we've really moved with the times by being able to recruit people at the cutting-edge of human genetics and genomics. We've clearly created an intellectual environment that's extremely attractive to top quality students internationally. And I think that is a huge accomplishment which I don't see slowing down." 
New chapter 
William Foulkes, MBBS, PhD, took over as Chair in September of this year. Dr. Foulkes' research career was grounded in the genetics of breast, colorectal and ovarian cancer, but more recently he has focused on rare hereditary forms of mainly early onset cancers. 
Offering his first impressions after a month on the job, Dr. Foulkes echoes his predecessor's sentiments about strong administrative support. "Without that, we would have trouble functioning. The faculty tend to be very supportive of each other. It's a collegial bunch of people. Leading a group of dedicated academics is not difficult." 
Dr. Foulkes says his first objective in his new role is to meet with all the major players at the hospitals and the institutes to get a sense of how they see Human Genetics moving forward. "If you think about it, genetics has broad implications in human health. We're covering many areas. In cancer, we've got tumour genome sequencing going on, looking for new targets. In population genetics, we've got people trying to work out human origins, we've got people working on fetal development. We've got people working on Alzheimer's and Parkinson's disease. Genetics touches upon the whole range of human experience in the health context." 
Making progress, however, will not be without certain challenges, funding for instance. "I'm advocating at the federal level to increase funding for basic research. One of our problems is that in constant dollars, the CIHR (Canadian Institutes of Health Research) budget has been flat since 2007," Dr. Foulkes points out.  
Another challenge for the new Chair is maintaining McGill's dominant position in the world of human genetics. "People come to McGill because of its reputation. And that is evident through a complex melange of factors," notes Dr. Foulkes. "It's not just how many papers we're producing, or the awards our people win, it's also the culture, and the sense of where the university is going. The challenge is to attract the best talent and to make sure that they thrive here. We need assistance from politicians and from the public to recognize that this institution has implications for Quebec, for Canada and for the world."