This article was originally published in Canadian Healthcare Technology in April 2022.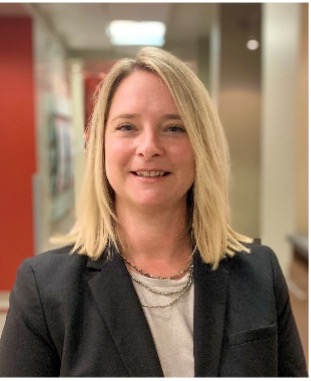 Tamara Carver, PhD, Director of the Office of Education Technology and E-learning Collaboration for Health (Ed-TECH) at McGill University's Faculty of Medicine and Health Sciences (FMHS), is working with her team to develop an engaging and user-friendly online educational curriculum that will support people living with dementia and their care partners. 
The new TOTAL eLearning program, Ten Online Modules over Ten Weeks for Adult Learners, will adapt and enhance McGill's existing bilingual Dementia Education Program workshop content to the current COVID-19 context by using a virtual learning platform. The program has received funding in the amount of $758,430 from the Public Health Agency of Canada as part of the Dementia Community Investment initiative to promote dementia-inclusive communities.
Bringing the McGill Dementia Education Program online
The McGill Dementia Education Program (DEP) was created five years ago when Claire Webster approached the FMHS because she wanted to make a change to the health care system through community engagement.  A former caregiver who had faced the challenges of dementia as she witnessed her mother's decline, she understood the importance of providing education and resources to support people living with dementia (PLWD) as well as the family, friends and partners who care for them.
Webster now works with her academic co-leads at McGill, neurologist Serge Gauthier, MDCM, and geriatrician Jose A. Morais, MDCM, along with a team of multidisciplinary experts in the fields of health, social sciences and technology, to educate and empower PLWD and their care partners. They have attracted international attention and created a wide range of bilingual resources, including video capsules, care guides and activity booklets, that are freely available on their website.
Prior to the COVID-19 pandemic, the DEP also offered in-person workshops to educate informal caregivers through experiential learning at McGill's Steinberg Centre for Simulation and Interactive Learning.  The lockdown and confinement measures that were put in place to limit community transmission of the virus temporarily halted these workshops.  Unfortunately, these necessary measures also increased social isolation and exacerbated the issues faced by care partners of PLWD across the country.
The DEP team, passionate about finding innovative ways to continue to offer vital support, reached out to Professor Carver to set the wheels in motion and create a virtual training program that would provide online education for PLWD and their care partners. They sought to develop an educational curriculum that would offer culturally-relevant learning opportunities in an engaging and user-friendly online format.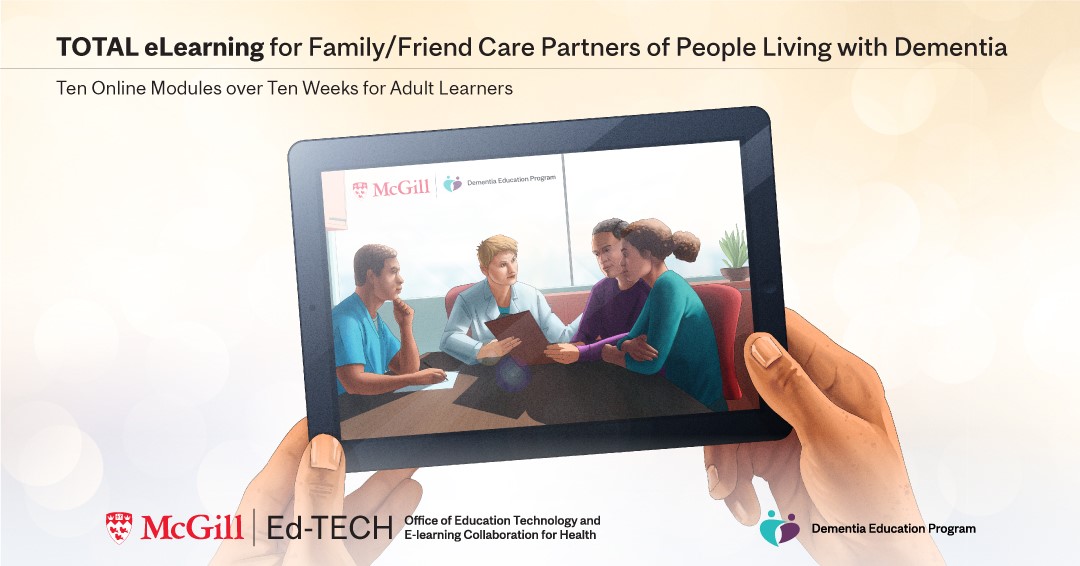 Building an inclusive platform
"We are conducting extensive research and consulting with dementia patients and their care partners, along with the broader health and social services community, to gain a comprehensive perspective and ensure that the objectives and content of this curriculum will meet their needs and be representative of diverse populations," explains Professor Carver.
The Office of Ed-TECH brings together instructional designers, course developers, and multimedia content creators who are partnering with health care professionals to design material that is relevant, user-friendly, and delivered in an engaging format.  Using a storytelling lens, the content will focus on narratives that are based on real patient experiences and diverse cultural personalities to engage the participants.
The new TOTAL eLearning platform will consist of ten modules that cover a range of topics designed to provide a solid understanding of dementia to prepare caregivers for the changes they may witness as the disease progresses. The modules will focus on the physical and emotional well-being and safety of the PLWD and their care partner, and will include valuable knowledge to enhance their skills.
Professor Carver points out that offering this information in an online format will provide the flexibility for people to access the education at times that are convenient for them, which is a huge benefit of online learning.
In addition to providing valuable education, an important goal of this program is to decrease social isolation by offering care partners a virtual support community made up of peers, community service providers and health professionals.
Making technology accessible
Another unique component of this program is the focus on rural and isolated communities who commonly do not have access to resources.  Participants will receive the program on data-enabled tablets to address connectivity challenges.  "This could be a game changer in providing education to these communities where there is a desperate need," she points out.
"We don't want the participants to be frustrated by the technology.  It's important that this be a pleasant and useful experience," explains Carver, who plans to do extensive usability evaluations.  "Many of the learners in the program may be elderly and this is an important element to consider when designing the program. We want to ensure they are comfortable with the technology."
The pilot project will initially be available to a cohort of 30-50 participants within the next year. The program will then be evaluated and adjusted based on the involvement, needs and feedback from both participants and patient partners. Thereafter, the DEP and the Office of Ed-TECH plan to work with partners to implement the program nationally and offer the TOTAL eLearning program on a regular basis. Learn more.