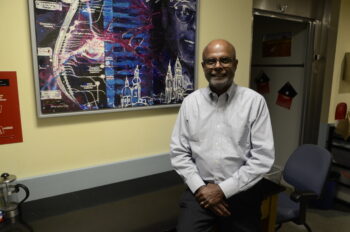 Innovative research aims to improve the quality of life for those living with spinal cord injuries

November 13, 2015 – Toronto, Ontario – Canadian Institutes of Health Research

A researcher from the Research Institute of the McGill University Health Centre has received the 2015 Barbara Turnbull Award for Spinal Cord Research. This annual prize is supported through a partnership between the Barbara Turnbull Foundation, Brain Canada, and the Canadian Institutes of Health Research (CIHR). This award is in honour of the late Barbara Turnbull for her work in raising awareness about spinal cord injuries and the need for exceptional research in this area to improve the lives of those affected.

Dr. Samuel David, a researcher from the Research Institute of the McGill University Health Centre, is the 2015 recipient of this prestigious award for his outstanding contribution to the advancement of world leading spinal cord research conducted in Canada.
Dr. David and his research team are studying the mechanisms that control the delivery and release of iron in the nervous system. Iron is required for the survival and functioning of nerve cells. However, too much iron can cause damage to nerve cells. Their work has an impact on our understanding of damage following spinal cord and brain injury and diseases such as multiple sclerosis, and ways to promote recovery after nervous system damage.
The announcement took place during the 14th Annual Charles H. Tator-Barbara Turnbull Lectureship Series in Spinal Cord Injury.
Quick Facts
Barbara Turnbull was a renowned Toronto journalist and a champion of research into spinal cord injury and repair. In 1983, when she was 18 she was shot during a convenience store robbery and as a result was paralyzed from the neck down. Following this tragedy, Ms. Turnbull created a non-profit charitable foundation that promotes and supports spinal cord research in Canada.  Ms. Turnbull received Honorary Degrees from University of Toronto and York University. She was a recipient of the Queen Elizabeth II Silver Jubilee Award in 2012. In 2015, she was appointed as a member of the Order of Canada. In May 2015, Ms. Turnbull passed away at age 50.
The Barbara Turnbull Award for Spinal Cord Research was established in 2001 to support research and raise awareness of the more than 86,000 Canadians who are living with a spinal cord injury, with 4,300 new cases each year. The prize is presented annually by CIHR, the Barbara Turnbull Foundation, and Brain Canada, to the researcher who submitted the best application in the CIHR competition in the field of spinal cord injury and repair. This award is for $50,000.
Approximately 51% of current spinal cord injury cases are the result of traumatic injury (accident), while the rest 49% are the result of non-traumatic injury (disease). (Source: Spinal Cord Injury Canada)
Quotes

"CIHR salutes Dr. David for his remarkable work aimed at accelerating our understanding of spinal cord injuries and improving the health of thousands of Canadians living with central nervous system disorders. We remain fully committed to partnering with other organizations to support the best and most innovative research addressing recovery following spinal cord injuries."

Dr. Anthony Phillips
Scientific Director, CIHR Institute of Neurosciences, Mental Health and Addiction
"The Barbara Turnbull Award is a partnership to support transformative spinal cord research in Canada. Brain Canada is proud to recognize the excellent work of this year's recipient, Dr. Samuel David, and we congratulate him on his outstanding contributions to advance the field. This year is especially poignant as we remember and honour Barbara Turnbull; she was a shining light and continues to inspire us."

Inez Jabalpurwala
President and CEO, Brain Canada       
"This year's award marks the first time that Barbara Turnbull is not with us to present and speak at the awarding of this eponymous research supplement that recognizes and supports an outstanding scientist in Canada whose excellent investigative work in the field of spinal cord injury and repair has been selected through the CIHR peer review process. Barbara's vision, commitment, and message will live on through this award."

Gary Goldberg
Director, Barbara Turnbull Foundation for Spinal Cord Research 
"
I am delighted to be the recipient of this year's Barbara Turnbull Award for Spinal Cord Research.  Barbara Turnbull was, and continues to be, an inspiration to those living with spinal cord injury, as well as researchers who are striving to make medical advances in this field. I would like to thank Brain Canada for their contribution to this award and their strong support for neuroscience research. My sincere thanks also to CIHR for supporting this award, as well as biomedical research across Canada.
"
Dr. Samuel David

Professor of Neurology and Neurosurgery, Department and Faculty of Medicine

Centre for Research in Neuroscience, Research Institute of the McGill University Health Centre