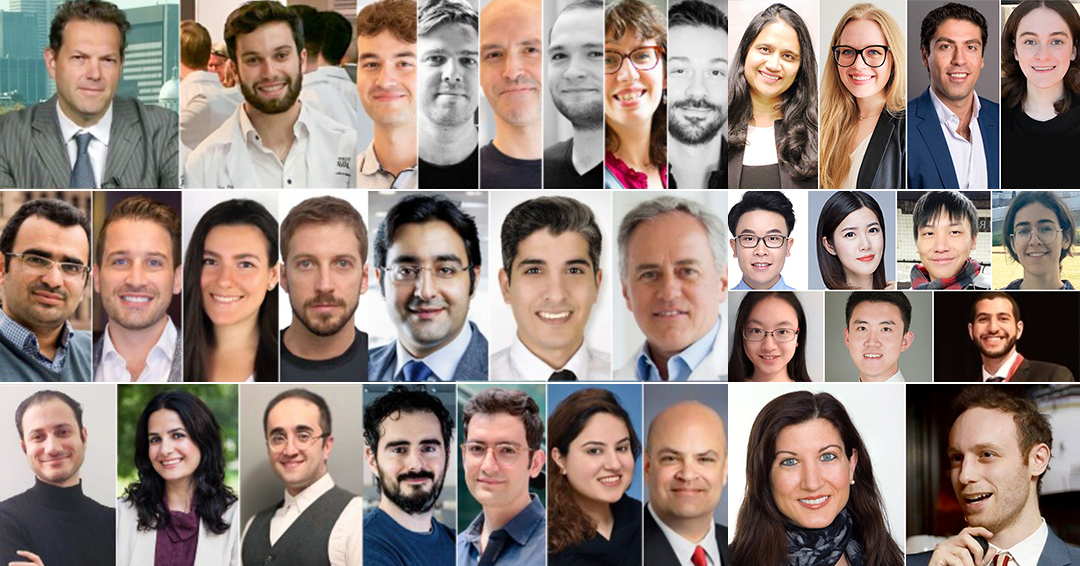 On May 10, the McGill community gathered virtually to celebrate innovation during the Fifth Annual McGill Clinical Innovation Competition (CLIC). Inspired by founding donor, McGill alumnus Raymond Hakim, MDCM'76, this competition was created to inspire members of the Faculty of Medicine and Health Sciences (FMHS) to conceive and develop promising ideas that will have a direct and positive impact on health care.
"Today, thanks to modern-day technology, our innovative thinkers and creators have access to a plethora of tools – artificial intelligence (AI), augmented and virtual realities, and big data – to create solutions that will help solve pressing health care issues. But technology itself has its own limits.             How can our community of innovators get from point A – cultivating ideas, to point B – creating solutions?  The answer is support.  The Faculty is committed to supporting our innovators so that they can develop their ideas into actionable outcomes. These outcomes will positively transform our local and global communities," remarked David Eidelman, MDCM'79, Vice-Principal (Health Affairs) and Dean of the FMHS, as he thanked this year's finalist teams for creating and supporting critical needs and opportunities in health care.
An extraordinary panel of CLIC judges from academia and industry, representing a wide range of expertise, were involved in both the preliminary judging process and selecting the top teams at the event.
Special guests included Ms. Carole Jabet, Scientific Director of the Fonds de Recherche Québec Santé, Mr. Francois Bergeron, Vice-President of Partnerships at MEDTEQ+, and Mr. Jean-Gabriel Lacombe, Co-founder and CEO at NURA Medical.
And the winners are…
Hakim Family Innovation Prize: SeeSpine is a telehealth application that leverages 3D imaging and AI to allow patients and physicians to screen for scoliosis and monitor progression remotely.
Marika Zelenka Roy Innovation Prize: AFX Medical leverages AI to automatically detect and track brain metastases on magnetic resonance imaging (MRI) scans to improve clinical care in brain disorders.
Marika Zelenka Roy Simnovation Prize: Holo-Ray is an integrated cloud-based platform that leverages mixed-reality technology for the education, diagnosis and treatment planning of minimally invasive interventional procedures.
First-Place MI4 Innovation Prize: SALIVERA is targeted for the molecular diagnosis of respiratory infections like COVID-19 and Influenza A/B via colorimetric detection of Ribonucleic acid (RNA) in the saliva of the patients in a multiplex and automated fashion.
Second-Place MI4 Innovation Prize: ApsenBio has developed a food allergen detection device (FADD) for public use that aims to provide individuals with a tool to overcome the daily challenge of avoiding allergenic foods.
Bereskin & Parr Innovation Prize: Precare is a digital platform that produces equitable patient education content, improves patient engagement and health outcomes, and optimizes care pathways with AI.
Congratulations as well to our finalist teams:
AnkaSmart! is a novel Internet of Things (IoT) solution for young women and gender diverse populations globally that democratizes access to personalized sexual, reproductive and menstrual health care, and linked clinical services, while providing evidence-based information.
Ponder Therapeutics has developed an application that delivers therapeutic content developed by clinical psychologists to assist patients who suffer from panic disorders
TrustCare provides an AI-driven solution using innovative technology and video input to facilitate the real-time information flow through the senior care process.
Learn more about these innovative startup teams and watch the event recording.
Celebrating five years of innovation
Since first launching this competition in 2018, 35 promising startups have showcased their innovative projects and many have achieved important milestones in the development and commercialization of their concepts. Thanks to the generosity of our prize sponsors and supporters, over $725,000 in cash and services has been awarded.  Stay tuned as we profile these teams in upcoming publications to highlight innovation at McGill!