Fatty liver is among the most frequent causes of liver disease in Canada and in Western countries and is one of the main indications for liver transplant. For some time, researchers have suspected that people living with HIV could be at higher risk of developing liver disease, which, as a result of longer life expectancy thanks to antiretroviral therapy, has become the major cause of their mortality in North America. Due to the invasiveness of liver biopsy, the traditional method of diagnosing fatty liver, quality data about the true prevalence and incidence of fatty liver in this population have been scarce to this point. Now, a recent study led by researchers at McGill University's Faculty of Medicine  published in the October issue of the Journal of Hepatology reports on the results of the first large-scale study which shows that people living with HIV are indeed at high risk of developing fatty liver, even in the absence of hepatitis-C co-infection, which has been typically associated with liver disease.

Previous studies have selected people with either elevated liver function tests or significant alcohol intake who were not representative of the general HIV population. Additionally, although it is known that people living with HIV who are co-infected with the hepatitis-C virus (HCV) are at risk for liver disease, scientific data about HIV mono-infected patients has been scarce. The McGill study, known as LIVEr disease in HIV or LIVEHIV, used a non-invasive diagnostic tool to analyze the epidemiology of fatty liver in 726 HIV+ patients and followed them over time.

Instead of adopting the invasive liver biopsy, the researchers employed an ultrasonographic tool named Fibroscan, which can quantify the liver damage and fat without pain or complications. The LIVEHIV Cohort is a unique routine screening program for liver disease for people living with HIV. "We found that fatty liver affects more than one-third of people living with HIV," says Dr. Giada Sebastiani, Assistant Professor in the Department of Medicine at McGill's Faculty of Medicine, and the study's senior author. "Additionally, when followed over time, we found that HIV+ patients without HCV co-infection develop fatty liver more frequently and rapidly than those co-infected with HCV."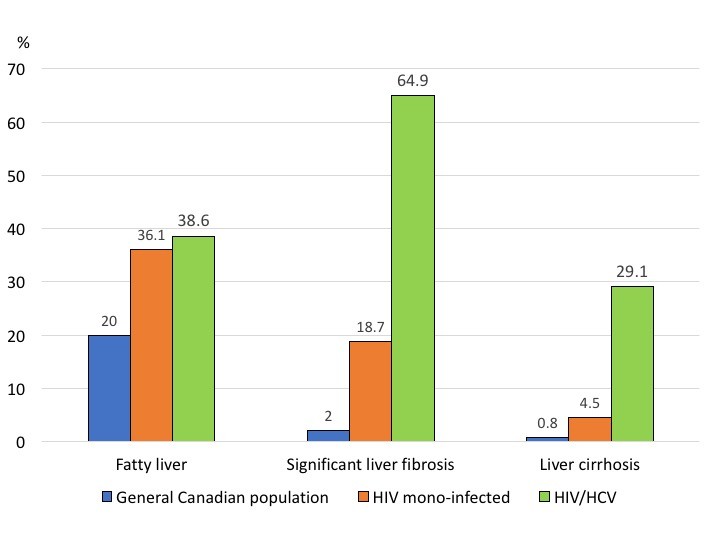 The findings have important implications, having demonstrated that people living with HIV can develop end stage liver disease and may need liver transplantation even in the absence of hepatitis-C. "Physicians following HIV infected patients need to be aware that over one third of their patients likely have fatty liver, even in the absence of hepatitis-C co-infection," adds Dr. Sebastiani, who is also a researcher at the Research Institute of the McGill University Health Centre. "Fatty liver can lead to significant liver damage and liver cirrhosis, which in our cohort was much more frequent than in the general population. Non-invasive tools, such as Fibroscan, can be used to screen people living with HIV for fatty liver and liver disease and promoting life style changes such as weight loss and exercise with the view of preventing end-stage liver disease."

"Hepatic steatosis progresses faster in HIV mono-infected than HIV/HCV co-infected patients and is associated with liver fibrosis," Thomas Pembroke, et al, Journal of Hepatology, October 2017.

DOI:10.1016/j.jhep.2017.05.011
November 28, 2017