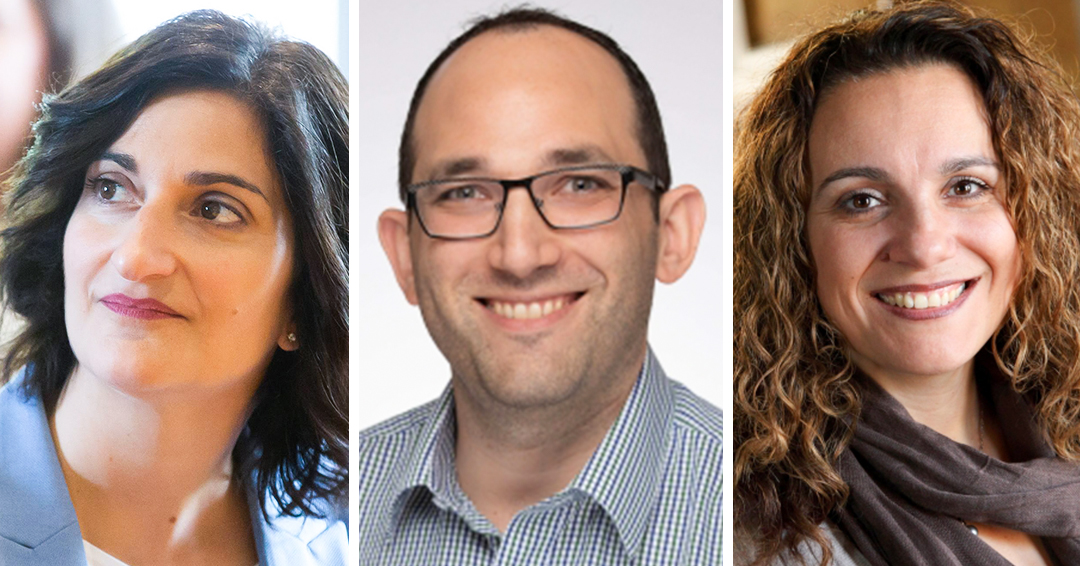 By Matthew Brett
Drs. Joanne Alfieri, Robert Sternszus and Aliki Thomas are recipients of the Canadian Association of Medical Education (CAME) 2021 Certificate of Merit Award. The award promotes, recognizes and rewards faculty members committed to medical education across Canadian medical schools.

Of note, all three recipients are active members of the Institute of Health Sciences Education (IHSE). Their kindness, engagement and enthusiasm for health sciences education is striking.

Dr. Joanne Alfieri
A practicing Radiation Oncologist specializing in the treatment of gynecological and gastrointestinal malignancies at the Cedar Cancer Centre of the McGill University Health Centre (MUHC), Dr. Alfieri was appointed Program Director for the Radiation Oncology Postgraduate Residency Training Program in 2015.

Dr. Armand Aalamian, former Associate Dean of Postgraduate Medical Education (PGME), his replacement Dr. Regina Husa, and Dr. Eduardo Franco, Chair of the Department of Oncology, shared their high praises following the CAME announcement.

"We are delighted that the selection committee is as enthusiastic as we are in recognizing Joanne's superb record of services to this university," they wrote. "They shine from the postgraduate medical education perspective but extend much beyond that to all areas of medical education."

Dr. Alfieri embodies the definition of a passionate medical educator, leading her program through several innovations and supporting several other Program Directors in the Department of Oncology as the Vice Chair of Education. Dr. Alfieri is also advancing the Faculty's
Education Strategic Plan
, sitting on committees and working groups as a clinical Education Champion.
Currently completing a Master's degree in Medical Education in addition to her clinical, administrative, and teaching responsibilities, Dr. Alfieri was awarded the 2019-20 Richard and Sylvia Cruess Faculty Scholar in Medical Education through the IHSE, conducting research on learner motivation for receiving feedback.

Dr. Robert Sternszus
An Assistant Professor in the Department of Pediatrics with an appointment in the IHSE since June 2015, Dr. Sternszus joined the Faculty after completing a Master's Degree in Educational Psychology at McGill University.

A highly regarded teacher in clinical and classroom settings, Dr. Sternszus received the 2017 Paige and Bernard Kaplan Award for Excellence in Clinical Teaching in the Department of Pediatrics and has led or co-led educational innovations including a highly regarded elective course to teach students and residents about the basics of health sciences education.

"It is wonderful to see Robert receive this recognition," writes Dr. Yvonne Steinert, former Director of the IHSE, and Dr. Michael Shevell, Pediatrician-in-Chief at the MUHC. "His commitment to scholarship has led to the advancement of research and innovation across the spectrum of medical education. Thank you, Robert, and congratulations!"

Among numerous other accomplishments, Dr. Sternszus developed an initiative to teach residents how to be effective professional role models, receiving the top "What Works Innovation" at the 2018 International Conference on Residency Education (ICRE). This initiative is also available nationally through the Royal College of Physicians and Surgeons of Canada website.

Dr. Aliki Thomas
Dr. Thomas is an Associate Professor in the School of Physical and Occupational Therapy and an Associate Member of the IHSE.

"I'm really happy to see Aliki receive this award and I am certain that many echo this sentiment," said Dr. Stuart Lubarsky, a colleague of Dr. Thomas's and Associate Professor of Neurology and Health Sciences Education. "Her local and international contributions to health professions education are without doubt worthy of this national recognition."

Dr. Thomas earned a doctorate in educational psychology with a major in instructional psychology and a minor in applied cognitive science, completing her post-doctoral training at McMaster University in knowledge translation for evidence-based practice (EBP).

Her research program seeks to understand the developmental trajectory from the classroom, where entry-level EBP competencies are initially acquired, to the real life "messy" clinical practice contexts where graduates are expected to navigate multiple influences to provide evidence-based and patient-centered care.

An internationally renowned scholar, Dr. Thomas has been invited to deliver keynote addresses and plenaries at conferences in Taiwan, Italy, the Netherlands and elsewhere.

Please join us in congratulating Drs. Alfieri, Sternszus and Thomas for their commitment to medical and health sciences education in Canada. Your presence, contributions and enthusiasm are dearly appreciated.

These deserving colleagues will be recognized at an upcoming Canadian Conference on Medical Education.

January 15, 2021