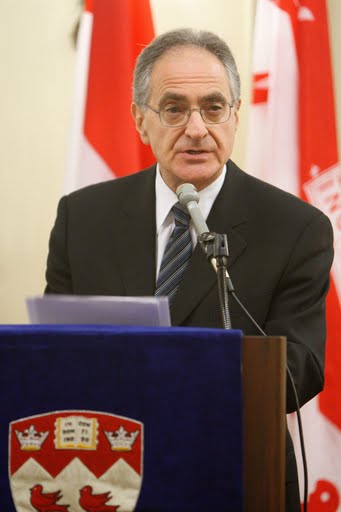 McGill University has received a $500,000 gift from the Canadian Chiropractic Research Foundation to establish a CCRF Professorship in Rehabilitation Epidemiology in McGill's Faculty of Medicine School of Physical and Occupational Therapy, with an associate appointment in the Department of Epidemiology, Biostatistics and Occupational Health.

The CCRF gift was announced during a dinner coinciding with the Canadian Institutes of Health Research Workshop to Advance the Canadian Chiropractic Research Agenda attended by about 85 researchers and clinicians in rehabilitation medicine.

"This gift will be instrumental in helping McGill achieve its mission of training the best and brightest future leaders in the health sciences," said Marc Weinstein, Vice-Principal, Development and Alumni Relations. "The CCRF has done exemplary work in establishing eight chairs and professorships in universities across Canada – efforts which have led to breakthroughs in meeting patients' needs. The Foundation's dedication to supporting research through its chair and professorship program is a brilliant way to harness resources and academic talent in the fields of rehabilitation and epidemiology."

According to the CCRF, less than 1% of the chiropractic profession is currently actively engaged in fulltime health research. Accordingly, the Foundation has focused primarily on building the chiropractic profession's capacity to undertake credible research. It has done so by establishing and facilitating the funding for a university-based Chiropractic Research Chair in each province in Canada.

"We anticipate that this professorship will bring tremendous contributions to improving the health of Canadians while mitigating Canada's economic burdens of health, injury, illness and disability that so many Canadians needlessly endure," said Dr. Allan Gotlib, Assistant Secretary of the CCRF. "Sound research enhances our profession's credibility and at the same time improves the health of Canadians."

Dr. Maureen Simmonds, Associate Dean and Director of McGill's School of Physical and Occupational Therapy warmly thanked the CCRF for establishing the research professorship in Rehabilitation Epidemiology at McGill and for supporting the profession's academic research capacity across the country. "The Foundation has provided a gift that is a model for the development of health disciplines and affords a method of developing and implementing best evidence health and health care for Quebec, for Canada and beyond. This is a gift of and for our future knowledge," she said.

According to Dr. Rebecca Fuhrer, Chair of the Department of Epidemiology, Biostatistics and Occupational Health at McGill, "Professorships such as this one will ensure that subsequent generations will be trained to incorporate epidemiological reasoning in their practice and research in rehabilitation sciences. We expect to attract the best young minds to this field through the visibility of this initiative."

Candidates for the McGill Research Professorship in Rehabilitation Epidemiology must hold a Doctor of Chiropractic; have a minimum two years of clinical practice experience and an active license in Canada. Additionally, she/he must hold a doctorate in one of the health sciences related to evidence based medicine, such as epidemiology, public health, biostatistics or health services research.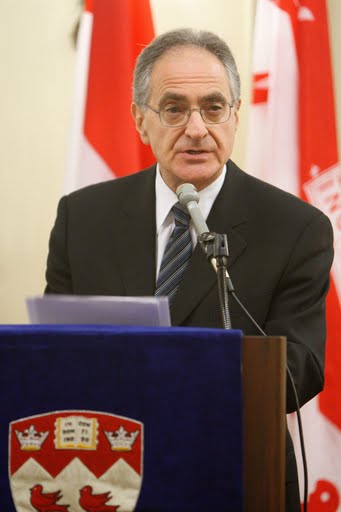 L'Université McGill a reçu un don de 500 000 $ de la Fondation canadienne pour la recherche en chiropratique pour établir la Chaire professorale de recherche en épidémiologie de la réhabilitation FCRC à l'École de physiothérapie et d'ergothérapie de la Faculté de médecine de McGill, avec nomination d'un associé au Département d'épidémiologie, biostatistique et santé au travail.

Le don de la FCRC a été annoncé au cours d'un souper coïncidant avec l'Atelier pour l'avancement de la recherche canadienne en chiropratique des Instituts de recherche en santé du Canada auquel ont assisté environ 85 chercheurs et cliniciens en médecine de la réadaptation.

« Le don servira à aider l'Université McGill à accomplir sa mission de former les meilleurs et les plus brillants futurs chefs de file des sciences de la vie », a déclaré Marc Weinstein, vice-principal (développement et relations avec les diplômés). « La FCRC a effectué un travail exemplaire en établissant huit chaires et chaires professorales dans des universités canadiennes, des efforts qui ont conduit à des percées dans l'atteinte des besoins des patients. L'engagement de la Fondation à soutenir la recherche par l'intermédiaire de ses programmes de chaires et de chaires professorales est une manière brillante de tirer profit des ressources et des talents universitaires dans le domaine de la réadaptation et de l'épidémiologie. »

Selon le Dr Allan Gotlib, secrétaire adjoint de la FCRC, à l'heure actuelle, moins de 1 % des chiropraticiens sont activement engagés dans la recherche sur la santé à temps plein. Par conséquent, la Fondation se concentre principalement à rendre la profession de la chiropratique capable d'entreprendre une recherche crédible. C'est ce qu'elle a fait en établissant une chaire de recherche universitaire en chiropratique dans chaque province canadienne et en facilitant leur financement.

« Nous estimons que cette chaire professorale apportera d'extraordinaires contributions à l'amélioration de la santé des Canadiens tout en atténuant les fardeaux économiques du Canada en matière de santé, blessures, maladie et incapacités dont souffrent inutilement tant de Canadiens », a déclaré le Dr Gotlib. « Des activités saines en recherche rehaussent la crédibilité de notre profession et, en même temps, améliorent la santé des Canadiens. »

La professeure Maureen Simmonds, vice-doyenne et directrice de l'École de physiothérapie et d'ergothérapie de McGill, a remercié chaleureusement la FCRC d'avoir choisi McGill pour établir la chaire professorale de recherche en épidémiologie de la réhabilitation et de soutenir la capacité de recherche universitaire au pays. « Ce cadeau de la Fondation est un modèle pour le développement des disciplines de la santé et il procure une méthode pour développer et implanter de meilleurs soins de santé basés sur les faits au Québec, au Canada et ailleurs. C'est un cadeau de la part de nos connaissances à venir et qui leur est aussi destiné », a-t-elle déclaré.

Selon la professeure Rebecca Fuhrer, directrice du Département d'épidémiologie, biostatistique et santé au travail de McGill, « des chaires de recherche comme celle-ci feront en sorte qu'on enseignera aux générations à venir à inclure le raisonnement épidémiologique dans leur pratique et dans la recherche en sciences de la réadaptation. Nous espérons attirer les meilleurs cerveaux dans cette discipline grâce à la visibilité de cette initiative. »

Les candidats à la Chaire professorale de recherche en épidémiologie de la réadaptation de l'Université McGill doivent détenir un doctorat en chiropratique, un minimum de deux années d'expérience en pratique clinique et un permis d'exercice valide au Canada. Par ailleurs, ils doivent aussi détenir un doctorat dans une discipline des sciences de la santé reliée à la médecine basée sur les faits telles l'épidémiologie, la santé publique, la biostatistique ou la recherche en services de santé.