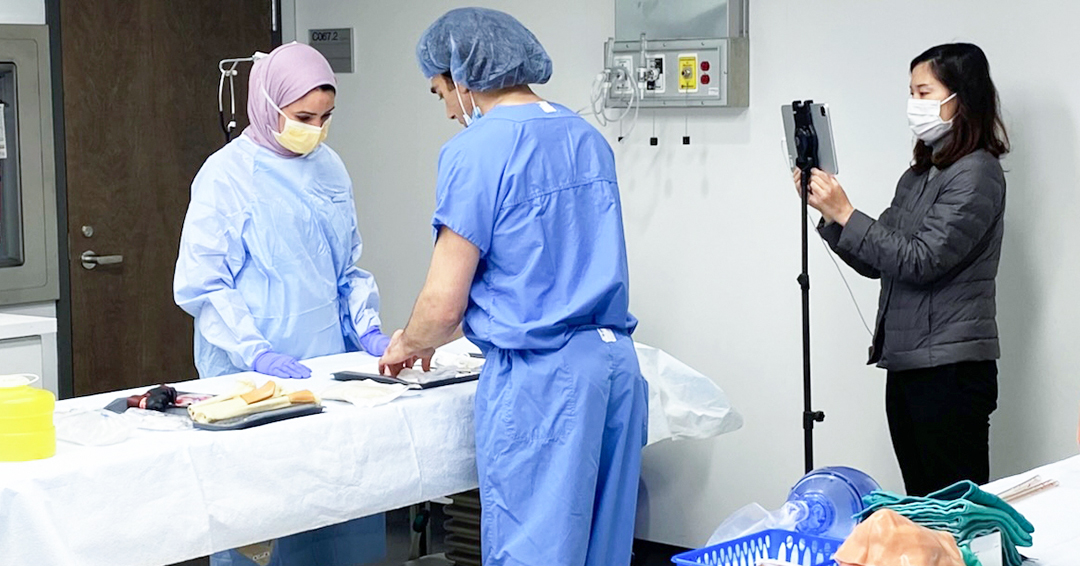 When trauma surgeon Dan Deckelbaum, MDCM, was contacted by colleagues in Ukraine and asked to provide teaching materials in an effort to respond to urgent healthcare needs, he quickly jumped into action.
As Co-Director for the Centre for Global Surgery (CGS) at the McGill University Health Centre (MUHC) and Surgical and Procedural Skills Director at McGill University's Steinberg Centre for Simulation and Interactive Learning (SCSIL), Dr. Deckelbaum was well-equipped to bring these two teams together to quickly create a multimedia education program for immediate use in Ukraine.
"The CGS has been collaborating with Ukraine for the past decade on trauma research and training initiatives. At the time, we never imagined that they would be in this situation. To support their healthcare teams, our partners requested teaching materials for basic life support and lifesaving procedures that can be done by non-surgeons," explains Dr. Deckelbaum.
Dr. Deckelbaum worked with Ruqaiya Al Shehhi, MD, a fellow in Trauma and Acute Care Surgery at McGill University from Oman, and with Junko Tokuno, MD, a thoracic surgeon from Kyoto, Japan who is currently the Satoko and Richard Ingram McGill Surgical Education Scholar. Together, they created videos to demonstrate how to perform a number of lifesaving surgical procedures including cricothyroidotomy, chest tube insertion and airway ventilatory management. These videos were recorded in the simulated operating room at the SCSIL and edited by Dr. Tokuno, with added Ukrainian narration.
Coming together quickly to make a difference
Tamara Carver, PhD, Director of the McGill Office of Ed-TECH (Education Technology and E-learning Collaboration for Health) for the Faculty of Medicine and Health Sciences at the SCSIL, and her team have been collaborating with Dr. Deckelbaum at the CGS and the MUHC to develop free and open education programs that convey appropriate management of trauma, including disaster response, and that emphasize a multidisciplinary approach in managing trauma patients. The Trauma and Disaster Team Response© (TDTR©) course will be available soon on the McGill platform and is geared towards a wide range of healthcare professionals in low- and middle-income countries.
For the past six months, Dr. Tokuno has been working closely with her co-supervisors, Prof. Carver and Gerald Fried, MDCM, to develop training modules; this mentorship has given her the skills needed to create and edit these videos so quickly. "When this request came in, the team at the SCSIL were ready within less than an hour.  We had the team, the know-how, and the equipment at our fingertips.  The power to train students, like Dr. Tokuno, who can then train others to do this is truly amazing and builds capacity. It's brilliant to witness," says Prof. Carver.
"From the time of request for this educational content to creation, it took less than three hours, and the final product was delivered in less than 24 hours. I am very impressed with how quickly our teams came together to produce such excellent results," expressed Dr. Fried, Director of the SCSIL and Associate Dean of Education Technology and Innovation at the McGill Faculty of Medicine and Health Sciences.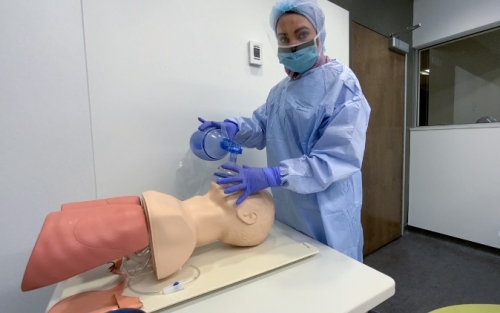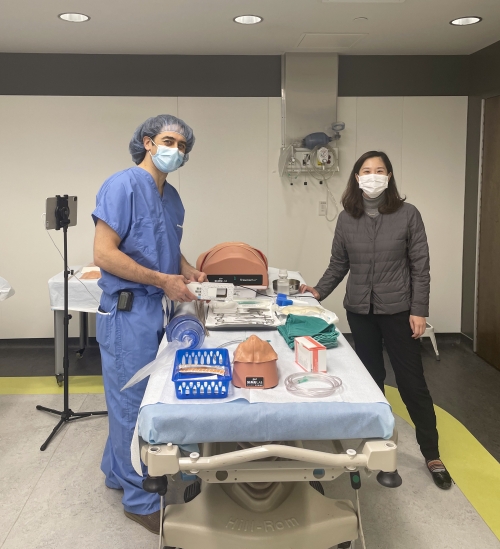 Related:
Montreal Gazette | McGill doctors provide virtual training to medics in Ukraine 
City News | Montreal doctors create training videos for Ukrainian health-care workers 
Canadian Healthcare Technology | https://www.canhealth.com/2022/03/09/mcgill-offers-virtual-healthcare-training-to-ukraine/
Radio-Canada | https://ici.radio-canada.ca/nouvelle/1867887/universite-mcgill-videos-ukrainien-medecine-guerre
La Presse | https://www.lapresse.ca/actualites/sante/2022-03-09/guerre-en-ukraine/l-universite-mcgill-produit-des-videos-en-ukrainien-sur-la-medecine-de-guerre.php
Le Figaro Étudiant | https://etudiant.lefigaro.fr/article/ukraine-l-universite-canadienne-mcgill-cree-et-traduit-des-videos-sur-la-medecine-de-guerre_d3503d6e-a047-11ec-a3fc-5bcd320a036b/