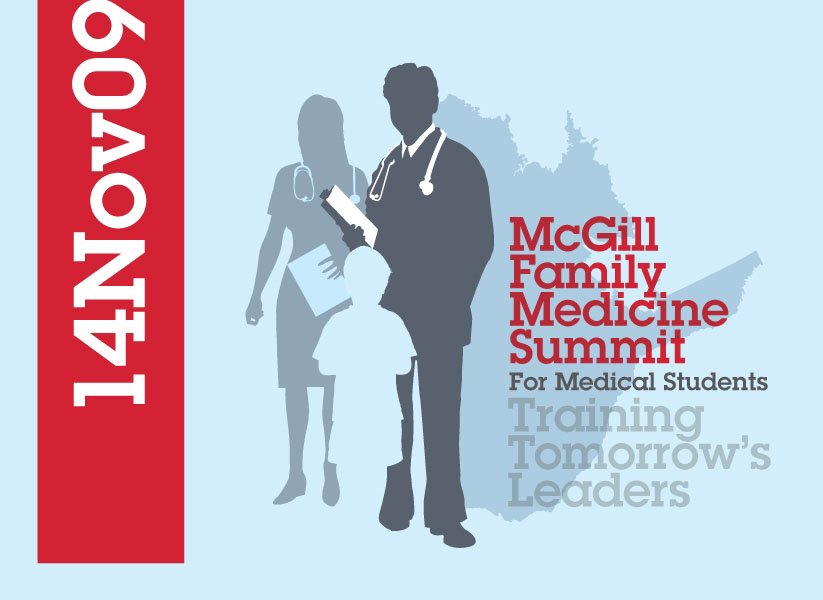 Medical students from Quebec's four faculties of medicine will have a unique opportunity to learn first-hand about academic and research careers in the field of family medicine during the first McGill Family Medicine Summit, taking place on Saturday, November 14 at the Centre Sheraton Montreal Hotel.

The Summit, called Training Tomorrow's Leaders, will showcase the rewards of academic family medicine with the objective of sparking additional interest in a field that is striving to attract not only practitioners, but researchers and teachers as well.

"This promises to be an inspiring event for students and professionals, alike," said Dr. Ivan Rohan, Director of Continuing Medical Education at McGill's Department of Family Medicine and chief organizer of the Summit. "It will give students a valuable chance to speak with some of the finest family medicine researchers, academics and practitioners from Quebec and beyond."

Dr. Yves Bolduc, Quebec Minister of Health and Social Services, will open the Summit, which will feature five prominent speakers. These include Dr. Martin Dawes, Chair of McGill's Department of Family Medicine; Dr. Marie-Dominique Beaulieu, Holder of the Doctor Sadok Besrour Chair in Family Medicine at Université de Montréal; Dr. Simon de Lusignan, Head of General Practice at St. George's Hospital Medical School in the UK; Dr. France Légaré, Holder of a Tier 2 Canada Research Chair in Implementation of Shared Decision Making in Primary Care; and Dr. Martin Fortin, Holder of the CIHR's Applied Research Chair in Health Services and Politics of Chronic Illnesses in Primary Care.

"McGill is committed to the development of family medicine as a strong academic pursuit with an accent on research," said Dr. Dawes, also a member of the Summit's organizing committee. "This exciting initiative reaffirms our commitment and represents an important milestone in McGill's continuing efforts to promote this field, which is so critical to the present and future well-being of our society."

Following an afternoon of presentations at the McGill Summit, participants will attend an evening reception hosted by the North American Primary Care Research Group (NAPCRG), a multidisciplinary organization for primary care researchers. They are also invited to attend NAPCRG's annual meeting activities on Sunday, November 15. In addition, McGill University is sponsoring a dinner featuring roundtable discussions with a select group of primary care researchers.

According to Dr. Lisa Graves, Undergraduate Program Director for the Department of Family Medicine, having the Summit take place alongside the NAPCRG meeting gives students unique exposure to some of the top professionals in family medicine. She hopes it will dispel the misconception that family doctors can't pursue their research and teaching goals while being practising physicians.

"These vocations are very compatible with being a family physician, and we hope this will be clear to the students," she said, noting that family medicine cannot grow as a discipline without researchers and teachers. Dr. Graves added that family medicine experts have readily accepted invitations to participate in the summit and to share with students their passion for their field.

To view the Summit program or to register, please click here.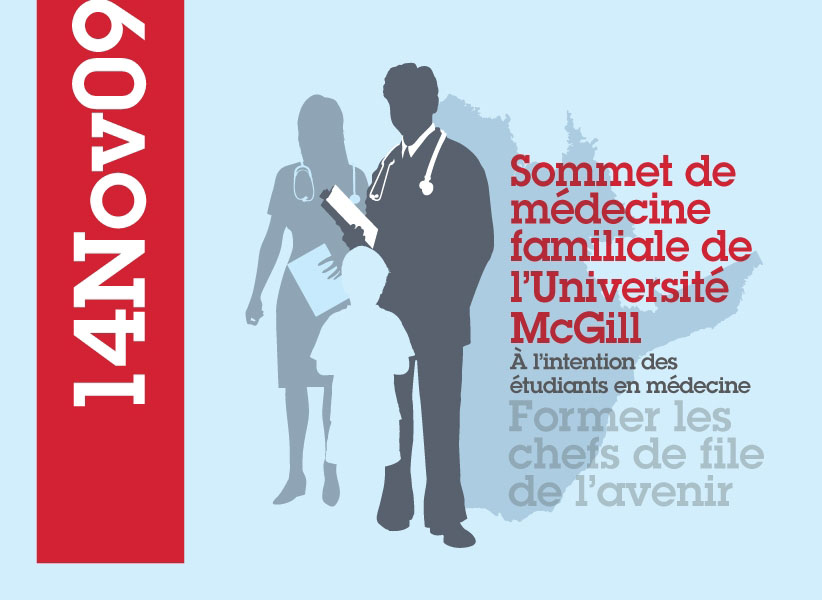 Les étudiants des quatre facultés de médecine du Québec auront l'occasion unique de se renseigner de première main sur les carrières en enseignement universitaire et en recherche dans le domaine de la médecine familiale, durant le premier
Sommet de médecine familiale de l'Université McGill
qui aura lieu le samedi 14 novembre au Centre Sheraton Montreal Hotel.
Le Sommet, intitulé Former les chefs de file de l'avenir, présentera la satisfaction qu'apporte une carrière universitaire en médecine familiale et a pour objectif de susciter un intérêt supplémentaire envers un domaine qui lutte pour attirer non seulement plus de praticiens mais aussi des chercheurs et des enseignants.

« Cet événement promet d'être inspirant autant pour les étudiants que pour les professionnels », a déclaré le Dr Ivan Rohan, directeur de la formation continue en médecine au Département de médecine familiale de l'Université McGill et organisateur principal du Sommet. « Cela donnera aux étudiants une chance précieuse de parler avec certains des meilleurs chercheurs, enseignants et praticiens en médecine familiale du Québec et d'ailleurs. »

Le Dr Yves Bolduc, ministre de la Santé et des Services sociaux du Québec, ouvrira le Sommet qui présentera cinq conférenciers renommés dont : le Dr Martin Dawes, directeur du Département de médecine familiale de l'Université McGill; la Dre Marie-Dominique Beaulieu, titulaire de la Chaire du Docteur Sadok Besrour en médecine familiale à l'Université de Montréal; le Dr Simon de Lusignan, directeur de la pratique générale à l'École de médecine de l'Hôpital St. George's, au Royaume-Uni; la Dre France Légaré, titulaire d'une Chaire de recherche du Canada de niveau II en implantation de la prise de décision partagée dans les soins primaires; et le Dr Martin Fortin, titulaire de la Chaire de recherche appliquée des IRSC sur les services et politiques de santé en maladies chroniques en soins de première ligne.

« L'Université McGill est engagée dans le développement de la médecine familiale en tant que carrière prestigieuse en enseignement universitaire avec un accent sur la recherche », a déclaré le Dr Dawes qui est aussi membre du comité organisateur du Sommet. « Cette initiative stimulante réaffirme notre engagement et représente un jalon important parmi les efforts continus de l'Université McGill pour promouvoir ce domaine qui est si essentiel au bien-être présent et futur de notre société. »

Après un après-midi de présentations au Sommet de McGill, les participants se rendront en soirée à une réception offerte par le Groupe de recherche sur les soins de première ligne de l'Amérique du Nord (NAPCRG), un organisme multidisciplinaire pour les chercheurs en soins de première ligne. Ils sont aussi invités à participer aux activités de l'assemblée annuelle du NAPCRG le dimanche 15 novembre. En outre, l'Université McGill commandite un souper pendant lequel auront lieu des discussions en table ronde avec un groupe sélectionné de chercheurs en soins de première ligne.

Selon la Dre Lisa Graves, directrice du programme pré-doctoral du Département de médecine familiale, le fait de tenir le Sommet en même temps que l'assemblée du NAPCRG permet aux étudiants d'avoir un contact unique avec certains des meilleurs professionnels de la médecine familiale. Elle espère que cela dissipera la fausse conception que les médecins de famille ne peuvent poursuivre leurs objectifs de recherche et d'enseignement tout en pratiquant la médecine.

« Ces vocations sont très compatibles avec la pratique de la médecine familiale, et nous espérons que cela paraîtra évident aux étudiants », a-t-elle déclaré, précisant que la médecine familiale ne peut progresser comme discipline sans chercheurs ni enseignants. La Dre Graves a ajouté que des experts en médecine familiale ont déjà accepté l'invitation à participer au Sommet et à partager avec les étudiants leur passion pour cette discipline.

Pour consulter le programme du Sommet ou pour vous inscrire, cliquez ici.