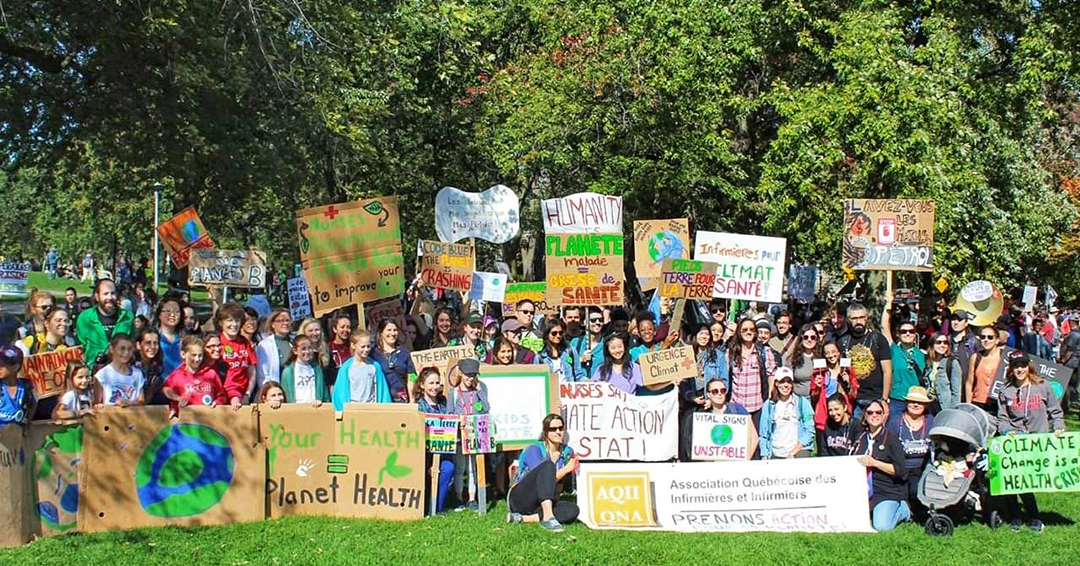 McGill Nurses for Planetary Health aims to provide nursing students, staff and faculty with tools and knowledge to encourage environmentally conscious actions in nursing practice.
As a nurse educator, a faculty lecturer at the Ingram School of Nursing (ISoN) and founding member of the Canadian Association of Nurses for Health and the Environment, Fiona Hanley knows that the state of our environment has a profound impact on our physical and mental health. Citing the increased frequency and intensity of extreme weather events such as heatwaves, wildfires, hurricanes and floods, she asserts, "Eco anxiety is an existential crisis for many of us, especially our youth who are rightly worried about their future."
The link between planetary health and public health is perfectly clear to Naomi Pastrana Mankovitz and Sophie Zheng, second-year BScN students who serve as co-chairs of McGill Nurses for Planetary Health (MNPH). "Everything is interconnected," Sophie explains. "If we don't care about biodiversity and are exposed to wild animals because we've degraded our forests, viruses like COVID will become more common."
In the fall semester of 2019, the ISON initiated a sustainability committee to engage students, staff and faculty in issues and actions around environmental action and sustainability. The initial committee consisted of an undergraduate student representative from the BScN program, Rose-Marie Roy, a graduate student from the MSc program, Katie Chong, and a faculty member, Jessica Sherman. The committee met regularly during the fall of 2019 and early winter 2020, with their final in-person meeting on March 10, 2020, just before public lockdowns necessitated by the COVID-19 pandemic.
With the support of ISoN professors Jodi Tuck, Francoise Filion and Fiona Hanley, the group organized online workshops and events to bring environmental issues to the forefront. Their launch event in January 2021 was a great success, attracting attention from the nursing community across the country.
McGill Nurses for Planetary Health also advocated for the creation of two positions on the council of the Nursing Undergraduate Society – Planetary Health Representative, currently occupied by Sophie, and VP Sustainability, occupied by Naomi. "These positions on Council allow us to advocate for planetary health from a position of greater unity and strength," Naomi explains.
The goals of MNPH are to provide nursing students, staff and faculty with tools and knowledge to encourage environmentally conscious actions in nursing practice; to engage with the greater campus and Montreal community to promote environmentally conscious practices; and to inspiring environmental advocacy and action.
On the curriculum front, along with Professor Heather Hart, Professor Hanley teaches a seminar course with a class that delves into the Strengths-based nursing value entitled Person and Environment are Integral. Taught through a micro and macro lens, students explore related concepts of our human connection with the natural world, biodiversity, climate change, and hospitality within healthcare. In the Nursing Policy and Leadership course taught by Prof. Kelley Kirkpatrick, a session focused on nursing leadership in climate and health action invites students to consider their leadership potential as advanced practice nurses in climate action.
Through the lens of Strengths Based Nursing and Healthcare, nursing students learn how to work with patients' strengths to help them find ways to live with difficult diagnoses and health conditions that are worsened by our deteriorating environment. For example, nurses can help elderly patients cope with extreme heat by providing them with tips on how to stay hydrated and how to store their medications properly. Nurse practitioners working in community health also are able to prescribe walks in local parks, using the healing powers of nature to help ease mental distress.
As Professor Hanley points out, hospitals tend to have a large climate footprint. Nurses have proven to be adept at finding ways to reduce waste. Examples include researching masks made from bioplastics, bringing reusable cups to work and advocating for bicycle stands on hospital premises.
Reflecting on her experience with McGill Nurses for Planetary Health, Naomi notes, "The pandemic was terrifying but, at the same time, being involved with this group showed us that as students, we are not powerless. We have a voice." Adds Sophie, who aspires to do a master's degree in public health, "This is one way that we can retake control of our own future."
For more information about joining and/or supporting McGill Nurses for Planetary Health, visit their Facebook page: https://www.facebook.com/McGillNursesforPlanetaryHealth