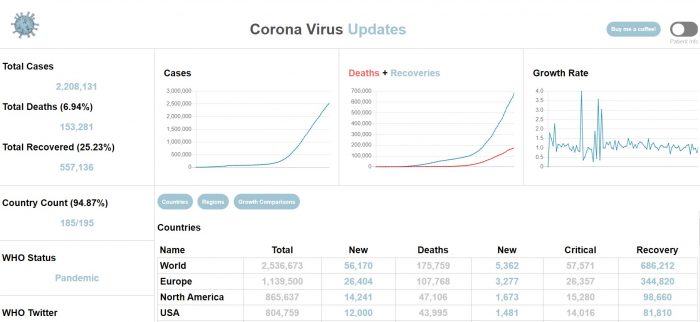 Since its launch in March, the whohascoronavirus.com website has amassed more than 200,000 views from visitors in over 100 countries. Developed in large part in response to the lack of information and Canadian tracking available when the first case of COVID-19 was confirmed in Quebec in late February, the site is the brainchild of third-year McGill medical students Kacper Niburski and Yibin Dang.

"Given the rapid spread in parts the world such as Italy the danger was becoming increasingly evident, I was worried about the rate of growth in Canada," says Kacper. "Moreover, I was interested in fostering the best means of providing clinical, relevant evidence in a highly evolving situation. Where could people get knowledge? Where should they?"

Armed with some funding from the Canadian Federation of Medical Students, Kacper enlisted the help of Yibin, who assisted with compiling clinical information, to build the site and get it up and running in one week. "The clinical and management information was difficult to develop," explains Kacper. "Initially, there were only reports from Wuhan available. Then JAMA began to publish on the topic, so we developed the majority of the information from publications that were available."

Meant to be useful to both clinicians and patients, much of the data is sourced from the World Health Organization's daily briefings and reports on the virus, accessed via a tool designed to scan the data and note changes in incidence. The site also features statistics comparing different rates of infection, for example Italy as compared to China, and the growth of the pandemic against one another. All of this is analyzed on the site.

"All people can benefit from seeing the infection rate, the death rate, and understanding how their general region or country is affected," notes Kacper. "In the throes of a pandemic, access to current information is critical. Of course, the clinical knowledge on the site is more suited for a clinician, focusing on providing immediate care and diagnosis. We also decided to include a short section on what to do as a member of the general public, who can all do their part to prevent further spread."

Kacper notes that he is constantly looking to expand the site's features and is awaiting word on an application he submitted for additional funding through a grant from the Quebec Medical Association. The objective is to build a range for Quebec data specifically looking at hospitalizations, ICU beds in Canada, the proportion of them that are COVID-19 patients, and how the rate compares to other disease pathologies. The site will also expand to include a tracker by municipality, and a region-by-region city tracker, to see the evolution of the disease locally.

Visit whohascoronavirus.com or contact Kacper Niburski at kacperniburski@gmail.com for more information.
April 21 2020