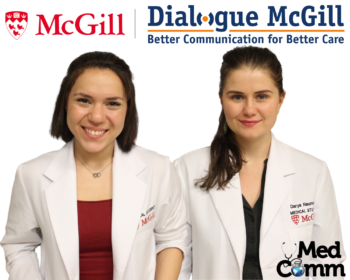 For many patients, healthcare appointments can be associated with anxiety, uncertainty and discomfort. Moreover, medical interventions are often invasive, prescription instructions complicated and medical jargon confusing. Now imagine going through this with a language barrier as well. This is the reality for many linguistic minority patients in a multicultural city such as Montreal.

MedComm is a student-run initiative at McGill University's Faculty of Medicine and Health Sciences that aims to address language barriers in healthcare by harnessing the diversity of multilingual healthcare trainees. MedComm readily addresses these issues through (1) raising awareness about language barriers and the importance of providing culturally safe healthcare; (2) training multilingual healthcare students in medical interpretation; and (3) developing a platform to facilitate requests for student interpreters. The team is led by Kenzy Abdelhamid (MDCM Class of 2021) and Darya Naumova (MDCM Class of 2022).

MedComm's commitment to tackling language barriers was recently recognized with a $30,000 Dialogue McGill – HCALM (Health Care Access for Linguistic Minorities) grant funded by Health Canada. For more than a decade, Health Canada has been funding innovative research on linguistic issues in healthcare and social service provision through the HCALM Network – an interdisciplinary and interinstitutional community of researchers that is part of the larger Dialogue McGill. For 2020-2021, the prioritized theme was "Reducing language barriers to enhance access to health and social services while optimizing outcomes," which is directly aligned with MedComm's goals.

The MedComm team plans to spearhead a number of ambitious projects thanks to the grant. Throughout the year, a series of workshops will be held on the basics of medical interpretation for multilingual healthcare trainees at McGill, including medical students, medical residents and students in nursing, occupational therapy, physiotherapy and speech and language pathology. A series of educational workshops for a wide range of healthcare workers will subsequently be developed and implemented. These workshops will cover the basics of interacting with interpreters during medical appointments and will teach participants how to access interpretation services.

The MedComm team is also developing an online and mobile platform for requesting the services of trained student interpreters and will conduct a pilot study to test the utility and feasibility of the platform in clinical settings. Through this work, the team also aims to continue promoting the practice of culturally safe care by raising awareness of the issue of language barriers, their effects on linguistic minorities and the importance of professional interpreters.

These research projects are conducted under the supervision of Dr. G. Eric Jarvis at the Cultural Consultation Service of the Jewish General Hospital and Dr. Bertrand Lebouché at the Centre of Outcomes Research and Evaluation, Research Institute of the McGill University Health Centre.

The process and outcomes of MedComm projects will have long-lasting implications for clinical practice, research activities, and health services. Medical interpretation training, delivered throughout MedComm's projects, will ensure that cohorts of healthcare students are familiar with the needs of patients with language barriers and equipped with tools to address them.

Note that MedComm does not intend to replace professional interpretation when it is readily available.
You can learn more about MedComm here.

March 16, 2021