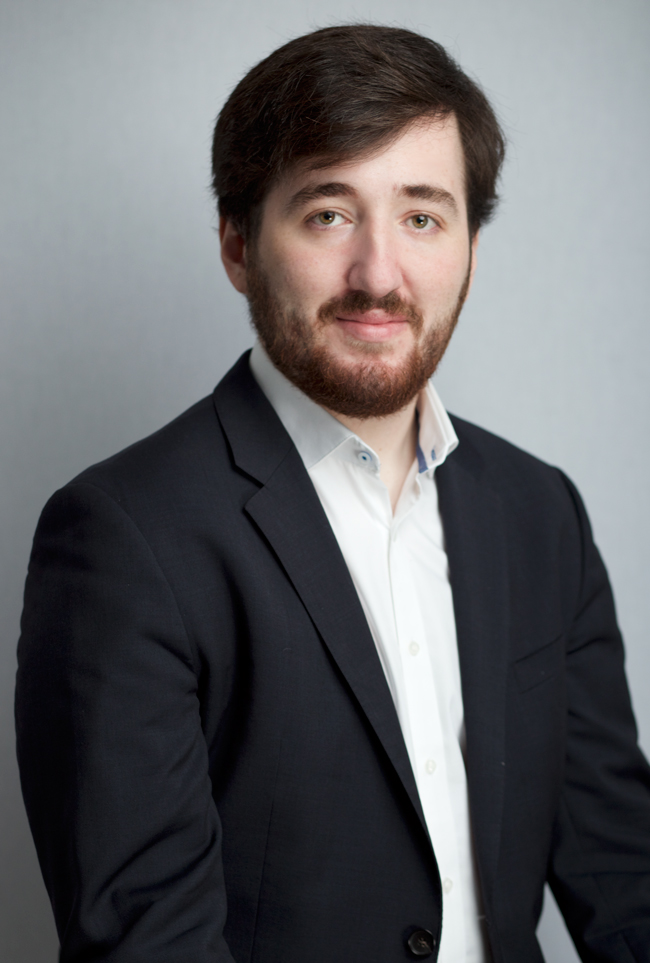 By Neale McDevitt, McGill Reporter

McGill medical student Alexander Lachapelle and Clare Lyle, a U3 Joint Honours Math and Computer Science student, are among the latest students awarded Rhodes Scholarships. This brings to 144 the number of McGill Rhodes Scholars since the awards were created in 1902 to provide for studies at the University of Oxford, the most in Canada.

The students will finish their McGill studies in May before heading out to Oxford in October for the next phase of their academic adventure.

Always more to discover
On the verge of completing his MDCM at McGill, Alexander Lachapelle has also undertaken a formidable engineering task over the past several years – working to build better bridges between medicine and innovation.

Partway through his studies, but wanting to learn the world of medical technology inside and out, Lachapelle took the road less travelled, but one he believed would best serve his vision. Putting his studies on hold for a year to work in healthcare policy, he moved to New York and joined an artificial intelligence start-up, where he worked applying machine learning to diagnostic radiology.

"Basically, we were creating deep learning algorithms to help reduce diagnostic errors and improve patient outcomes," says Lachapelle. "It was one of the most enriching experiences of my life," he says of his time in New York, "because it showed me two things. First, it gave me a real sense of how much machine learning can improve the quality of and the access to healthcare for patients, through early disease identification and management.

"But it also gave me insight into the complex process that goes into innovating clinical care," Lachapelle continues. "Even once you've developed the technology and published the results, you still have to go through the regulatory process; you have to develop a commercialization strategy; you have to get all the right partners around the table working on the more entrepreneurial side of things, you have to teach the healthcare professionals how to use it and make sure it works, you have to update it and adapt it to changes in the literature. These are so many things you have to take on to get a new tool to the patient."

Not surprisingly, Lachapelle plans on focusing on these interests while at Oxford. "I want to study how we can use technology – more specifically, machine learning – to improve access to healthcare, in Canada and globally. How can we work together and make sure that innovation doesn't just live in a publication and that it actually benefits the patient?"

People working together is a common theme in Lachapelle's life. A Terry Fox Scholar, he said he decided he decided to become a doctor when he was a teen working with the Dr. Julien Foundation, a Montreal social pediatrics enterprise that ensures children living in vulnerable circumstances have access to pediatrics care. "Rather than just treating the disease, [the Foundation] brought everyone from the child's life around the table – from the parents to the teacher to the speech therapist to the pediatrician," he says. "The Foundation works on dozens of projects, in Montreal and in Quebec. In this case, we developed a new summer social pediatrics program, and we raised over $200,000 to support it through partnerships with local organizations and the governments of Canada and Quebec. It made me realize firsthand the importance of the social aspect of medicine."

As if Lachapelle wasn't busy enough, he has also done a lot of health policy work over the past several years. Last year, he was elected to be the official representative of medical education for the International Federation of Medical Students' Associations (IFMSA), an organization that represents some 1.3 million medical students from 127 countries.

As such, Lachapelle represented the IFMSA at conferences and meetings organized by, among others, the World Health Organization, UNESCO and the U.S. Congress. He also sat on the executive board of the World Federation for Medical Education.

"It really gave me opportunity to see what happens behind the scenes when health policies are being created," he says. "How do you plan your health workforce; how do you ensure social accountability of the medical curriculum; how do you train the doctors of tomorrow?

"I saw a real desire for a lot of schools to teach their students to become lifelong learners," says Lachapelle. "With medicine evolving so fast, especially on the technological side, how do you keep people in the mode where they always read the literature and stay up-to-date, so that they aren't just learning medicine once? There is always so much more to discover!"

November 24, 2017