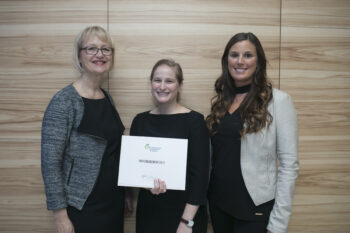 Dr. Anne-Sophie Brazeau was recently selected as the recipient of the Prix Engagement 2017 – Lussier Dale Parizeau by l'Ordre professionnel des diététistes du Québec (OPDQ) for her scientific rigour, perseverance and projects commitment. Dr. Brazeau is a post-doctoral fellow in the lab of Dr. Kaberi Dasgupta, Associate Professor in the Divisions of Internal Medicine, Clinical Epidemiology, and Endocrinology and Metabolism at McGill University's Faculty of Medicine and researcher at the Research Institute of the McGill University Health Centre.

"I am very thankful for this great award," says Dr. Brazeau. "I think it is important to get involved in our professional association if we want our profession to be truly recognized and to continue to grow. I have been involved in many different committees and activities at l'Ordre Professionnel des Diététistes du Québec over the past 10 years and currently, I am the president of the committee on the revision of the Clinical Nutrition Textbook (Manuel de Nutrition Clinique). I am very enthusiastic about this project, as I believe it will be greatly appreciated by dietitians."

Dr. Brazeau started her career working in Clinical Nutrition in a University Hospital mainly managing patients with chronic diseases. Her interest in improving long-term health of her patients with diabetes led her to pursue graduate studies in Nutrition. She completed a PhD in human nutrition from Université de Montréal prior to pursuing her post-doctoral work at McGill University under the supervision of Dr. Dasgupta. Her research has focused on characterizing lifestyle (exercise/sedentary/eating) behaviors of adults with type 1 diabetes (e.g. barriers to exercise, impact of carbohydrate counting on glucose fluctuation) and on families with previous history of gestational diabetes (e.g. shared behaviours between partners). In order to translate their findings into practical applications, Dr. Brazeau and her colleagues have developed and tested group-based lifestyle intervention (diet and exercise) for adults with type 1 diabetes as well as for families with a history of gestational diabetes, promoting the importance of social support for lifestyle changes. Her research projects have been funded by numerous organisations such the Canadian Institutes for Health Research, Diabetes Canada, and the Société Francophone du Diabète.

Congratulations Dr. Brazeau!

December 15, 2017