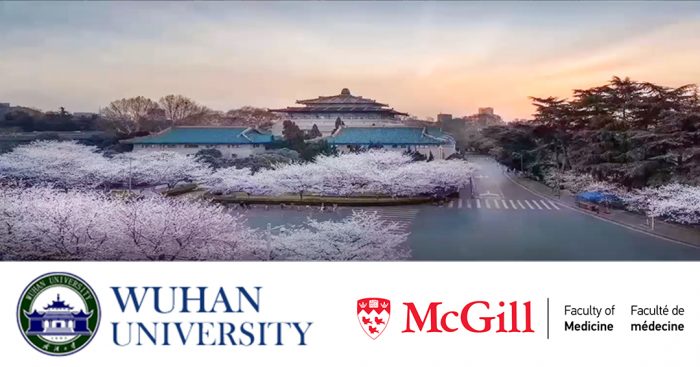 By Hermine Mesropyan

On Tuesday, April 21, 2020, colleagues from McGill University and Wuhan University came together in a videoconference meeting to exchange information and experiences on COVID-19. The meeting was organised by Professors Howard Bergman, Assistant Dean International Affairs, Faculty of Medicine and Lan Xiong, Advisor and Liaison of International Affairs with China.

Professor Timothy Evans, Director and Associate Dean of the McGill University Faculty of Medicine's School of Population and Global Health, and Professor Qi-Zhu Tang, Dean of Medicine and Vice President of Wuhan University, led the discussion. After the round of introductions, Dr. Evans provided a brief overview of the COVID-19 situation in Montreal at the time, highlighting the main challenges and issues. Dean Tang presented the situation in Wuhan, after which the floor was opened for discussion.

Topics of discussion revolved around the testing strategy and management used in Wuhan. Dr. Yan Zhao described the testing and tracing strategies, specifying that various strategies were deployed at different stages of outbreak in Wuhan, starting with targeted testing during the early stages, and expanding to using large-scale testing later on. At the moment there are only specific categories of asymptomatic people who must be tested, such as those working in hospitals, prisons and schools, as well as people from overseas. Others are strongly advised to be tested before their return to work, but it is not mandatory. The necessity for additional tests depends on the information provided by the local and national tracking systems on mobile applications. Wuhan University colleagues also shared their experience in the management of suspected contacts, criteria used to consider an infected person who is no longer contagious, the use of serological tests, as well as the transition back to normal life and the first steps after opening the city.

Additional participants in the meeting included, on the McGill side, Professors Donald Sheppard and Marcel Behr, Co-Directors of the McGill Initiative in Infection and Immunity (MI4) and Matthew Cheng, Assistant Professor in the Department of Medicine. Wuhan participants included Professors Bao-Ping Yu, Vice Dean of Medicine, Yan Zhao, Director of Emergency Center and Vice Director of Zhongnan Hospital, Zhi-Qiang Li, Director of Neurosurgery Department and Vice Director of Zhongnan Hospital, Zhen-Yu Pan, Director of Medical Services of Zhongnan Hospital, Wei Hou, Professor of Virology, Director of Wuhan University Key Laboratory of Virology, Vice Dean of Wuhan University School of Basic Medical Sciences, Xue-Jie Yu, Professor of Infectious Disease Epidemics, Dean of Wuhan University School of Health Sciences, Yong Xiong, Director of Zhongnan Hospital Infectious Disease and Nosocomial Infection Control Office, and Jing-Yi Fan, Director of International Office (Medical Education, Exchange and Cooperation) of Zhongnan Hospital.

Participants from both institutions were satisfied with the productive discussion and agreed to meet again to discuss post-COVID-19 health management and innovative education related to pandemic and public health issues, as well as to explore opportunities for further collaboration.
June 5 2020