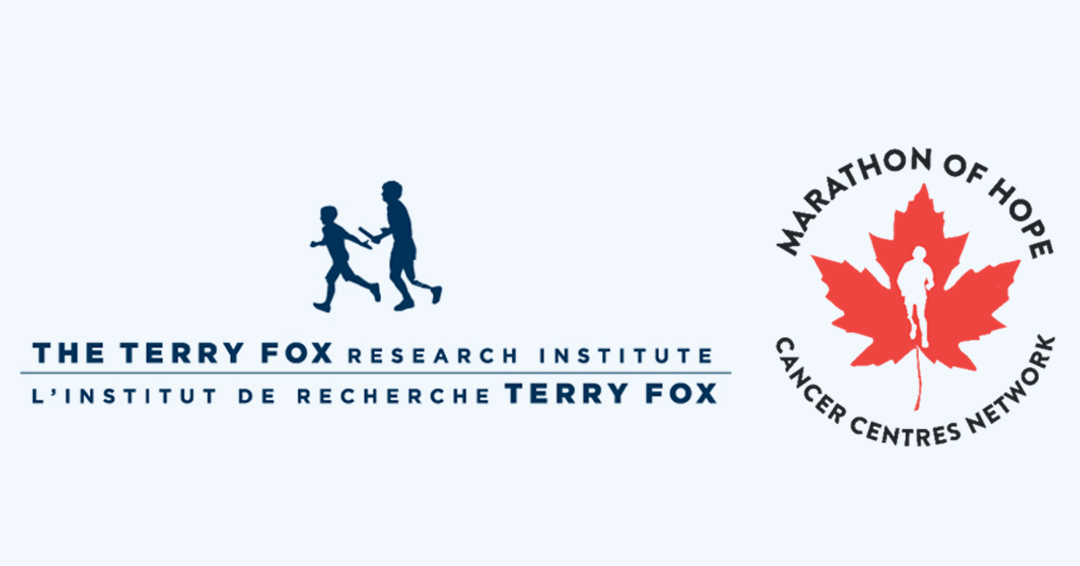 Vancouver, BC — The Government of Canada and the Terry Fox Research Institute (TFRI) have jointly signed a Contribution Agreement which opens the door for the Marathon of Hope Cancer Centres Network to begin operating.
"This is an exciting time in Canadian cancer research history. This Contribution Agreement with Health Canada marks a new chapter in our collective efforts to eradicate cancer by working together, inspired by Terry Fox's dream of more than 40 years ago to end cancer through research," says Dr. Victor Ling, TFRI President and Scientific Director. "This funding supports the work of TFRI and our partners, including those who today we are recognizing as founding cancer centres and our first designated members. We are starting to share data, resources and knowledge to improve outcomes for patients through precision medicine."
The centres being designated are the BC Cancer Consortium (BC Cancer lead), the Princess Margaret Cancer Consortium (Princess Margaret lead) and the Marathon of Hope – Quebec Cancer Consortium including hospitals and institutes affiliated with McGill University and the Université de Montréal.
"Canadians remember the bravery of Terry Fox and his fight against cancer. His legacy lives on through the Terry Fox Research Institute, which is doing important work to bring an end to this disease. Our partnership will allow the TFRI to bring together the best and brightest minds who carry on this fight – something that will benefit every Canadian," says The Honourable Patty Hajdu, Minister of Health.
Designation means these centres have successfully demonstrated their capability to collaborate and execute, at a world-class level, the key operational safety, security, clinical, scientific, training and technical requirements expected of network members. They will also be able to promote their membership in the network, demonstrating their commitment and dedication to working together to achieve Terry's vision of finding cures for cancer through research.
As part of the designation process, the Terry Fox Research Institute assembled an international committee of cancer research experts to conduct a peer review of plans submitted by the centres to articulate how they will contribute to the network, how the network aligns with their institutional priorities, and how they will work with partner institutions. The committee considered the impact that this innovative pan-Canadian network will have at home and abroad.
"The vision for the Marathon of Hope Cancer Centres Network is impressive, a great beginning. I am convinced that the high quality and collaborative spirit of the Canadian centres in this initiative will overcome any of the challenges ahead," says the review committee chair Dr. Emile Voest, Professor of Medical Oncology of the Netherlands Cancer Institute in Amsterdam and Director of Cancer Core Europe. "Together, you are creating a network that will benefit Canada as a whole and through that every patient living in Canada."
The network partners aim to work together to match the up to $150-million that will be available over the next five years under the agreement with Health Canada. A full match will mean $300-million new dollars to support cancer research in Canada.
Cancer centres in the Atlantic and Prairie provinces are expected to apply to join the pan-Canadian Marathon of Hope network in the next round of designations. Each region is completing pilot project studies currently demonstrating preparedness to join and participate as designated members.
Remarks from Leadership at Founding Cancer Centres/Designated Member Institutions
"The agreement with Health Canada will enhance precision oncology research to benefit all Canadians. The agreement will allow MOHCCN sites to share data and new technologies by collaborating with other MOHCCN-designated sites across the country, with the goal of improving access to cutting-edge precision oncology studies and enhance their impact on cancer care and clinical practice."
–Dr. François Bénard, Senior Executive Director of Research at BC Cancer
"We are very excited to be entering this new operational phase of the Marathon of Hope Cancer Centres Network. As co-leads of the Quebec node of this network and together with its members we look forward to the opportunities provided by this TFRI initiative. It will not only allow us to better understand the underlying defects within the genome of the cancer cell, but also to stimulate clinical research into new targeted and immune therapies. We are proud to be partners in the pan-Canadian initiative and to collaborate with TFRI and other designated centers to bring personalized cancer treatments to Canadian patients.
–Morag Park, Director Rosalind and Morris Goodman Cancer Research Centre at McGill University, member of the Cancer Research Program, RI-MUHC
–Anne-Marie Mes-Masson, Associate Director of Basic and Fundamental Research at the CHUM Research Center (CRCHUM)
"This is an exciting day for cancer research in Canada. This agreement and the funding for it from Health Canada will accelerate a new era in our efforts to develop more personalized approaches to treating patients with cancer. The Marathon of Hope Cancer Centre Network will link centres across Canada to share and learn from patient-specific big data. This is unprecedented in Canada, and this type of coast-to-coast co-operation will bring us closer to making personalized, precision medicine a reality not only for Canadians, but for patients world-wide. Princess Margaret is proud to be a member of this collaborative network, building upon the excellence of Canadian scientific research, keeping Terry's dream alive of continuing the Marathon of Hope to vanquish cancer."
–Dr. Brad Wouters, Executive Vice-President of Science and Research at the University Health Network and Senior Scientist at the Princess Margaret Cancer Centre
ABOUT THE MARATHON OF HOPE CANCER CENTRES NETWORK: The Marathon of Hope Cancer Centres Network is the realization of a long-standing vision of the Terry Fox Research Institute. Inspired by Terry Fox and his Marathon of Hope, the network represents a powerful collaborative platform that will close the gap between research in the lab and patient care in the clinic. Just as Terry Fox united Canadians with his run and dream to end cancer, the Marathon of Hope Cancer Centres will unite our cancer researchers to pursue that same goal with precision medicine. www.marathonofhopecancercentres.ca
ABOUT THE TERRY FOX RESEARCH INSTITUTE: The Terry Fox Research Institute (TFRI), established in 2008, invests in world-class, collaborative cancer research teams and partnerships. Together with its research and funding partners, TFRI is working to inspire the transformation of cancer research in this country by bringing together leading cancer research and treatment organizations in Canada and empowering them under the framework of the Marathon of Hope Cancer Centres Network. www.tfri.ca
For more information, please contact:
Kelly Curwin, Chief Communications Officer,
Terry Fox Research Institute
Cell: 778-237-8158; kcurwin@tfri.ca
June 10, 2021