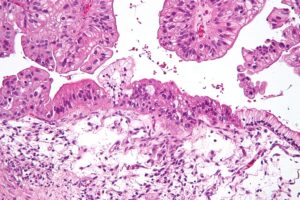 The discovery of mutations in a single gene in multiple cases of small cell carcinoma of the ovary, hypercalcaemic type (SCCOHT), the most common undifferentiated ovarian cancer to strike women under 40, by a team led by Dr. William Foulkes of the Lady Davis Institute (LDI) at the Jewish General Hospital, represents a huge breakthrough. The findings are published in Nature Genetics.

"Though rare, SCCOHT is important because the average age of victims is 25, with some as young as 2 years old. The oldest known patient was a woman of 48. The prognosis is dismal unless diagnosed early," explains Dr. Foulkes, who is head of the Cancer Genetics Laboratory at the LDI and of the Program in Cancer Genetics at McGill University. "By identifying a specific genetic factor, we finally have the prospect for early genetic counselling for women with a family history of the disease in order to determine the presence of the mutation before the disease emerges, and it opens opportunities for new approaches to treatment."

By using a technique known as whole exome sequencing (WES), a revolutionary method for diagnosis and taxonomy that was only developed over the past five years, Dr. Foulkes and collaborator Dr. Jacek Majewski of the Department of Human Genetics at McGill, succeeded in identifying a mutation in the chromatin-remodelling gene SMARCA4 that was common to three families with at least two members afflicted with SCCOHT. Further testing of a total of 40 cases revealed that this was the only important genetic alteration in any of the tumors.

"Treatment options remain limited to poisoning this cancer with DNA damaging agents," said Dr. Foulkes. "However, these are unlikely to be as effective as using novel therapies that function by modulating expression of the mutant gene. Developing a drug that targets SMARCA4 could have widespread benefits, as this gene has been implicated in various primary cancers, including kidney and pediatric brain tumors."

Patients with a family history of early on-set ovarian cancer can now be screened for this genetic mutation and given counselling about available options. For example, a 33-year-old woman in the United States whose mother and twin sisters both died of the disease was screened and found to have the SMARCA4 mutation. She took doctor advice and opted to have her ovaries removed because of her extremely high risk of developing ovarian cancer. This patient has consented to media interviews.

Importantly, the study classifies SCCOHT as a malignant rhabdoid tumor – in essence, a type of tumor usually seem in the brain, that, in this instance, sprouts in the ovary. This is much more than a mere academic achievement, as pathologists depend on recognizing the architecture of a cancer in order to accurately diagnose it. Now they will be able to diagnose this cancer with a simple antibody test.

"Though the mutation is rare, this is a devastating cancer that emerges in young women and will kill about half of those who get it within five years," Dr. Foulkes said.

Developing novel therapies targeted at particular biomarkers is among the strengths of the cancer research programs at the LDI and Segal Cancer Centre at the JGH. The principle underlying personalized medicine in cancer, which is a major focus at the JGH, is to identify those biomarkers that characterize each patient's cancer and to prescribe therapies that directly target the genetic foundations of the malignancy. Treatment can be directly targeted when the cause of a cancer can be isolated to a particular gene, leading to far better outcomes for patients.

Critical to the research that went into this study were extensive international collaborations involving clinician-scientists across Canada and from as far afield as Australia, Germany, France, Greece, Slovenia, the United States, and the United Kingdom. Essential support for several aspects of this project was supplied by the McGill University and Genome Quebec Innovation Centre.

"Germline and somatic SMARCA4 mutations characterize small-cell carcinoma of the ovary, hypercalcemic type" by Leora Witkowski et al, is published in Nature Genetics online ahead of print publication on March 23, 2014.

March 27, 2014