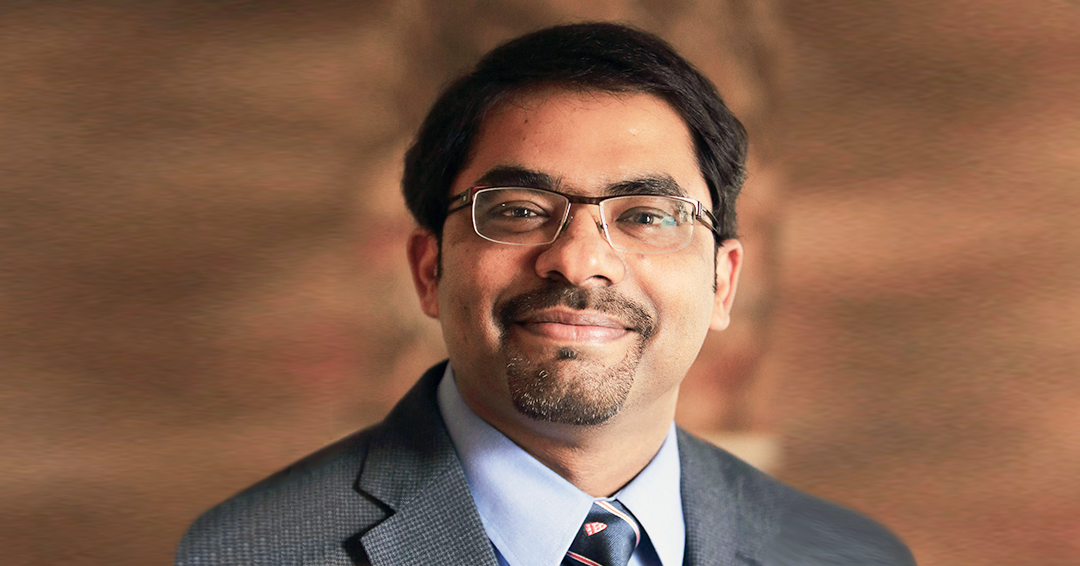 We are pleased to announce the appointment of Madhukar Pai, MD, PhD, as inaugural Chair of the Department of Global and Public Health (DGPH), School of Population and Global Health (SPGH), Faculty of Medicine and Health Sciences (FMHS), McGill University, effective October 1. We would like to thank Catherine Hankins, MD, PhD, who has served as Interim Chair since the Department was created in 2022, for her valued contributions over the past year in leading the new Department and supporting its development within the scope of the SPGH strategic and operational plan.
Dr. Pai completed his medical training and community medicine residency in Vellore, India, before completing his PhD in epidemiology at the University of California, Berkeley, and postdoctoral fellowship at the University of California, San Francisco.
At McGill, Dr. Pai is Tier-1 Canada Research Chair in Epidemiology & Global Health, and the Associate Director of the McGill International TB Centre. He is Full Professor, Department of Epidemiology, Biostatistics and Occupational Health, Associate Member, Department of Medicine, and Senior Scientist, Research Institute of the McGill University Health Centre. From 2014 to 2020, he was Director of McGill Global Health Programs. From 2018 to 2020, he was Director, McGill International TB Centre.
Dr. Pai is a world leader in tuberculosis (TB) research and serves on the World Health Organization (WHO) Strategic and Technical Advisory Group for TB in the South-East Asia Region, as well as the WHO Advisory group on Tuberculosis Diagnostics and Laboratory Strengthening. He is an elected Fellow of the Royal Society of Canada, and a Fellow of the Canadian Academy of Health Sciences. His research is focused on improving the diagnosis and treatment of TB, especially in high-burden countries like India and South Africa.
Dr. Pai serves on the editorial boards of many journals including Lancet Infectious Diseases, PLOS Medicine, and BMJ Global Health, and is Editor-In-Chief of PLOS Global Public Health. He holds visiting professorships in three countries (India, China and South Africa). During his time at McGill, Dr. Pai has supervised 35 research trainees, and has given nearly 200 invited lectures and presentations in Canada and around the world. In the FMHS, he was a member of the Dean's Task Force on Global Health. He is a past recipient of the Haile T. Debas Prize and the David Johnston Faculty & Staff Award. He has received nine teaching awards, including the Faculty Honour List for Educational Excellence at McGill University, and the Certificate of Merit award for Teaching Excellence from the Canadian Association for Medical Education (CAME). In 2019, Dr Pai received the Principal's Prize for Public Engagement Through Media.
As one of three departments in the SPGH, the Department of Global and Public Health aims to address health inequities and advance public health through action-oriented research, interdisciplinary training, allyship and equitable partnerships. In his role as Chair of DGPH, Dr. Pai will develop a clear and collaborative vision for the Department that builds on strong interdisciplinary foundations and complements the broader strategy of the SPGH. He will make recommendations to the Dean on recruitment, academic appointments, promotions and tenure in the Department, guide the Department's research and education activities and contribute to SPGH-wide functions related to education, research, partner relations, communications and resource mobilization.
Please join us in congratulating Dr. Pai on his appointment and in wishing him every success in his new role.
Lesley Fellows, MDCM, DPhil, FRCPC
Vice-Principal (Health Affairs)
Dean of the Faculty of Medicine
and Health Sciences
Timothy Evans, MD
Director & Associate Dean
School of Population and Global Health
Marc D. Pell, PhD
Interim Vice-Dean, Academic Affairs