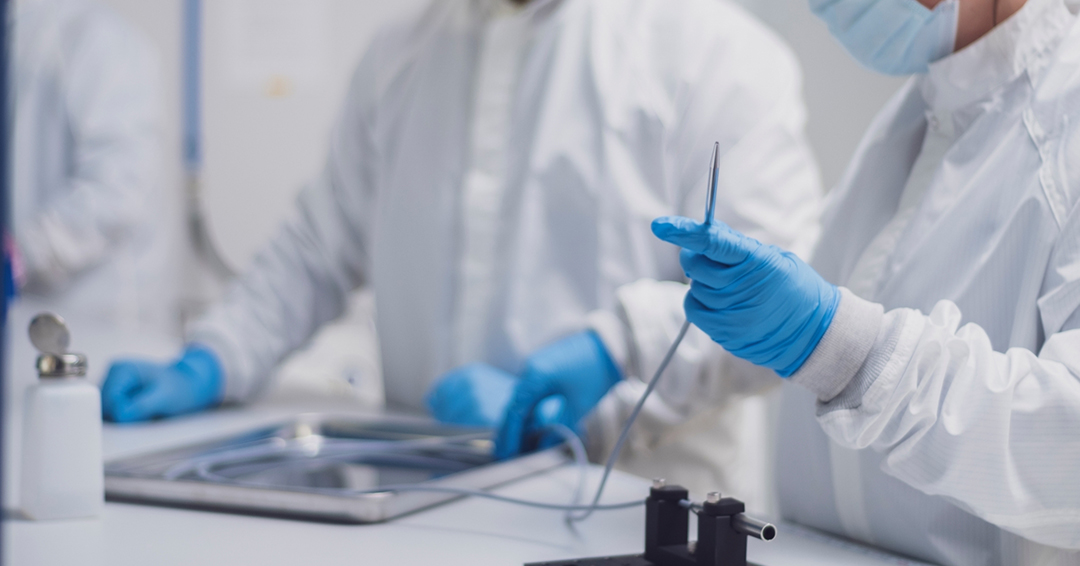 Montreal-based Reveal Surgical has developed a hand-held light probe that helps find the hidden cancer cells that most brain surgeries miss
t's a scene that plays out daily in operating rooms around the world: a surgeon removes a malignant brain tumour. But rather than registering the satisfaction of having saved a patient's life, hanging in the air is an all-too-real statistic; in 99.5% of these operations, unseen cancer cells remain. That hidden cancer will eventually grow and spread, and the operation will have become only a short reprieve for the patient and their family.
What's equally frustrating is that those remaining deadly cells, invisible going into or during surgery, are most often lying agonizingly close to where the removed tumour resided. The indetectable nature of these cells is one reason why survival after diagnosis averages only 15 months for these cancers.
"Ninety percent of the time the failures are exactly where the surgery stopped," explains Kevin Petrecca, Chief of the Department of Neurosurgery at the McGill University Health Centre, about those elusive cancer cells.
Taking aim at glioblastomas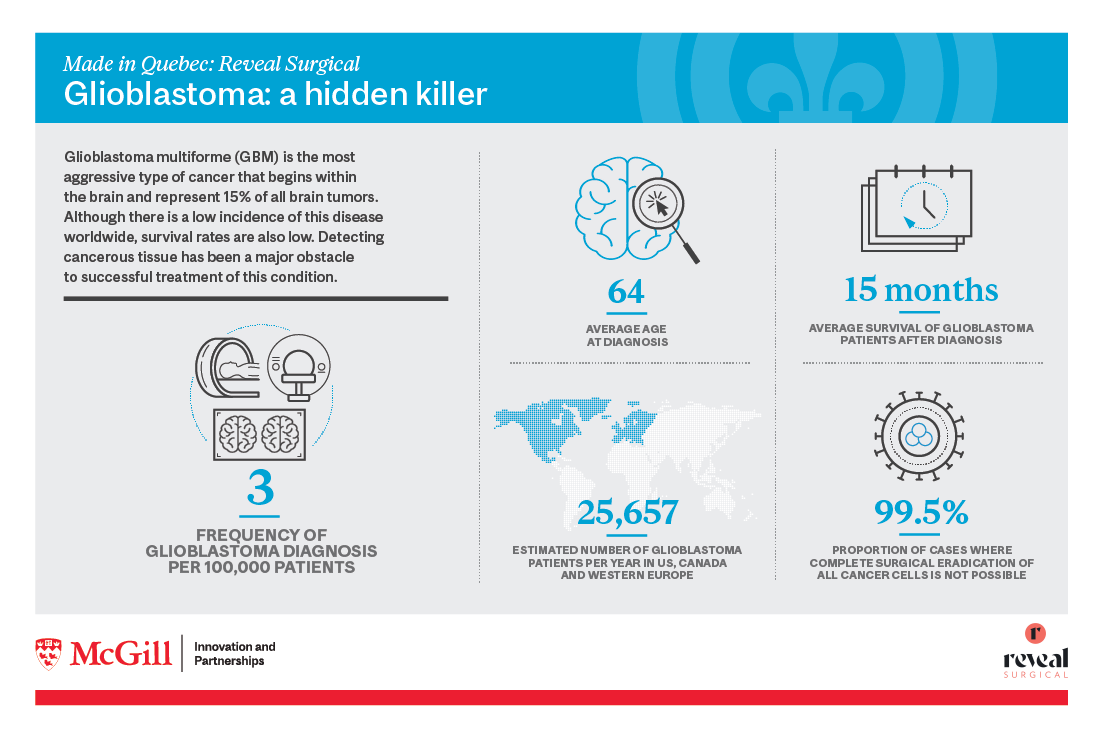 Now, the Montreal-based company that Petrecca helped found is poised to solve the problem of residual brain cancer. Reveal Surgical is taking aim at glioblastomas, the most common and fatal type of malignant brain tumour. The medical device start-up, formerly known as ODS Medical, has developed a probe that can locate normally undetectable cells during surgery, allowing the surgeon to remove both the primary tumour and its microscopic tentacles at the same time. It has also built an artificial-intelligence component into the device, which confirms malignancies with an inventory of catalogued cancer biopsies.
Reveal Surgical's CEO Christopher Kent says his company's device increases the surgeon's visual landscape. Called the Sentry System, it captures telltale signs of cancerous cells. The probe shines a light onto brain tissue, and then notes wavelength shifts. Those shifts reflect the molecular makeup of cancerous tissues, distilling a fingerprint of sorts for different tissue types and molecular signatures of cancer cells. Reveal's technology classifies these fingerprints, enabling surgeons to know during surgery whether the tissue they are investigating contains invisible cancer or not.
He puts in succinct but no less monumental terms the device's power to offer surgeons next-level access to tissue-derived data: "We're giving them the ability to see the unseen."
The idea for this probe was born and developed in Quebec and, as it goes through various medical and regulatory tests, has put the province at the centre of an increasingly international network of hospitals that will test the device. Preliminary results have been positive, making this a story where an enterprising Quebec company, founded by local researchers working in established higher-education institutions with IP licensing partnerships, is set to provide numerous health care institutions with a tool that has the ability to save and prolong lives.
"This should have an impact on tens of thousands of people each year around the world," says Kent, who lays out the company's initial vision: "We wanted to address a pretty pressing problem in neurosurgery, which is that the surgeon's ability to visualize the tumour ahead of the procedure is really limited by a reliance on MRI, and there's a lot of cancer that just doesn't show up. Everybody knew that they were leaving cancer behind, but they had no way of reliably identifying which tissue was containing cancer."
Combining engineering with medicine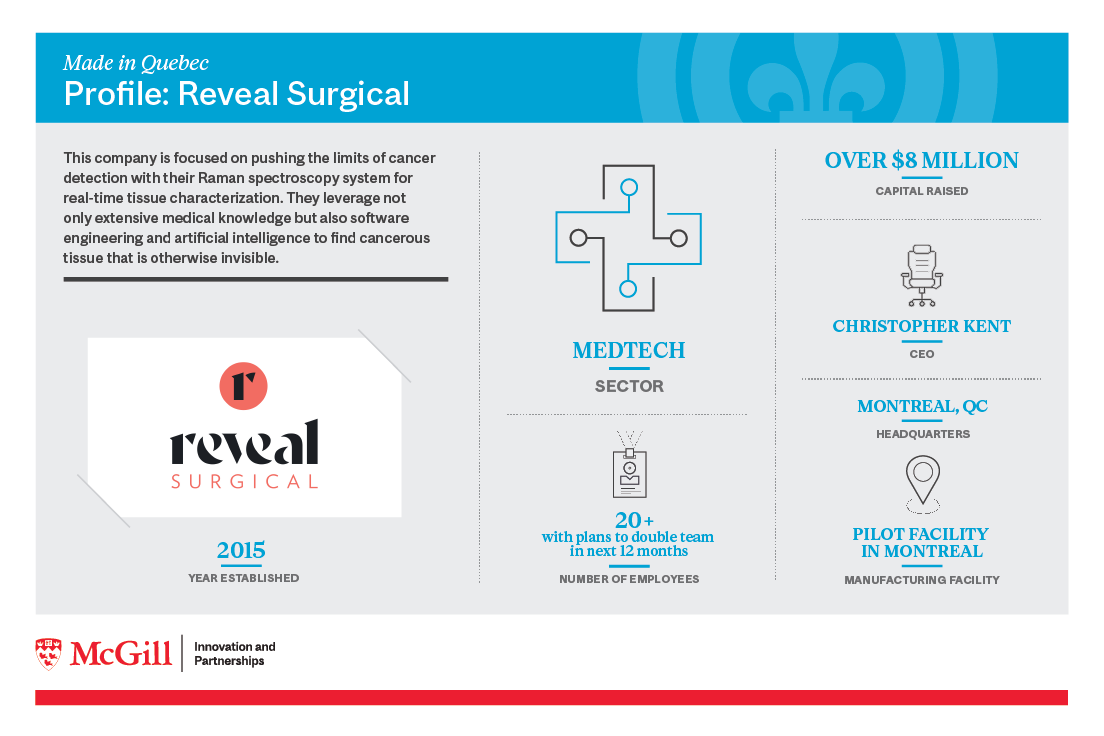 In 2012, Petrecca, who works out of the McGill's The Neuro (Montreal Neurological Institute-Hospital), and Frédéric Leblond, an Engineering Physics professor who heads the Optical Radiology Laboratory at Polytechnique Montreal, began to talk.
Leblond had developed an expertise in the use of light and optics to uncover the molecular characteristics of tissue in clinical settings. Meanwhile, Petrecca, who spent years sitting down with patients and their families to discuss the dire survival rates of glioblastoma surgery, had found an opportunity to potentially bring those rates down, as well as offer Leblond his surgical perspective on a new operating room tool.
"Fred is the engineer, the designer and the optics specialist, and I'm the guy who knows about the nature of the cancer, acquiring samples and what will and won't work in the OR," says Petrecca.
They were also both familiar with Raman spectrometry, which measures the vibrations of molecules to detect when normal cells have transformed into cancerous ones.
That confluence of elements, from the pressing need to bring down that frustrating 99.5% recurrence figure to breakthroughs in light-sensitive detection techniques, led the two of them and their team to put together a prototype and start non-human testing.
"Once the design was made, we would come into the OR," recalls Petrecca. "It was like, 'how much light can you shine?' 'No, that's too much light.' Everything was one step at a time with a certain amount of trial and error until we had a device that actually works."
That testing is now taking place in real-world conditions, explains Kent. The company has received breakthrough designation from the FDA, which is helping them put together what's referred to as pivotal trials. It has also received authorization for investigational testing from Health Canada for their prototype.
"At this stage, we're wrapping up our pilot clinical studies, so we're deployed in three hospitals in Montreal, New York City and Vienna, and once those are finished towards the end of this year, we're hoping to launch a multi-site pivotal trial next year, and that will be at 10 hospitals across North America and Europe."
Real-time results provide key benefits
Costas Hadjipanayis, a professor of Neurosurgery and Oncological Sciences at the Icahn School of Medicine at Mount Sinai in New York City, was involved in one of the three initial hospital studies. He counts the real-time results as the device's key benefit, adding that, while MRIs have helped surgeons see the three-dimensionality of cancer, they have their limitations. "That's just a snapshot in time," he says, noting that a surgeon would need to take a patient in and out of the operating room several times for MRIs in order to get the type of continuous live shots of the brain that the Sentry System provides.
He appreciates Reveal Surgical's product for its ability to take measurements of the tumour and the surrounding brain, and how the pen-like device classifies corresponding tissue specimens.
Key to Reveal Surgical's product is their AI component. Positive and negative diagnoses of tissues that surgeons interrogate with the probe and biopsy during an operation are used to train machine learning models. Once the company has a big enough database, surgeons can take measurements of a specific tissue and then the machine will tell them right away if it's a match with the ones they've classified. In the three studies, data has been collected from over 120 patients. "We were generating an encyclopedia of data that AI is going to sort," says Hadjipanayis, who adds that this project will help set the stage for a more definitive multicentre study in the US and Canada.
Glioblastomas, notes Hadjipanayis, don't stand out visually like other cancers, which are usually darker than healthy tissue. "That's been our limitation for decades—the subtle colour difference of that tissue that could be a tumour." Having cancer cells light up and then be classified takes away that handicap.
Matching AI with the human element
Reveal Surgical has made sure not to overreach with its AI component. "There is a strong human element to medicine, and as much as we may want to reduce it to an engineering problem, there are still people involved," says Kent. "The surgeons have to have a sense of what's actually happening. They're manipulating the probe and acquiring information from areas that are of high interest, and then they're the ones deciding what to do with that information. So just because it says it's cancer doesn't necessarily mean that they're going take it out. And just because it says it's normal doesn't necessarily mean that they're going to leave it alone."
Hadjipanayis says the AI component helps define thresholds for the presence of cancer cells and tissue specimens. "This can show the strength of the technology not only in diagnosing intraoperative tumour tissue, but in helping us resect (cut out) the tumour in a second stage." He says the immediate results coming from the Sentry System make it a unique venture. "I don't know of any other device doing this."
This position that the growing Quebec-based company finds itself, with respect from international researchers and tests taking place in hospitals outside Canada, can be traced back to the Neuro's pioneer status as an early adopter of high-end imaging and the research it applied it to.
"At the Neuro, we were the first centre in the world, along with Massachusetts General and the Mayo Clinic, to have an MRI scan. And people started doing MRIs on brain cancer," recounts Petrecca, who says those scans guided surgery but also mapped out how the disease would later spread. "They were looking at how much of the cancer remained after surgery and started doing studies."
Researchers recognized that larger resections led to longer survival times. "Based on that data, the reason people were dying was not because they didn't receive radiation or chemotherapy; it was simply because there was a distance of about five millimeters more of tumour that needed to be removed."
Accolades and investors
The project has not just been given the blessings of the Neuro and regulators, but it also received accolades from the Quebec science community and the public. The system won the 2017 Quebec Science Discovery of the Year Award, given by the magazine Québec Science. Initially selected as one of the 10 most impressive discoveries in Quebec by a jury of researchers and journalists, it was then picked as the winner by one third of the public respondents.
The company has also received much interest from investors, whose infusions of capital show the growing confidence in the technology. They've already raised $8 million and are approaching a Series A round of financing in early 2022 to further drive their commercialization efforts.
Kent believes the probe will become an indispensable surgical tool. "This is a new way of looking at tissue and exploring the surgical space." The team is ready to look beyond brain cancers and is exploring the possibility of adapting the system and its AI technology to other diseases like prostate, lung and breast cancers.
Reveal Surgical's work to make what's hidden more visible could very well make Quebec more visible in the competitive world of Medical Technology. The province's agenda, to make Quebec one of the top five North American life sciences clusters by 2027, and to attract $4 billion in investments by 2022, is ambitious. Thanks to companies like Reveal, whose cancer-locating tech offers hope to so many people around the world, the province's far-reaching goals are coming into view.