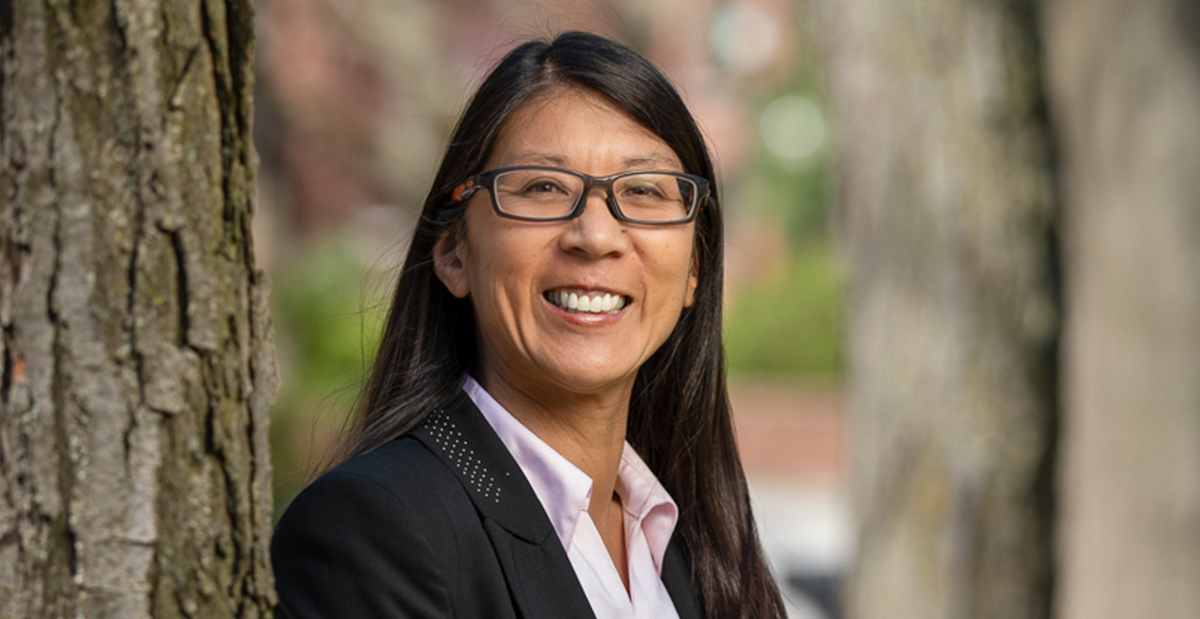 Dr. Joanne Liu, former international president of Médecins Sans Frontières (MSF), joins the School of Population and Global Health (SPGH) at McGill University as a professor specializing in pandemic and health emergencies.
By Jean-Benoît Nadeau for FMHS Focus

After managing medical responses to the world's worst humanitarian and health emergencies for six years as president of Médecins Sans Frontières (MSF) International, Joanne Liu, OQ, MDCM'91, M MGMT'14, DSc, thought 2020 would be a year of "dreaming, writing and cooking classes."

Instead, the COVID-19 pandemic hit and the pediatric emergency physician returned to her home base, Montreal's Centre hospitalier universitaire (CHU) Sainte-Justine. "When I arrived, there were tarpaulins everywhere. Patient flow protocols and guidelines were being changed twice a day. It was almost like being at MSF all over again," says Dr. Liu, who has participated in over 20 foreign missions over the course of her career. "I must have been the only one at the hospital in Montreal who was comfortable in this situation."

Liu is about to put these skills to use as a professor specializing in pandemic and health emergencies at McGill University's School of Population and Global Health (SPGH). The move is a return to her roots for the Quebec City native who decided to study medicine because she dreamed of working in humanitarian aid. "To me, McGill has always seemed like a passport to the world. That's why I chose it. It's what struck me when I was 18 and it's still true today. McGill always thinks big."

As she ventures into the academic world, Liu will be taking a few months to listen and observe. "I want to see how my background as a practitioner in epidemic preparedness and response can best contribute to the ambitions and missions of the school."

Specifically, Liu hopes to be able to bridge the gap between theory and practice so that academic studies and dissertations can be applied by health workers in the field, even when they are working in 40°C temperatures and wearing unventilated personal protective equipment (PPE). "At the beginning of the pandemic, managers were producing briefs that called for the creation of cold zones and hot zones. But what are these exactly and how do you create them? For those of us with experience in the sector, these are the ABCs of humanitarian work. We need to be able to explain new studies in accessible language and turn them into ready-to-use health tools."
Pandemic response
Between shifts working at Sainte-Justine and at a long-term care home for seniors, as well as contributing to a federal advisory committee and sitting on the COVID-19 task force for New Brunswick, Liu has kept busy during the pandemic. In September 2020, she added a seat on the Independent Panel for Pandemic Preparedness and Response at the World Health Organization (WHO) to her list of responsibilities.

"My job was to look at the WHO's pandemic response," explains Liu a few days before the final report was unveiled. "We wanted to propose actionable solutions, not make grand exhortations."

It's an understatement, Liu says, to claim that governments were unprepared for the pandemic—even if there have been several major epidemics over the last two decades. In her view, governments should be working to create mechanisms that will allow them to respond effectively when the next epidemic hits. "Because there will be more viruses. Epidemics are inevitable. The goal is to prevent an epidemic from escalating to the level of a pandemic. You have to nip it in the bud."

Liu was working in two long-term care facilities for seniors in Quebec in April 2020 when she expressed public outrage at the government's decision to ban visits by caregivers. "We got caught up in a frenzy of protecting residents, while forgetting that if we neglected their other needs there would be no one left to protect." According to the "principle of reciprocity" formulated by the WHO, Liu explains, adequate health protection must never lose sight of the fulfillment of other vital needs, such as social and intellectual stimulation. "Instead, we ended up leaving people to die of hunger and thirst."

At the height of the first wave of COVID-19, many Quebecers were surprised that the provincial government failed to put Liu's skills to use to help control the pandemic. "The word 'frustration' might be a little strong," she says. "For me, the important thing was to contribute as a citizen. I did my shifts, I participated in committees and had ad hoc conversations with the government. Maybe I could have played a more formal role, but the most important thing for me was to be there and to act in solidarity. I was there, I don't regret anything."
A teenager hears her calling
Liu was six years old in 1971 when a group of French doctors created the organization Médecins Sans Frontières. With a budget of more than €1.6 billion, MSF today employs over 65,000 people in 70 countries. She was fascinated by international cooperation when she was a teenager and decided to become a doctor so she could be part of the MSF adventure.

With her strong humanistic streak, has she ever felt discouraged or tempted to give up? "There are moments of pressure. I developed a stomach ulcer in 2015 after the American aerial bombardment of our hospital in Kunduz, Afghanistan. But I would never think of throwing in the towel. We are fighting for neglected populations. To me, the very idea of giving up on them is shameful."

When she talks about her achievements with MSF, Liu refuses to use the word "pride." Yet she does admit she feels great satisfaction for her success in working with the Red Cross to get the UN Security Council in 2016 to unanimously adopt a resolution to protect hospitals.

As they say, everything is connected. In Liu's view, the international response to the Ebola outbreak of 2013-2015 was one of the factors that made it possible to produce a COVID vaccine in lightning speed. The widespread panic provoked by the outbreak, which killed 11,000 people in Guinea, Sierra Leone and Liberia, led the WHO to put in place a roadmap for development and research in the event of epidemics.

President of MSF International at the time, Joanne Liu travelled to the three countries affected by the African epidemic to negotiate and advance policy issues. Sticking to her trademark style, she visited patients in person in all three countries to get a feel for the real issues on the ground. Seven years later, Liu is still shaken by the experience of watching an inconsolable sick two-year-old call out for his mother. "I promised myself that there would never be another Ebola outbreak without a vaccine or treatment. I wasn't alone. We all made that promise."

Global health experts have already begun planning for the next health emergency. What went right—and wrong—in handling the current crisis and how should those lessons shape future pandemic planning? Join us on Thursday, May 27, at our next Made by McGill alumni webcast, "Are we ready for the next pandemic?", as we speak with two of McGill's leading global health practitioners: Dr. Tim Evans, Director of the School of Population and Global Health, and Dr. Joanne Liu, former International President of Médecins Sans Frontières, and newly appointed McGill professor focusing on pandemic and health emergencies.
May 19, 2021