Saint-Gobain Life Sciences and Kanyr Pharma partner with clinical experts at the Research Institute of McGill University Health Centre and engineers at McGill to develop new cell culture technologies.

Source: Saint-Gobain Life Sciences

Cell-based cancer vaccines are revolutionizing the treatment of previously incurable cancers. Access to these promising therapies is limited by the high costs of manufacturing at centralized locations. Saint-Gobain Life Sciences, Kanyr Pharma Inc., the RI-MUHC and McGill University have formed a new interdisciplinary consortium to make this technology more accessible. In this project, dendritic cell cancer vaccines will be generated in Saint-Gobain's VueLife® "C" Series FEP bags. These single-use culture containers are designed by Saint-Gobain to provide a closed systems approach to cell culture and cell manufacturing, allowing for a seamless translation of bioprocesses from R&D towards clinical-scale and commercial phase production.

In a previous collaboration between Saint-Gobain and McGill University, FEP bags were compared to conventional polystyrene culture vessels and no significant differences in functional dendritic cell production were identified. In this expanded collaboration, the consortium will implement Kanyr Pharma's patented ImmunyrTM technology to obtain pharmacologically-activated dendritic cells with improved cytokine secretion profiles using a proprietary small inhibitor of key phosphatase enzymes. The ImmunyrTM technology was developed by Kanyr Pharma to activate each patient's own immune system to target several types of cancer.

Using the ImmunyrTM kit, Professor Corinne Hoesli and Professor Pierre-Luc Girard-Lauriault in the Department of Chemical Engineering at McGill University will produce pharmacologically-activated dendritic cells in the VueLife® cell culture bags. To optimize culture conditions, the team will study and modulate protein-surface and cell-surface interactions in realistic bioprocessing conditions to accelerate clinical translation. We anticipate that these technologies will help support cancer immunotherapy clinical trials led by the Cell Therapy Laboratory at the RI-MUHC directed by Dr. Pierre Laneuville and Dr. Linda Peltier. This project will propel the use of ImmunyrTM towards several cancer vaccine therapeutic applications, and further establish VueLife® bags as a leading technology for cellular therapy.

This project is supported by a $924,000 grant from NSERC, MEDTEQ and MITACS. Several trainees will work at the interface between industry, academia and the clinic to become future leaders in the cellular therapy field.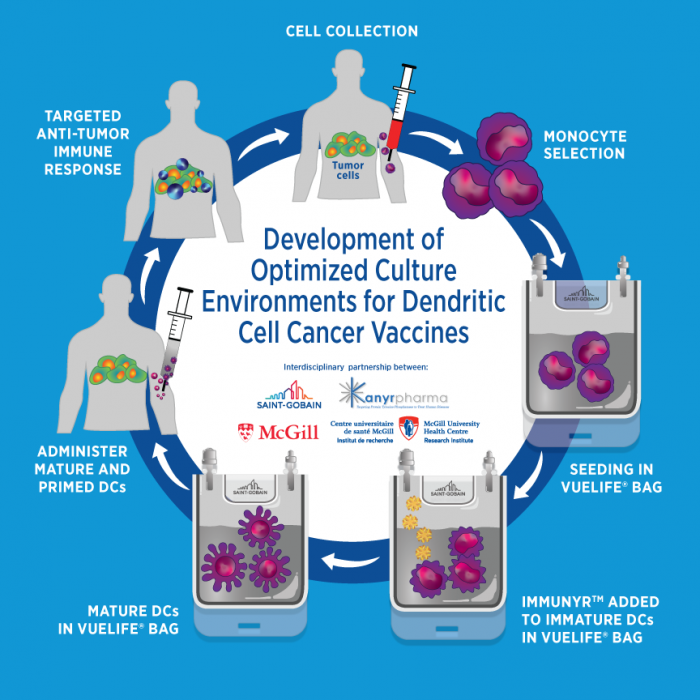 About the team:
Stem Cell Bioprocessing Laboratory
(SCBL) of
Prof. Corinne Hoesli
,
Department of Chemical Engineering
, McGill University
This project was coordinated by Corinne Hoesli, Associate Professor in the Department of Chemical Engineering at McGill University. Prof. Hoesli is also associated with the Department of Biomedical Engineering and holds the Canada Research Chair in Cellular Therapy Bioprocess Engineering. She is a member of several research networks including the McGill Regenerative Medicine Network, the Montreal Diabetes Research Center, ThéCell, the Quebec Center for Advanced Materials – CQMF, PROTEO, the Stem Cell Network and the Bioencapsulation Research Group. The aim of the SCBL is to engineer devices and optimize methods to bring cell-based therapies to the clinic. The SCBL works at the interface between stem cell bioengineering and biomaterials science to find engineering solutions to cancer, diabetes, cardiovascular diseases and other degenerative diseases.

Plasma Processing Laboratory (PPL) with
Prof. Pierre-Luc Girard-Lauriault
,
Department of Chemical Engineering
, McGill University
Prof. Girard-Lauriault, a member of the PPL since 2011, is focusing on the interaction between cold, non-equilibrium plasmas and organic materials. His primary field is the deposition of functional organic coatings for the surface engineering of biomaterials. He has extensive expertise in surface analysis and is working at pushing the boundaries of current methods to study the interactions between plasma deposited surfaces, proteins and cells. His research generated several industrial partnerships and developments made in his laboratory are making their way to commercially sold products.

Cellular Therapy Laboratory (CTL) of the RI-MUHC directed by
Dr. Pierre Laneuville
(MD.-Ph.D.)  and operated by
Dr. Linda Peltier
(R.N. Ph.D.)
The CTL at the RI-MUHC is pleased to collaborate in this unique project. The CTL, generously funded by the Strauss and the McGill University Health Center Foundations, specializes in translating fundamental research into clinical research projects involving collection, isolation, preservation and infusion or injection of cells. Compliant with Health Canada Cells, Tissues, Organs regulations, the CTL is dedicated to pre-clinical as well as phase I, II and III clinical research trials using cells from adult blood, cord blood, cord tissue and adipose tissue in the treatment of various human diseases.

RI-MUHC media relations:
Fabienne Landry
Tel : (514) 934-1934 ext. 71477
Saint-Gobain Life Sciences
Dedicated to improving the quality of life, Saint-Gobain Life Sciences develops and manufactures high-performance components and integrated solutions that touch a broad range of patient care, from the development of new therapeutic cancer treatments to biopharmaceutical production, on through to intravenous therapies for drug delivery.

Along with material science expertise and collaborative design services, our focus on global quality and regulatory affairs allow us to be the trusted partner to organizations reaching every part of the globe. Combining our technical expertise, global manufacturing capabilities and research and development resources, Saint-Gobain Life Sciences is dedicated to meeting the evolving needs of bioprocess, medical and pharmaceutical customers around the world. Saint-Gobain Life Sciences is part of Compagnie de Saint-Gobain.

Compagnie de Saint-Gobain designs, manufactures and distributes materials and solutions which are key ingredients in the wellbeing of each of us and the future of all. They can be found everywhere in our living places and our daily life: in buildings, transportation, infrastructure and in many industrial applications. They provide comfort, performance and safety while addressing the challenges of sustainable construction, resource efficiency and climate change. Saint-Gobain operates in 68 countries with more than 170,000 employees worldwide. The Company had €42.6 billion in sales in 2019.

Saint-Gobain Life Sciences media contact:
Katy Oroszi
, Tel: (330) 283-3536
Kanyr Pharma
A start-up from McGill University and the laboratory of Professor Michel L. Tremblay at the Goodman Cancer Research Centre, Kanyr Inc. is a biotech company established on the inhibition of Tyrosine phosphatase enzymes for therapeutic applications. Kanyr Inc. has developed several pipelines spanning from phase 1 trials to the identification of novel targets for the treatment of cancer, neurodegenerative and infectious disease. Its main technology, ImmunyrTM, is moving towards a phase I trial for the treatment and towards a treatment of Chronic Myeloid Leukemia. The current project is anticipated to act as a stepping‑ stone to tackle a variety of other malignancies, in collaboration with the MUHC clinical team.

Kanyr Inc. media contact:
Dr. Daniel Bouthillier
June 17 2020