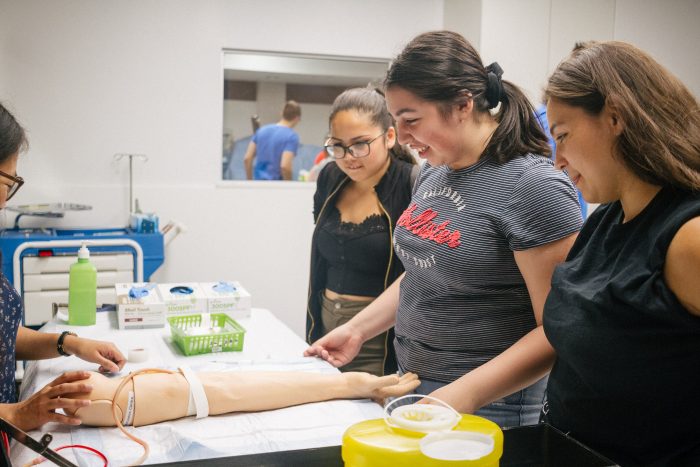 By Matthew Brett with files from Diane Weidner

Indigenous youth gathered at McGill University this summer for the 2019 Eagle Spirit Science Futures Summer Camp, a one-week health and sciences camp empowering Indigenous youth to realize their full potential in education, health, leadership and personal development. The camp takes the Western scientific method and weaves in Indigenous ways of knowing and traditional Indigenous knowledge to better engage its campers.

Twenty Indigenous youth participated in the camp, which included students from grades 7-8 (Secondary I/II) and junior camp counsellors, all hailing from a number of distinct communities and nations.

The goal of the camp is to engage, welcome and recruit Indigenous youth to consider post-secondary studies and careers in health.

"It gives the youth a view of what they could do in their future," said Dr. Kent Saylor, Director of the Indigenous Health Professions Program (IHPP). "So many of the participants live in communities where they may be struggling just to keep teachers in their school and they may not have a dedicated science teacher, so this camp was intended to peak their interest in the sciences."

Mike Diabo, who is Anishinaabe from the community of Kitigan-Zibi, has been involved in organizing educational aspects of the camp for a few years. He and the organizing team decided that climate change would be this year's camp theme.

"We have a responsibility as stewards of the land to make sure that we're doing things in a respectful way in relation to the earth," explained Mike. "We're encouraging the youth to come up with some ideas of how to address these issues because they see the effects in their communities."

A powerful illustration of the camp's lasting impacts is Karahkwinetha Sage Goodleaf Labelle, who was a camper in 2015. Sage was a science tutor in Dawson College's Journeys program, designed for Indigenous students transitioning into college. Alex Allard-Gray, the IHPP Outreach Administrator, came to speak at the Journeys program and encouraged Sage to be a senior camp counsellor, which she did. Sage is now starting her undergraduate studies at McGill this fall in the Department of Psychology.

"It is a very family-oriented camp despite all of us coming from different nations," noted Sage. "We really came together. It's neat that we're keeping the roots of Indigeneity while incorporating a Western perspective to the camp."
Camp participants share their stories:
Shanelle Moar

Shanelle is from Nemaska, a small Cree village in Northern Quebec. She travelled the 13-hour journey by car with her mother to attend the Eagle Spirit Science Futures Camp because she wanted to learn about pursuing a career in medicine.

Shanelle enjoyed the hands-on activities during her afternoon at the Steinberg Centre for Simulation and Interactive Learning.

"I really liked Dr. Kent Saylor's presentation," she remarked. "He inspired me to want to do more. I have a better idea now of what it takes to become a doctor."

Nabigi Cote
Nabigi Cote was encouraged to attend the camp last summer after hearing positive feedback shared by other students from his village of Kitigan-Zibi.

He enjoyed it so much that he returned for a second year, and encourages others to join the camp. "You should come," said Nabigi. "It may seem intimidating at first, but it's really fun to meet new people, to make friends and to learn new things." His favourite activity was creating teeth molds with the dentistry students.

Alexis Gordon
Alexis Gordon, from the Kahnawake Mohawk Territory, is back at the McGill camp for a third year, this time as a junior counsellor. "I've had two years of camper experience, so I can relate to the campers and give back," said Alexis. "I want them to have the same great experience that I had."  The camp has provided Alexis with enriching opportunities to explore her culture and has opened her eyes to a whole new field of jobs that she had never considered before. Right now, she is toying with a few different career options, including dietician, physical therapist, or neurologist.
September 19 2019