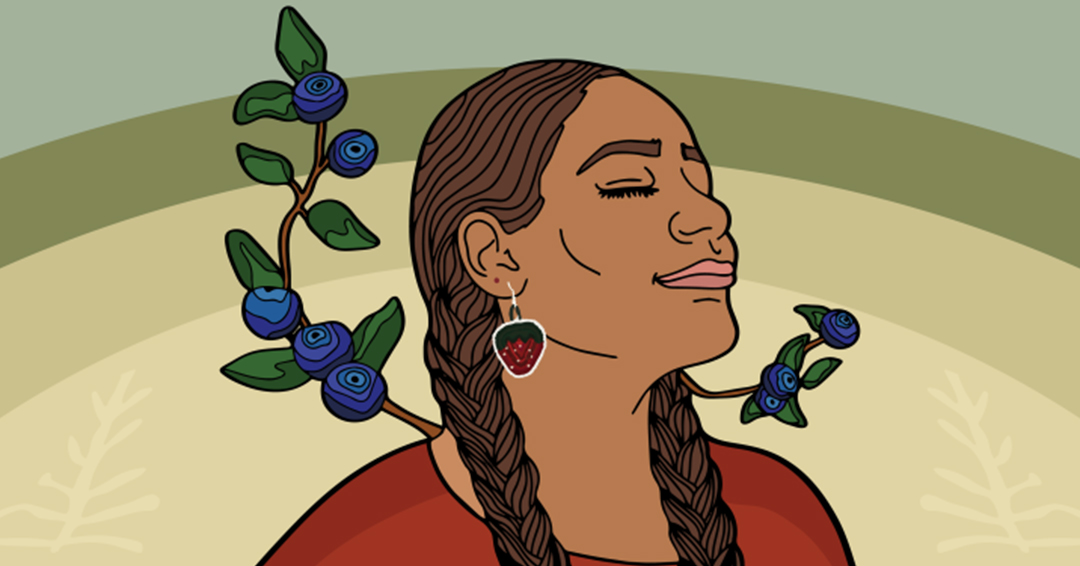 IAW 2023 features everything from film screenings, and a workshop on harvesting rabbit and making fish skin jewelry, to the Legacy lacrosse game and the ever-popular Pow Wow
McGill will host the 12th annual Indigenous Awareness Weeks (IAW) from September 18 to 30. Organizers hope the two-week celebration will encourage a greater understanding of Indigenous peoples among students, staff, and faculty at McGill.
"IAW is a great opportunity for the McGill community to learn about Indigenous perspectives, to listen to Indigenous voices, and to connect with Indigenous people here at the University – be they students, staff, or academics," says Celeste Pedri-Spade, Associate Provost (Indigenous Initiatives).
"IAW is a celebration of First Nations, Inuit and Métis excellence, and a time for Indigenous peoples to come together to share our perspectives and knowledges on topics and issues that impact us. It's also an opportunity for non-Indigenous people to learn directly from us, honoring our relational ways of learning and sharing."
Pedri-Spade says this year's lineup is marked by diversity.
"McGill has welcomed new First Nations, Inuit, and Métis faculty and graduate students. IAW is a great way to introduce them, and their work, to the broader community," says Pedri-Spade. "At the same time,  we're also featuring many Indigenous community voices from outside the University."
"Our keynote speaker for the Opening Ceremony is Waubgeshig Rice, who is Anishnaabe; Beverley Jacobs, who is Haudenosaunee, will deliver the Keynote Address on the National Day for Truth and Reconciliation. In another event, Gerald Taiaiake Alfred, a Kahnawà:ke Mohawk scholar, will be in conversation with Pam Palmater, a Mi'kmaw scholar. Natasha MacDonald, who is Inuk, will speak about integrating your non-academic life and career into academia." says Pedri-Spade. "The diversity of voices and perspectives is really compelling."
Launch of IAW 2023
IAW will kick off with the Opening Ceremony on Monday, Sept. 18, from 5 to 7 p.m. in Leacock 232. Acclaimed Anishinaabe author and journalist Waubgeshig Rice will deliver the Keynote Address titled "The Community Roots of Storytelling Careers." The author of three novels and a collection of short stories, Rice also worked for the CBC for almost 20 years as a video journalist and radio host.
The Opening Ceremony will also feature opening words by Kanien'kehá:ka Faith Keeper Otsi'tsakén:ra (Charlie) Patton and a performance by Inuit throat singers Qattuu and Abigail Asheevak. The ceremony is free but people are encouraged to register.
Something for everyone
This year's IAW lineup includes everything from film screenings, a networking event, and a workshop on harvesting rabbit and making fish skin jewelry, to a comedy night,  and an event promoting equity, diversity and inclusion best practices for websites.
One of the highlights of IAW is the annual Pow Wow on Lower Campus. Always a crowd favourite, the Pow Wow attracts McGillians and Montrealers of all ages to take in, and take part in, the festivities. This year's edition – McGill's 22nd Pow Wow – will feature everything from Inuit throat singers, demonstrations of Hoop dancing and Smoke dancing, and a host of Indigenous vendors. Pow Wow takes pace on Friday, Sept. 22, from 11 a.m. to 4 p.m.
On the academic side, IAW will feature a symposium on accessible education, and roundtables discussing health care and Indigenous research methodologies, among others.
To commemorate the National Day for Truth and Reconciliation on September 29, IAW will host the annual Skátne Entewathahíta/We Will Walk Together event as well as the Keynote Address by Beverley Jacobs.
IAW will wrap up on September 30, with a series of sporting events, including the 2nd annual Legacy Game honouring the Indigenous roots of lacrosse.
To learn more about Indigenous Awareness Weeks 2023, including the complete list of events, click here.