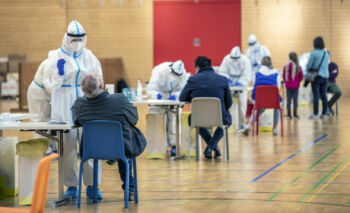 McGill researchers part of World Bank study designed to provide better knowledge and guidance for effective COVID-19 response in region

While much of the world holds out hope that COVID-19 vaccines will return life to pre-pandemic normalcy, there remains still a long road to travel before the pandemic is in our rear-view mirror.

Although a great deal of funding has been invested in vaccines, including the $12B USD the World Bank has committed in an effort to ensure access to the vaccine for all countries, realities of vaccine production, distribution, and administration make it unlikely that the vaccines will reach most of the world's population in 2021.

In this context, governments need to continue strengthening public health efforts against COVID-19. A critical component of these efforts involves implementing population-based testing strategies, particularly important for regions like Latin America and the Caribbean, which account for over a quarter of all cases around the world. A recent World Bank report is part of a series developed specifically to provide knowledge and guidance for governments for an effective COVID-19 response in the region.

"While awaiting the arrival of vaccines, countries should strengthen testing systems," says Dr. Jonathon Campbell, a postdoctoral fellow at McGill University and one of the report's co-authors. "A lot of testing in Latin America and the Caribbean—and much of the world—is reactive and symptom-based, with limited testing for other populations. This leaves many governments blind to the true extent of the pandemic and limited in their ability to effectively respond. Proactive testing of key populations—such as those in congregate settings, healthcare workers, schools, and key economic sectors—could help inform where interventions are most needed and impactful.  This requires development of strong testing systems, which will generate capacity that can be leveraged for both vaccine distribution and to monitor the community for immunity once vaccinations begin."

A key objective of the guide is to help governments get ahead of the curve of the pandemic by understanding which populations are being affected, where, when and how. The guide provides a structured framework for developing proactive testing strategies to guide implementation of public health measures proportionate with the severity of infections for different populations.

"Proactive testing for the most vulnerable populations is more important than ever as infections and deaths spike in Latin America and the Caribbean. Effective vaccination campaigns for COVID-19 and effective testing strategies for the most vulnerable are two sides of the same coin to improve the health of populations, reopen classrooms and get economies to grow again," says Jeremy Veillard, Senior Health Specialist at the World Bank.

Access the full guide here and the accompanying blog here.

Source files from World Bank
January 26, 2021