Recent paper highlights potential uses of the technology for the sub-specialty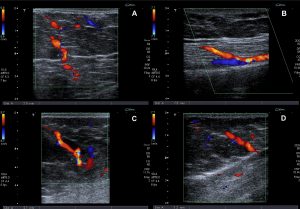 When we think of ultrasound, most people tend to consider imaging, for example to monitor the health and development of a fetus in an expectant mother's womb during visits to her OBGYN. There are in fact a wealth of applications for ultrasound across medicine, for example at higher frequencies it can be used to efficiently and selectively destroy certain unwanted tissue. Ultrasound has been making headway into the collective consciousness of surgical sub-specialties.

A new study led by researchers at McGill University's Faculty of Medicine and Division of Plastic and Reconstructive Surgery, published recently in the Journal of Plastic, Reconstructive & Aesthetic Surgery, explores the novel uses of ultrasound specifically with regard to plastic surgery. The authors hope that this paper will serve as a catalyst to create further discussion and exploration of how the technology can be integrated into practice.

The paper emanates from a push to examine innovative clinical uses of existing technologies. Dr. Mirko Gilardino, an Associate Professor of Surgery and Program Director at McGill's Division of Plastic and Reconstructive Surgery, leads an innovation lab at McGill in collaboration with the Department of Experimental Surgery. Several projects proposed by the lab aimed at looking at ultrasound technologies; however, they found that no up-to-date literature, nor consolidation or discussion of the evidence driven applications of ultrasound technologies within plastic surgery existed.

As a result, Tyler Safran, a fourth-year McGill Medical student, set out to conduct a systematic review of the literature pertaining to the use of ultrasound. Tyler was joined by medical student Kevin Gorsky and Drs. Alex Viezel-Mathieu and Jonathan Kanevsky, residents in the division of Plastic and Reconstructive Surgery at McGill. "What we found was a technology that has uses across the entire breadth of the speciality," says Tyler, the paper's lead author.  "Ultrasound was shown to efficiently expedite procedures, while contributing to lower rates of complications. Moreover, the technology does not subject the patient to radiation exposure and increases patient satisfaction vis-a-vis better aesthetic outcomes and less morbidly."

"As medicine and surgery continue to evolve, there is an increasing emphasis on non-invasive and radiation sparing technologies," notes Dr. Viezel-Mathieu. "This review is an important source of information for all practicing plastic surgeons, offering a consolidation of the most current evidence and applications of ultrasound."

The authors hope that this review will lead to randomized controlled trials in the areas of ultrasound applications where there is a dearth of good evidence. 

"
The role of ultrasound technology in plastic surgery," Tyler Safran, et al.  
Journal of Plastic, Reconstructive & Aesthetic Surgery,
published online September 13, 2017.
DOI: 10.1016/j.bjps.2017.08.031

October 26, 2017