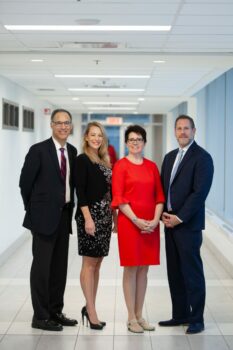 The new McGill Research Centre for Cannabis held its inaugural Science and Research Day on Thursday, October 17, 2019, at the McGill University Hospital Centre (MUHC), Glen site.

A partnership between the Research Institute of the MUHC (RI-MUHC) and McGill University's Faculties of Medicine, Agricultural and Environmental Sciences, and Law, the new Centre will focus its combined research efforts on increasing our evidence-based knowledge about the biomedical, horticultural and legal aspects of cannabis use following the federal government's 2018 legalization of cannabis for medicinal and recreational use.

The RI-MUHC and Faculty of Medicine team will look at the biomedical potential of cannabis, including cannabis-based immune therapy; product safety; customized delivery methods; and precision medicine. The Faculty of Agricultural and Environmental Sciences team will focus its efforts on finding the best ways to produce safe medicinal cannabis products, as well as tackling common pathogens that infect cannabis, such as fungi. The Faculty of Law team will examine the legal, social and policy implications of cannabis legalization, including impact on marginalized groups; harm reduction; and federal, provincial and territorial jurisdiction over criminal matters and health.

The Science and Research Day included three scientific sessions with presentations from Centre researchers and other experts on topics ranging from immunobiology to pesticides to social stigma. The Centre's Director, Dr. Carolyn Baglole, offered opening remarks, as did Vice-Principal (Health Affairs) and Dean of Medicine, Dr. David Eidelman, and MUHC Foundation President Julie Quenneville.

During the event, Brian Thompson, Executive Director of Health Affairs, University Advancement, McGill University, announced a $200,000 gift to the Centre from Canopy Growth Corporation, an Ontario-based cannabis company. The gift will support a Postdoctoral Fellowship in Medical Cannabis Research. Canopy Growth's Chief Medical Officer, Dr. Mark Ware, was on hand for the announcement.
24 October 2019