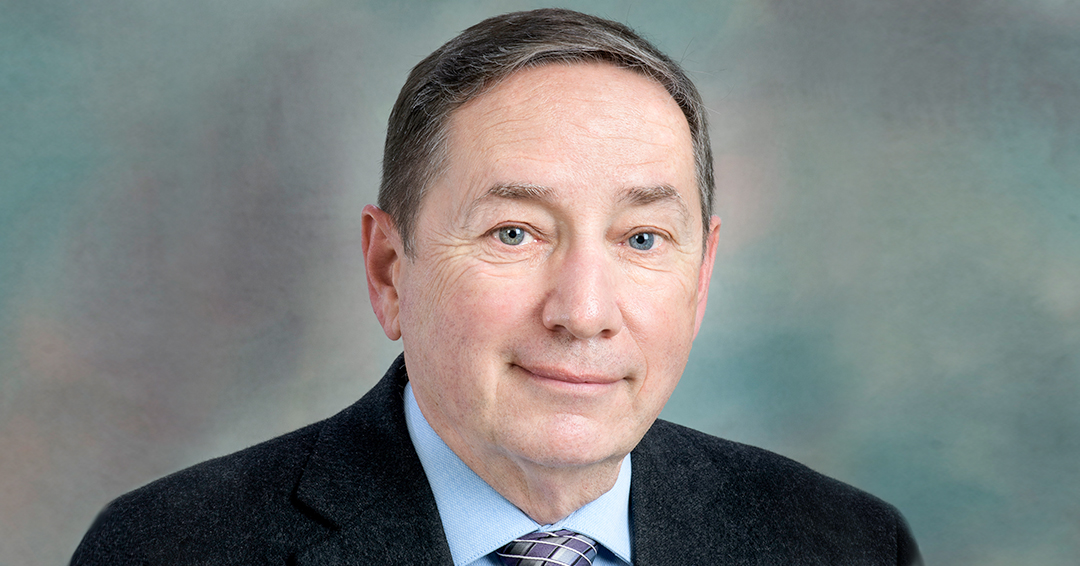 In January, Jean-Pierre Farmer, MDCM, took up the reins as Associate Vice-Principal & Vice-Dean (Health Affairs), taking over from Samuel Benaroya, MDCM. Dr. Farmer, a renowned expert and innovator in pediatric neurosurgery, a beloved teacher and mentor and founder and inaugural Chair of the Department of Pediatric Surgery, shares his priorities in his new role and lets us in on his secret to juggling his demanding clinical and administrative duties.   
It's all very recent, but have you had time to identify some of the priorities in your new role?  
Yes, definitely! There are really two big priorities. The first is to make sure that our trainees and our professors are able to address patients in French. This has become enshrined in the law as part of Bill 96, so we would like them to be fully bilingual so that they can address an anglophone and francophone patient or family in their preferred language. That's a big priority for us because traditionally at McGill our teaching has been in English, with the exception of Campus Outaouais where the language of instruction is French.  
The other dossier that's very important is that after the last election the government announced it wants to ramp up the number of admissions to medical school. The total number of new medical students they want for 2024 is the equivalent of creating a fifth medical school in Quebec – without actually creating a new medical school. The students will be distributed among the four existing schools, but it represents a lot of additional people to train.  
Do you foresee any challenges in moving these priority areas forward?  
The challenges are all logistic. With regard to the language of care, we can require that students entering medical school be bilingual, but it's a bit more difficult when the people come from a foreign country for residency training or for fellowships because they may have never been exposed to French. So, we're working hard to find ways to ensure that something is in place for them before they start their training very soon. 
As for increasing the cohort numbers, we can't just snap our fingers to make it happen. It's not just about fitting more students into the classroom, they also must do small group teaching sessions as well as on-the-ground training in the clinical setting as part of the curriculum. We have to find more learning spaces, more clinical sites and particularly more human resources. We can't ask more from our teachers who are already doing the maximum. We have to find new teachers to train our students to really become good physicians within the standards we are held to by the accrediting bodies.   
Sam Benaroya originated this role. Are his big shoes to fill?  
Oh, absolutely. He has done so much over the years. I'm really happy that he's still around because there are many things that I'm discovering as time passes. He certainly has helped me tremendously in my transition. We knew each other from the past, when I was Associate Dean for Postgraduate Medical Education & Professional Affairs about 18 years ago, and Sam was already in this role then. I had gone with him at the time to Gatineau to see what we could do to have residency training there in the base specialties such as surgery, psychiatry, ob/gyn and medicine, because we were already then, running out of training sites. So, all this brings back a lot of memories. Obviously, those dossiers have evolved a lot – at the time there was no question of creating a new campus in Gatineau, and now we have a full campus there, Campus Outaouais. That's all Sam, Gilles Brousseau and their respective teams' doing. 
How will your past roles help you succeed in your new duties?   
Some people might think, 'What does a neurosurgeon know about family medicine?' My past role as Associate Dean is really relevant here. I've been a pediatric neurosurgeon since 1990, but I've had these other administrative mandates over the years – program director, Associate Dean, Pediatric Surgeon-in-Chief at the MUHC, then Chair of the Department of Pediatric Surgery. So I'm replacing some form of administration with another kind, and still managing to do some of my clinical duties as a pediatric neurosurgeon.   
How is wearing the two hats going so far?   
It was tough at first – you're shifting gears all the time. But we benefit now from an offshoot of the pandemic. Virtual technology like Zoom and Teams really helps a lot. So even when I'm here at McGill, I can attend virtual rounds, discuss patients and communicate with the nurses and secretaries at the hospital. And when I'm at the hospital, I also take a lot of Faculty meetings.  I'm at a stage of my career where I can also slow down a little bit on the surgical side, but not to a complete halt. For that, obviously I have some colleagues who are minding the fort when I'm away. You cannot do this work in a silo and I'm very fortunate to have a great team here at the Faculty and a great team at the hospital as well.    
You've said that what motivates you as a pediatric neurosurgeon is making a positive change in the lives of your patients and in advancing your field. Are there any positive changes you especially hope to make happen during your tenure as Associate VP-Vice-Dean?   
For me, it's very important to be able to make a difference through hard work. If you're not able to make a difference, then maybe you're not in the right seat. Apart from the priorities I have already mentioned, there is one other issue that is very dear to me: making sure that we train well people to take over as solid clinicians, teachers and researchers tomorrow.  
The government has rightly concentrated on family medicine and making sure that every Quebecer has a family physician. This is the most important because that's how patients get access to health care. But we also need to ensure that there are enough specialist trainees in the pipeline, particularly because it takes even longer to train them. It's important to find a balance and make sure there's no group in a blind spot so that we can plan our medical manpower adequately. I hope I can make a difference there as well.   
Related:  
Jean-Pierre Farmer appointed Associate Vice-Principal and Vice-Dean of Health Affairs, FMHS 
Outgoing Faculty Leaders Series: In conversation with Dr. Samuel Benaroya